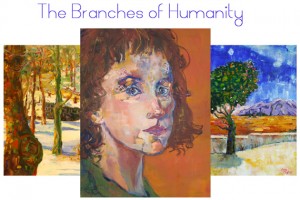 Exhibit: "The Branches of Humanity"
Who: Melissa Croghan
Where: Main and mezzanine lobbies
When: Now through May 2, 2012 daily 8 a.m. to 9 p.m.

Melissa Croghan, of Simsbury, was encouraged early in her career by blue ribbon and Best in Show awards for her artwork. Since then she has exhibited in many juried and solo shows, and her artwork is in private and public collections in the U.S. and abroad. In many of her works, Croghan explores themes of storytelling and American history. For this exhibit, Croghan has chosen figurative works and paintings from nature.
Croghan, who holds a master's degree in creative writing and a Ph.D. in English literature, has also published widely. Her most recent work, "Blue Tree" (a painting of the same name accompanied by a poem), was published in the literary journal Verse Wisconsin.
Melissa Croghan studied for several years at the Scottsdale Artist School in Arizona and with Connecticut artists David Lussier and Margaret Dyer. Croghan paints and shows her work at the Farmington Valley Art Center in Avon.
The University of Connecticut Health Center's collection of fine arts serves to enhance the environment and promote the sense of a caring community for patients, visitors, staff and students. Art is selected, acquired and exhibited by the UCHC Art Advisory Committee. To view a selection of the Health Center's permanent collection visit: http://auxiliary.uchc.edu/art.
---
Follow the UConn Health Center on Facebook, Twitter and YouTube.