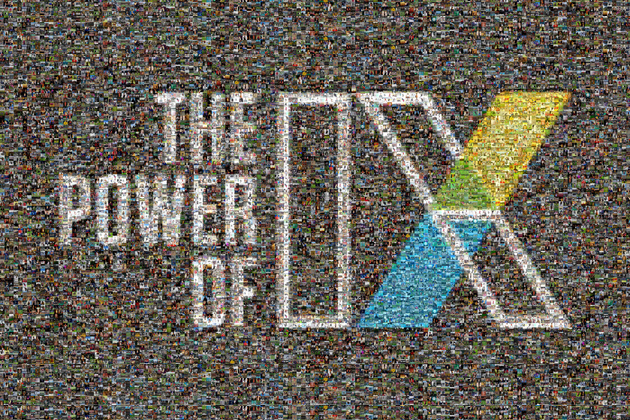 UConn women's basketball featured prominently in ESPN's coverage of the 40th anniversary of Title IX – the landmark education law that prohibits exclusion of benefits or participation in federally funded programs because of gender.
In its three-month series of feature stories and special programming during the spring and earlier this summer, ESPN noted historic achievements by the women's basketball team and its student-athletes during the past four decades, and named Diana Taurasi '05 (CLAS) as one of the Top 40 Athletes of the Past 40 Years.
Several current and former WNBA players who first rose to national prominence as members of the Huskies' seven national championship teams reflected on how they benefitted from Title IX legislation.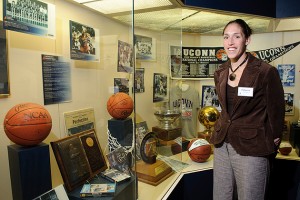 "Title IX really impacted me because when the WNBA started it was a dream come true for so many women," said Rebecca Lobo '95 (CLAS), in one of a series of vignettes in which women athletes described how their lives were affected by Title IX. "The WNBA would not have come about without the success that had happened on the collegiate level."
Lobo, now an ESPN basketball analyst, helped lead the Huskies to their first NCAA Women's Basketball Title in 1995 and was among the initial group of players in the WNBA. A member of the Women's Basketball Hall of Fame, she was also part of the 1996 U.S. Olympic Women's Basketball Team that won a gold medal and was featured on the cover of Sports Illustrated magazine.
The success of Huskies women's basketball is on display at the 2012 London Olympic Games this summer, led by Hall of Fame coach Geno Auriemma and six former Huskies – Sue Bird '02 (CLAS), Swin Cash '02 (CLAS), Tina Charles '10 (CLAS), Asjha Jones '02 (BUS), Maya Moore '11 (CLAS) and Taurasi.
Taurasi, who won the Honda Award in 2003 and 2004 as the nation's top basketball player is a WNBA All-Star and won three NCAA titles in a UConn uniform. She is one of seven WNBA players on the Top 40 list. The list includes pioneers such as Nancy Lieberman and Ann Meyers Drysdale, who is serving as a basketball analyst for NBC during the London Olympic Games.
Kate Fagan, writing for espnW, said "There's a bit of magic in how she plays, a sense of the moment, a bravado and unrestrained enthusiasm that has elevated Taurasi from top-shelf to one-of-a-kind."
Nykesha Sales '98 (CLAS), a veteran of the WNBA who played for the Connecticut Sun, said in the "Title IX is Mine" interviews, "Growing up, you don't really realize all the people who have paved the way for you to play basketball and have an education. We have the opportunity to really benefit from all the people that helped with Title IX."
Cash, one of a select group of only seven women's basketball players to have won NCAA and WNBA championships and an Olympic gold medal (the others include Bird, Taurasi, and Kara Wolters '97 (CLAS)), said in her Title IX interview that the impact of the legislation is evidence for all to see.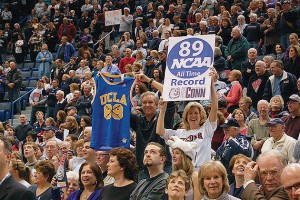 "You look at the number of young girls now that are playing sports versus 40 years ago, even 20 years ago," said Cash, who is in London as part of the U.S. Olympic Team. "There are a lot more role models because of Title IX, which then brings younger girls to the table to want to experience sports. Because of the women that are out there today that started the movement with Title IX, on the backs of their hard work I am able to live out my dreams today and hopefully one day I'll have a little girl and she'll be able to do the same."
Among the other Title IX notes about the women's basketball team listed by ESPN:
Sweet Streaks: The Huskies' 90-game winning streak from 2008 to 2010, which was included among the 40-year timeline of "Memorable Moments."
Riveting Rivalries: The UConn-Tennessee battles that included seeing the Huskies beat the Volunteers in the NCAA finals four times.
Rising Stars: Moriah Jefferson '16 (CLAS), a point guard from Texas who arrives in Storrs this fall is among the players to watch for the future.
The ESPN Title IX coverage can be seen at http://search.espn.go.com/title-ix/.