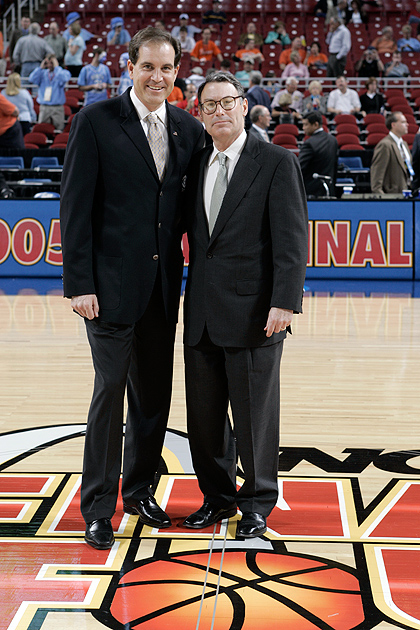 With its upcoming television contract negotiations an important part of its future stability, the Big East has selected Mike Aresco '76 JD, a UConn alumnus who is one of the nation's top network sports executives, as its new commissioner.
Aresco has been responsible for all college programming at CBS Sports since 1996, most recently serving as executive vice president for programming since 2008. He was involved in negotiating the 14-year, $11 billion contract between the NCAA and CBS/Turner Sports for the NCAA Men's Basketball Championships.
"I think the Big East has valuable product," Aresco said during a news conference in New York City on Wednesday. "The Big East is a proven ratings winner. The Big East has a terrific brand.  I don't believe college sports have ever been more valuable than now. They are driving media deals. I think the Big East stands poised to do extremely well. I am very confident the Big East has a bright future."
Gregory Williams, president of the University of Cincinnati, who chaired the search committee for the new commissioner, said he was not concerned about naming a new commissioner just as the league's television contract negotiations are about to begin.
"We don't have any concerns," Williams said. "We have a talented person. He is well prepared to take on the challenges that will develop and moving the Big East forward in the future."
The Big East announced last week that it has hired Bevilacqua Helfant Ventures, a national leader in sports media business, to be the lead negotiator in the league's upcoming television negotiations. The firm has negotiated successful contracts for college conferences, Major League Baseball teams, and the other professional leagues, and has created 24-hour college sports networks.
Aresco said he has previously worked with Chris Bevilacqua, co-founder of the media company, when Bevilacqua was involved with CSTV, which was purchased by CBS as a cable outlet for its college sports broadcasts.
"The Big East has chosen an outstanding consultant," Aresco said. "I've worked with him for many years. I'm confident that the value of the Big East and the Big East brand will be recognized, and the negotiations will be successful."
Before CBS Sports, Aresco worked at ESPN, where he was responsible for overseeing the acquisition, scheduling, and development of long-term strategies for all of ESPN and ESPN2 college sports properties. He joined ESPN in 1984 and was named Assistant General Counsel in 1988, before moving to the ESPN programming department.
In addition to his JD degree from the UConn Law School, Aresco is a Phi Beta Kappa graduate of Tufts University, where he earned a degree in history, magna cum laude, and the Fletcher School of Law and Diplomacy, where he earned a master's degree in international relations and held a John Moors Cabot Fellowship.
Aresco was included in a 2007 story in UCONN Magazine about UConn alumni who work as executives in the sports industry.