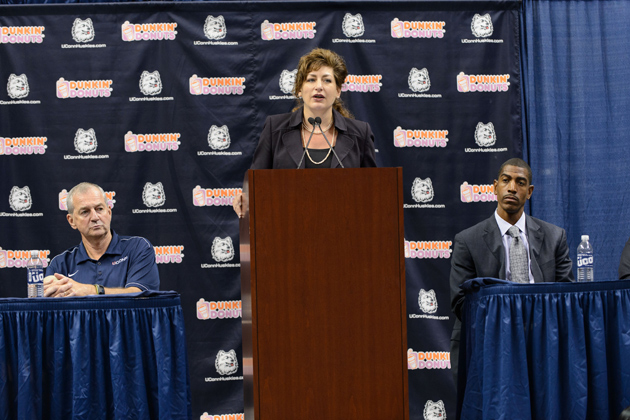 Saying that the championship basketball program he built over the past 26 years is poised to move forward and the University of Connecticut is "in excellent shape," men's head basketball coach Jim Calhoun ended his Hall of Fame career on Thursday, turning the Huskies over to one of his former team captains and a current assistant coach, former NBA veteran Kevin Ollie '95 (CLAS).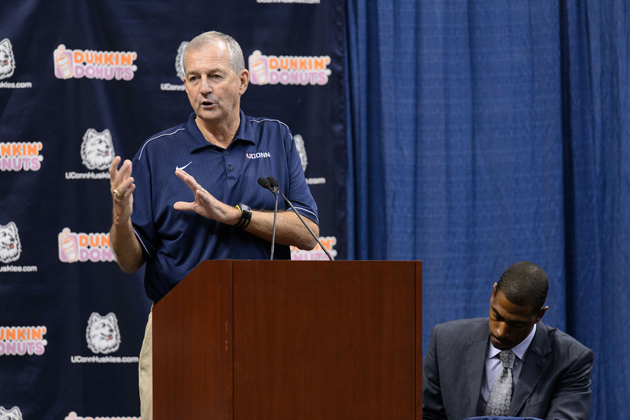 Calhoun said during a news conference at Harry A. Gampel Pavilion that recovering from hip surgery following a bicycle accident last month provided him with some time to reflect on his life and make the decision to end his coaching career.
"I couldn't do anything for two weeks. It gave me a lot of time to contemplate some of the things in my life," he said responding to a reporter's question. "I looked around at our staff, Kevin, our kids, our players, and knew we were heading in the right direction. I feel so blessed today that I have had the opportunity to coach at UConn. It's never been about me, I've just been the focal point."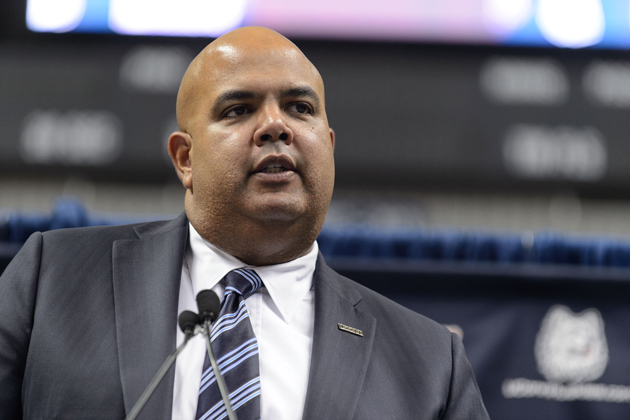 He described Ollie, an unheralded player who defied expectations by working hard and playing in the NBA for 13 years, as someone who "epitomizes what we want a UConn athlete, a UConn student to be all about."
Ollie, who was introduced by Warde Manuel, UConn's director of athletics, said "This is my dream job. I was made for this job. … To my second father, Coach, you mean the world to me. Seems like it was just the other day I was sitting there in my L.A. hat with Donny [Marshall '95 (CLAS)] on our recruiting visit. Had my milkshake in my hand, that's what really got me; the milkshake."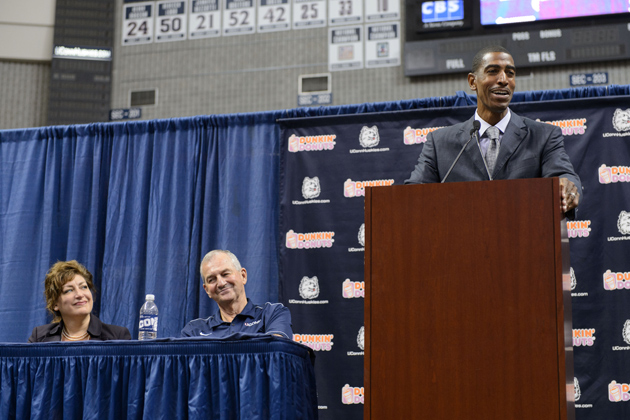 Calhoun began his career as a high school coach in Old Lyme, Conn., before moving into the college ranks at Northeastern University in 1972 and transforming the team into a top mid-major competitor. He arrived in Storrs 14 years later, famously saying that improving a struggling UConn team was "doable." Over the next 26 years, he took the Huskies to 18 NCAA tournaments, winning the national title three times, in 1999, 2004, and 2011.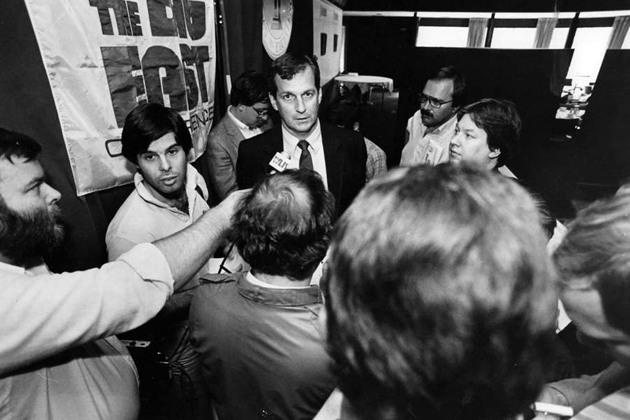 "When coaches get older, a lot of them tend to lose a step. He never lost a step," says Peter F. Burns Jr. '92 (CLAS), '94 MA, author of Shock the World: UConn Basketball in the Calhoun Era, which will be published next month by Northeastern University Press. "Last year he won the national championship. It's unbelievable how he maintained that level of excellence."
Burns, a professor of political science at Loyola University in New Orleans, says that Calhoun's accomplishments in establishing UConn as an elite basketball program are sometimes taken for granted.
"I think a lot of people think the success at Connecticut was inevitable. I think five or 10 years down the road, we'll appreciate him more," Burns says. "He won as many championships as Bobby Knight at Indiana. Bobby Knight won championships at Indiana, which is a perennial basketball powerhouse. I'm not taking anything away from Bobby Knight, but Jim Calhoun did it at Connecticut."
Since the NCAA men's basketball tournament began in 1939, 46 coaches from 36 colleges have won the championship. Of those coaches, only 13 won more than one national title, and only five led their team to three or more championships. Calhoun is in that elite group of coaches – John Wooden UCLA (10), Adolph Rupp of Kentucky (4), Mike Krzyzewski of Duke (4), and Knight of Indiana (3). His teams won 45 NCAA Tournament games, and reached four Final Fours, eight Elite Eights, and 13 Sweet 16s. His overall college coaching record is 873-380, with his UConn record at 625-243.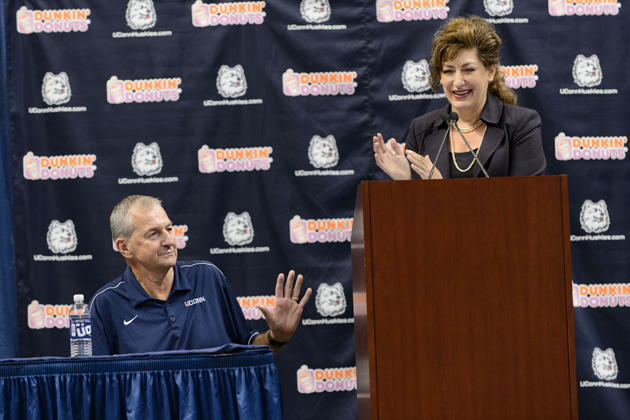 "I tell people often across the University they should aim for excellence of the highest order," President Susan Herbst said during the news conference.
"I say, look at Jim Calhoun, look what he delivers. It takes guts and it takes tenacity. We all have different roles here, but every single person can learn from Jim's passion, dedication, and his unbelievable intensity and desire to win. He's a legend and he's our legend. He is a walking life lesson in courage and altruism."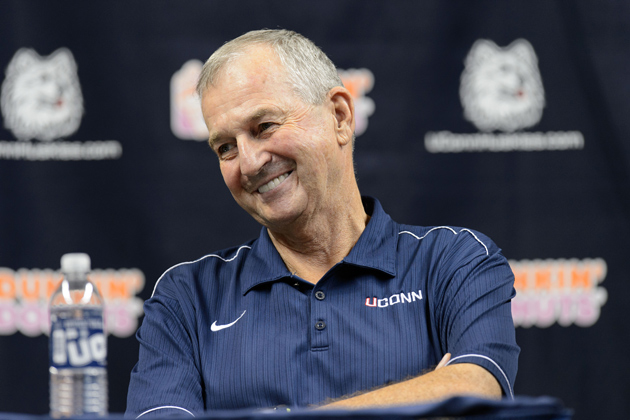 In addition to his legacy as a basketball coach, Calhoun also has been an enthusiastic advocate for improved cardiology research, using his celebrity to raise funds for the UConn Health Center, which in 2004 recognized his family's support with the dedication of the Pat and Jim Calhoun Cardiology Center. Since 1999, the Jim Calhoun Celebrity Classic All-Star Game at Mohegan Sun Arena in Uncasville, Conn., has raised more than $6 million for the Pat and Jim Calhoun Cardiology Center.
"We are grateful to Coach Calhoun for his generosity and inspiration," says Bruce T. Liang, director of the Pat and Jim Calhoun Cardiology Center. "To honor his legacy, we will continue the tradition of excellence in providing the best quality of care to Connecticut men and women and look forward to working with him in the future."
[Jim Calhoun] is a legend and he's our legend.
Throughout the day, tributes to Calhoun were sent from throughout the basketball world.
Geno Auriemma, UConn's Hall of Fame women's basketball coach: "The great success achieved by the UConn men's basketball program under Jim Calhoun's leadership helped propel the University of Connecticut onto the national stage. His contributions to this University have been positive and will be long lasting."
Big East commissioner Mike Aresco '77 JD: "His contributions to the University of Connecticut in basketball and to the University in general are enormous and lasting. He built and maintained an outstanding program for almost three decades. Jim has been a winner at the highest level during that period. His passion for the game and for his players has been unmatched."
Mike Tranghese, former Big East commissioner: "What Jim Calhoun built at Connecticut will be one of the lasting legacies of The Big East Conference. He brought the UConn program from nothing to winning three national championships. I know he loved competing in the Big East because he always wanted to go against the best. I think no one loved winning the Big East Tournament in Madison Square Garden more than Jim Calhoun."
Jim Boeheim, Syracuse head coach: "When you take over Connecticut, where they were 26 years ago – I think it's the best building job in college basketball history. The thing about Jim Calhoun's teams – they were tough-minded, just like he is. He's a great basketball coach. There is no question in my mind he's been underrated as a coach."
Tom Izzo, Michigan State coach: "The thing I love about Jim Calhoun is that he always says what's on his mind. He also possesses the ability to be tough and demanding one second, and hug a player the very next. That's an important quality for any successful coach, and he was one of the best at it."
Jay Wright, Villanova coach: "Jim Calhoun was always willing to be a mentor to me from my earliest days as a head coach at Hofstra University. His advice was especially helpful to me at the Final Four in 2009. He is one of the all-time greats in our profession."
Bob Heussler, WFAN and former Huskies play-by-play announcer: "As a sportscaster, I consider myself fortunate to have been associated with him and UConn basketball during those formative years. As a sports fan and a longtime state resident, I am in awe of what he accomplished. Legacy might not be the right word for it. What Calhoun did for UConn basketball stands in a category by itself."
UConn fans, alumni, and friends can make a gift in honor of Coach Calhoun to either the Pat and Jim Calhoun Cardiology Center or the new UConn Basketball Development Center at http://www.friends.uconn.edu/calhoun.