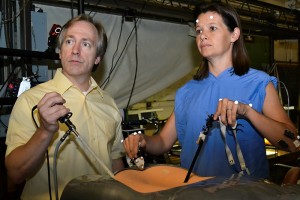 It may be a minimally invasive procedure for the patient, but major musculoskeletal problems can develop for surgeons when they repeatedly perform laparoscopic surgery.
The benefits of laparoscopic surgery – minimal scarring, less pain and shorter hospital stays – have made the procedure increasingly popular. But as the number of procedures being performed increases, the number of surgeons experiencing physical strain, pain and fatigue has also risen.
"I'm experiencing back pain and have colleagues who have needed neck surgery and hand surgery resulting from poor postures while operating," says Dr. Angela Kueck, gynecologic oncologist and medical director of the Health Center's robotic surgery program.   "More surgeons are retiring because of the physical demands of surgery and as a female I've noticed that much of the equipment is built for larger male body types."
While statistical information on this issue is limited, an article published recently in the journal Gynecologic Oncology reported that physical discomfort related to minimally invasive surgery was reported in 88 percent (216/244) of surgeons who responded to an online survey.  Fifty-two percent of them reported persistent pain.
Concerned about the issue, Kueck approached Donald Peterson, head of the UConn Health Center's Biodynamics Laboratory in the Division of Occupational and Environmental Medicine. She was encouraged to learn that Peterson was in the initial stages of a research study on the topic.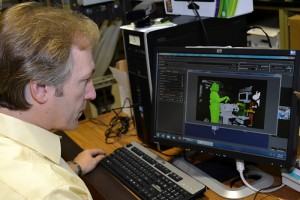 The study was unique because Peterson and his team of biomedical engineers had developed a new method to measure the physical strain placed on surgeons by using an opto-electronic motion capture (OEMC) system to track the surgeon's movements, technique and posture. They then recruited 10 laparoscopic surgeons from the area and had them perform various surgery simulations in the Biodynamics Lab.
"To successfully perform laparoscopic surgery, surgeons may have to position their bodies at unnatural angles and perform repetitive actions with their hands, which may cause strain and fatigue," says Peterson.
During the experiment, electrodes were placed on the surgeon that recorded muscle activity and fatigue of the forearm muscles that control hand movements. Additionally, thin film force sensors were mounted on the surgical devices to measure grip force, and a force plate was used to measure the push and pull forces of the surgeon on the devices.
"We found that the surgeons are pushing the instruments constantly as they're using them, about three pounds of pressure, and about three to four pounds of torking," explains Peterson. "That can lead to numbness and tingling in their hands and arms and an inability to fire the devices. In fact, some doctors have to use both hands in order to fire the mechanisms on the devices."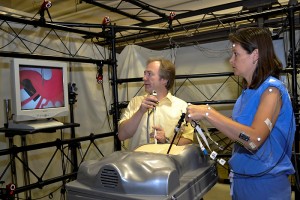 Because no other lab in the country has performed such a comprehensive evaluation of the physical effects of performing minimally invasive surgery, Peterson was asked to present the research findings during the annual meeting of the Society of American Gastrointestinal and Endoscopic Surgeons (SAGES) in San Diego this past spring.
Peterson says the data gathered from these simulations will lead to a better understanding of what movements are more likely to be injurious and will ultimately lead to designing better tools and surgical techniques.
For Kueck and other laparoscopic surgeons, it means an ergonomically friendly operating room and a longer career without pain and injury.
---
Follow the UConn Health Center on Facebook, Twitter and YouTube.