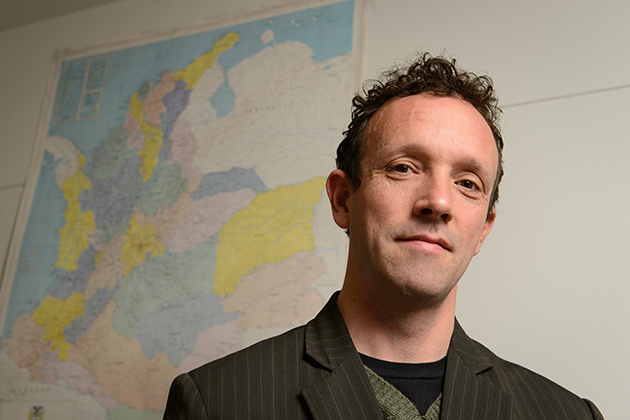 Conversation around the dinner table in the van Isschot home in Montreal was a bit different than in most Canadian homes. Growing up with a Spanish, Peruvian, and Dutch family heritage, Luis van Isschot listened to discussions about Latin American history and politics led by his father, a physician who treated families in a clinic based in Montreal's Latino community.
"Latin American history was the topic of conversation most days in my house," says van Isschot, who holds a joint appointment as assistant professor of history and human rights in the College of Liberal Arts and Sciences. "It is a lifelong passion for me. My father, who immigrated to Canada from Ecuador, told me many stories about life in Latin America." Van Isschot joined the faculty in September, as part of the University's initiative to hire up to 500 new faculty members over the next four years.
While studying at the University of British Columbia, van Isschot aspired to become a journalist, but after taking a class in Latin American history, he was drawn to the study of history. As an undergraduate, he also began volunteering for human rights organizations, twice traveling to Guatemala. He went on to earn a master's degree in Latin American studies at Simon Fraser University, also in British Columbia, before returning to Montreal to pursue his Ph.D. in history at McGill University.
His path to a doctoral degree developed from his volunteer work in Guatemala and later in Colombia, where he served as a human rights observer. It was during his time in Colombia that a friend who was a university professor and a historian told him that one of the most important books of Colombian history was written by a professor from his hometown of Montreal, Catherine Le Grand at McGill University, and that he should look her up. He did, and it led to his enrollment in the doctoral program.
"She made it seem that you could be a wonderful teacher, a cutting-edge scholar, and have a balanced life of engagement in your community, and that the Ph.D. was a way of doing that," van Isschot says. "The university is central to the community, not apart from it. That makes sense to me."
He has also been involved with Peace Brigades International, a nonpartisan organization that sends international volunteers to areas of conflict to provide protective accompaniment to human rights defenders threatened by political violence in 11 nations, including in Asia, Africa, and Latin America. In addition to serving as a human rights observer in Colombia, he also traveled to the Great Lakes Region of Africa, doing research in the Democratic Republic of Congo, Rwanda, and Burundi.
"It was a really important experience for me to go somewhere where the language of human rights and social justice and the understanding of history really enriched my own understanding of what I was working on in Latin America," he says.
His experience in Colombia led him to focus his doctoral studies on human rights activities in that nation's oil capital, Barrancabermeja, where he lived for a year. The city was the center of a major urban war between Colombian paramilitary groups and leftist guerillas. Between 1998 and 2002, in a city of 300,000 there were about 2,000 violent murders.
"It was a devastating period. The relationships I made with Colombian human rights activists, teachers, and scholars convinced me that I needed to find some place to explore the issues," he says. "At the same time it touched me very deeply personally."
His book, The Social Origins of Human Rights: Protesting Political Violence in Columbia's Oil Capital, 1919-2010, is near completion, and scheduled to be published in early 2014. His new research project is titled "When the Courts Make History: the Impact of the Inter American Court of Human Rights in Latin America's Conflict Zones," and examines the historical changes set in motion by the pursuit of justice across borders.
This semester, van Isschot is teaching classes in colonial Latin American history and human rights in Latin America. He is also teaching an introduction to human rights class, in addition to his research and affiliated work at the University with the Human Rights Institute and El Instituto: Institute of Latina/o, Caribbean, and Latin American Studies.
"It feels like I'm in the right place at the right time, because UConn is particularly privileged to have such an interesting and innovative human rights program that's interdisciplinary and brings faculty and students in from all corners of the campus," he says. "Far too often the history of human rights is told from the perspective of Europe and North America. Sometimes we think it is mostly about how universal human rights norms get translated into United States and European foreign policy. More and more now, especially here at UConn, we're looking at what's happening on the ground across the globe, and at home."