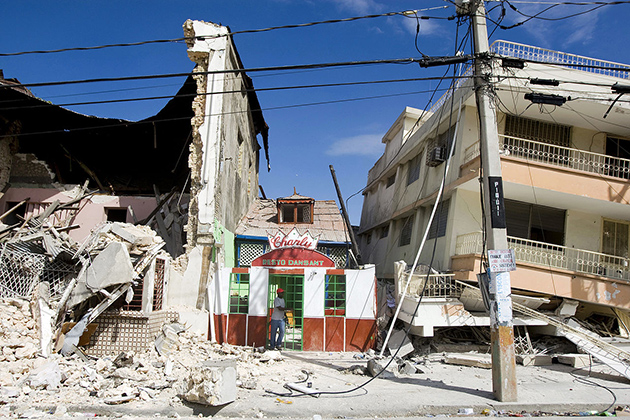 When many Americans hear the word "Haiti," a host of negative associations may spring to mind: "poor," "densely populated," "over-crowded," "aid-dependent."
The media play a prominent role in shaping public perception of foreign countries, and such stereotypes of Haiti can often be found across the spectrum of the U.S. media, according to UConn professor of public policy Thomas Craemer. This is a problem, he says, not only because those epithets can paint a misleading picture, but because they can also affect how American citizens and governments act.
"I think there is a chance that these stereotypes can affect foreign aid and foreign policy," Craemer says.
Last year, Craemer traveled to Haiti together with five students thanks to a travel grant from the Ford Foundation through the Institute of International Education. Their goal was to work with the group Partners in Development on housing in the Blanchard section of Port-au-Prince, more than two years after a devastating earthquake struck Haiti. But it was also to lay the groundwork for a study examining attitudes toward the Caribbean nation in major U.S. media outlets.
"There's constant talk about the risk of aid dependency, about corruption and other dysfunctions that are viewed as character flaws in the Haitian people themselves," he said. "It's probably fair to say the international media is drawing an exaggerated picture."
Craemer and five UConn students – Omar Green, Marissa Mack, Parker Sorenson, Patrick Turek, and Caty Wagner – constructed a sampling frame of media stories about the earthquake, based on U.S. news sources listed in the Pew Research Center's Biennial Media Consumption Survey. The outlets ranged from broadcast networks to the New York Times to the Rush Limbaugh radio show. A small random sample of 100 news stories about the earthquake in Haiti were then chosen, with sentences in the stories coded as containing stereotype-reinforcing information or as contradicting prevailing stereotypes.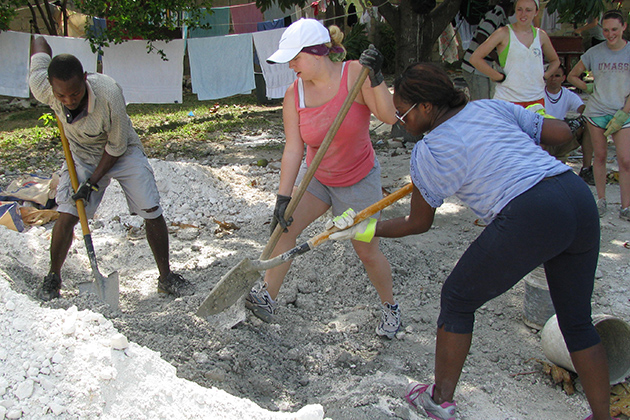 Craemer was surprised to find that the picture of Haiti as a terminally dysfunctional failed state wracked by violence and endemic corruption was more or less consistently reported across the spectrum of news media outlets: about 67 percent of sentences coded in the New York Times' coverage reinforced stereotypes, for example, as did roughly 77 percent of sentences in the conservative Limbaugh radio program. Craemer cautions that the small sample size does not allow statistical comparisons among individual media outlets. However, despite the small sample size a statistically significant bias emerged for the sample as a whole. In future iterations of the project he hopes to expand the sample so that source-by-source comparisons can be obtained.
The bias in the overall sample of news stories is a problem because the media take a prominent role in shaping public perception of foreign countries, says Craemer, and the stereotypes about Haiti present a flawed portrait of the country.
Haiti is undoubtedly a poor country, but it has unique features that mitigate the poverty found there. For example, while in most other poor countries poverty means landlessness, many of Haiti's poor are land owners. This unique feature dates back to the early 1800s, when former slave plantations were redistributed among insurgent former slaves. Land is a source of pride, and provides subsistence for extended families despite their poverty.
It also allows them to participate in the so called "informal sector" economy – that is, the portion of the economy that isn't taxed, regulated, or measured by the government. The oft-cited ranking of Haiti as the poorest country in the Western hemisphere is based on its Gross Domestic Product, a measurement that excludes the "informal sector" economy.
The Organization for Economic Cooperation and Development estimates that the informal labor market in Haiti accounts for roughly 90 percent of the country's total labor market – in other words, most of the economic activity in the country isn't counted in the measurement most commonly cited when calling it the poorest in the hemisphere.
Another feature of media coverage about Haiti – a tendency to focus stories about crime and violence – had him worried about his safety as he prepared for his first trip there. "I was really scared about what could happen, and we have the same problem here in the U.S. when we talk about so-called 'good' and 'bad' neighborhoods," he said. "Yes, there is a danger and it is elevated compared to the normal baseline, but what does that mean? How afraid should we be?" According to the study, not near as much as the media image suggests.
Craemer contends that the negative media image of Haiti may be rooted in contemporary reports of the Haitian revolution (1791-1804) that once terrified US slave owners. These fears may have subsequently become incorporated into American mainstream culture as anti-Black racial stereotypes that people today are often not even aware of.
Craemer has drafted a paper outlining the findings of the study, which includes a section offering suggestions for journalists covering the country in the future. Above all, he says, reporters should seek to experience everyday life in Haiti as its residents experience it, an experience that was particularly valuable for Craemer's students, one of whom, Marissa Mack, wrote: "Yes, one could say Haiti is poor 'relative' to U.S. standards. But being amongst Haitians, getting a glimpse of their life for a few days, talking with locals, working alongside of them, exploring areas not necessarily recommended for tourists to explore, dispelled many of the ideas I personally had of the country."