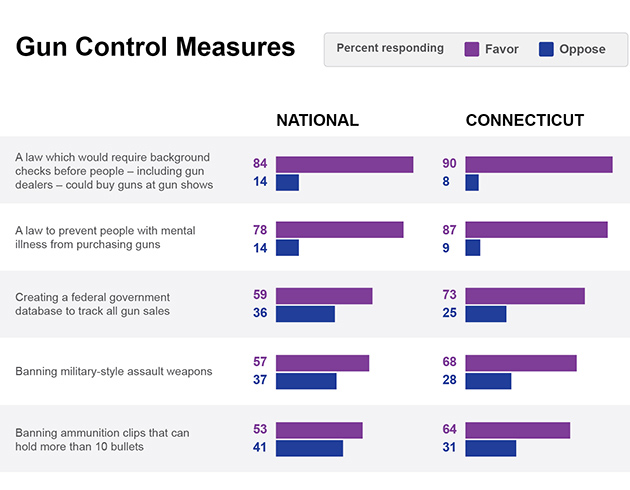 Banning assault-style weapons, requiring background checks for all gun purchases, and preventing people with mental illness from buying guns are just a few of the measures that find support among a majority of Americans, according to a new University of Connecticut/Hartford Courant poll released Thursday.
The survey measured opinion both nationally and in Connecticut just over a month after the massacre at Sandy Hook School in Newtown. While majorities both in Connecticut and nationwide favor a set of specific proposals aimed at reducing gun violence, state residents are more likely to support gun control in general, with 57 percent citing Sandy Hook as a key factor.
"Even in a state where there have been stricter-than-average gun laws for a long time, something as terrible as Sandy Hook is capable of influencing people's thinking on gun control," said UConn Poll Director Jennifer Necci Dineen, a faculty member in the University's Department of Public Policy.
Nationally, half of those polled say they favor stricter gun laws, while about 46 percent say gun laws should remain unchanged or become less stringent. In Connecticut, 64 percent of the population wants stricter gun laws.
When the question turns to more specific proposals, Americans are less divided. Nationally, majorities support a renewed ban on assault-style weapons like the one used in the Sandy Hook massacre; a ban on ammunition clips that hold more than 10 bullets; a federal database to track gun sales; a requirement that background checks be conducted prior to all gun purchases; and curbing the ability of people with mental illness to buy guns.
All those measures are either among the 23 executive orders on guns recently issued by President Barack Obama or are being discussed by members of Congress.
"Even if Americans remain divided on the broad concept of gun control, we're seeing that people are more likely to support specific policy proposals than they are the abstract concept of greater restrictions," Dineen said, noting that the background check and mental illness provisions in particular have support from over 70 percent of Americans. The support is even higher in Connecticut where, for example, 90 percent of respondents want to see mandatory background checks on all gun purchases. Currently, about 40 percent of guns sold in the U.S. don't require background checks, because they're purchased at gun shows or other private sales.
Americans and Connecticut residents are similarly divided on whether tragedies like Newtown represent broader social problems or are rather the acts of isolated individuals, but people are concerned about the likelihood of something similar happening in their own communities. About 30 percent of Connecticut residents and 22 percent nationally say they're worried about such an event happening near them.
Those concerns have helped spur an array of new legislation, both in Hartford and Washington, that's aimed at making schools in particular safer. But unlike the majority opinions on specific gun policies, consensus is harder to find in this area.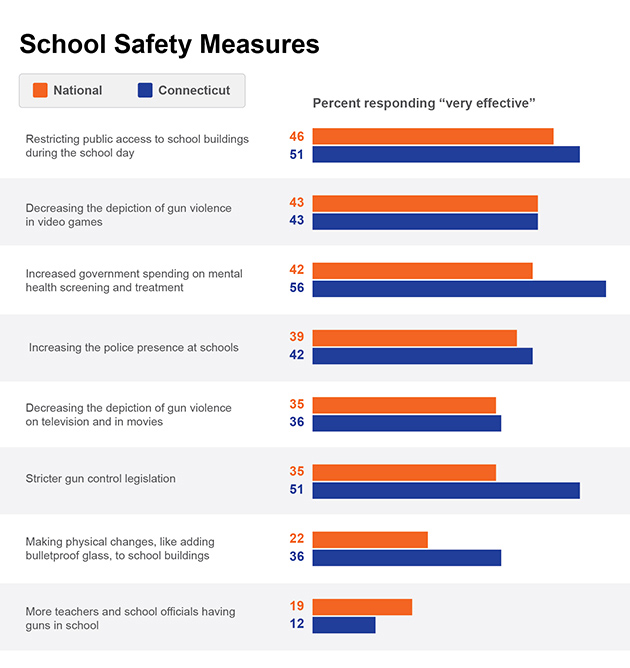 None of the several proposals being commonly discussed as a school safety measure – including increased police presence at schools, physical changes like bulletproof glass, or armed teachers – had a majority of Americans who think they'll be very effective in preventing violence. In Connecticut, the numbers were slightly higher, but still below the level of support for gun-related measures.
Jonathan Plucker, a professor at UConn's Neag School of Education and an expert on public policy and schools, said it's important as the discussion continues not to lose sight of research that's already been done on some of these specific proposals.
"How do you stop violence? That's something that's going to be debated," Plucker said. "The good news is, there is research that tells us what can be effective in making schools safer, and that's another reason we need to make sure policymakers and academics are talking to each other about this as we look for solutions."
Beyond schools, the poll also found wide support for increased spending on mental health both nationally and in Connecticut, but a lack of agreement about the role that violence in TV, video games, and movies may play in influencing real-world violent behavior.
The poll also yields some intriguing demographic data, including a clear gender gap on issues of gun control, with women likelier than men to support more restrictive policies. People with college educations are also much more likely to support gun control than those without college degrees, and Democrats are more in favor of gun restrictions than Republicans.
Interestingly, there's broad agreement among Democrats and Republicans when it comes to the question of curbing depictions of violence in movies, TV, and video games. Forty-four percent of Democrats and 45 percent of Republicans say decreasing video game violence would be very effective in reducing real-world violence, while 33 percent of Democrats and 37 percent of Republicans say the same about movies and TV.
The real division over violence in media is age-based: just 22 percent of 18-to-34-year-olds think reducing video game violence will help in real life, compared to 59 percent of those 65 and older. Fifty-one percent of the 65 and older respondents also say reducing violence in movies and TV will help, compared to just 15 percent of the 18-to-34-year-olds.
The University of Connecticut/Hartford Courant poll is the most recent release in a collaboration between one of the country's top public research universities and the oldest continuously published newspaper in America. The national sample of 1,002 randomly selected adults were interviewed by landline and cellular telephone between Jan. 22 and Jan. 28, 2013. The margin of error for the survey is +/- 3 percentage points for the entire sample, and larger for subgroups. The Connecticut sample of 511 randomly selected adults were interviewed by landline and cellular telephone between Jan. 24 and Jan. 28, 2013. The margin of error for the Connecticut survey is +/- 4 percentage points for the entire sample and larger for subgroups.
The data have been weighted by the number of adults in a household and the number of telephone numbers, land and cellular, at which adults in the household can be reached, in order to equalize the chances of an individual adult being selected. The data have also been weighted by the sex, race, and level of education of the respondent, based on the American Community Survey conducted by the U.S. Census.
Read additional detail from the survey and analysis of the results, and download the national data or Connecticut data.
Hear Jonathan Plucker discussing lessons the U.S. can learn about school violence from other countries.
Hear Plucker discuss school safety solutions.