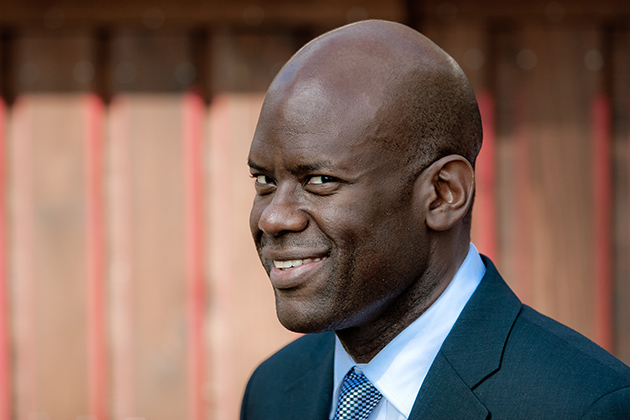 Studying law and education issues side by side might not seem like an obvious combination, and that perception, says Preston C. Green III, can lead to dire consequences for how children are educated.
Green is a nationally recognized education law expert who will join the University of Connecticut faculty in the fall from Pennsylvania State University. He will be the Carla Klein Endowed Professor of Urban Education in the Neag School of Education. Green will also have a joint appointment with the UConn School of Law. He has devoted his career to studying the sometimes surprising ways in which law and education intersect, with an eye toward helping legislators and others make better decisions when it comes to developing education policies.
"What I'm trying to do is to get people to understand the legal implications of the policies they wish to adopt," says Green, who has both a JD from the Columbia University School of Law and an Ed.D. from the Teachers College at Columbia. "In many cases, they just don't think about those implications."
For example, Green cites charter schools. While charter schools have become an increasingly polarizing item near the top of the national education reform agenda, all that attention has shed little light on some basic questions about how the schools operate, he says.
"It's really unclear whether for legal purposes, charter schools are what we call 'state actors' in the way that traditional public schools are, meaning that they have to comply with the Constitution," he says. "If they're not, you might have situations where students are being suspended or expelled with no recourse to due process protections, which is something we should all be concerned about – especially persons of color, since black males in particular have been disciplined at much higher rates than white students in traditional public schools."
Inspired by Brown v. Board of Education
Although interested in law and education since he first read about the landmark Brown v. Board of Education Supreme Court decision as a child, Green came about his specialty through a terrible trauma: While he was an undergraduate at the University of Virginia, one of his cousins was murdered by a 16-year-old working on behalf of a drug dealer.
"I remember thinking when it happened, just how did this kid take the turns that led him to this?" Green says. "And I actually wrote about that in college, when I was applying to law school: I am going to try to use my interest in education and law to help kids like him have other options."
First at the University of Massachusetts-Amherst and then at Penn State, Green has subsequently been at the forefront of research and policy on a host of crucial education issues, ranging from school vouchers and charter schools to teacher evaluation systems and school finance litigation.
"I know people take sides and get polarized, and I certainly have my own opinions, but what I really want to see is good schools," he says.
That pragmatic approach has led to projects like the policy paper he co-wrote last year for the National Education Policy Center, "Chartering Equity: Using Charter School Legislation and Policy to Advance Equal Educational Opportunity," which examined ways in which states can create charter schools that reduce the problems of racial inequality in education settings.
"Charter schools are here, and they're going to stick around, and so what we pointed out in our brief is there are ways to create mechanisms that will prevent charters from adding to the problem of racially isolated schools," he says.
A pre-eminent scholar
Green plans to continue his focus on education and law at UConn, saying he hopes to provide training for educators, administrators, and attorneys in a way similar to a summer institute he created at the Penn State Law School that brought attorneys, professors, and education professionals together to learn about legal issues in and out of the classroom.
"Dr. Preston Green is one of the pre-eminent scholars in the nation in the field of law and urban education as well as in educational policy," said Neag School of Education Dean Thomas DeFranco. "His expertise and scholarship in the areas of equity, race, and school reform uniquely qualifies him to advance our efforts in closing the achievement gap in Connecticut and across the nation.
Another initiative he'd like to explore is creating a joint degree program in education and law, similar to the one he developed at Penn State, to allow students to pursue career paths ranging from think tanks to school administration to law practices, a multidisciplinary approach that basically didn't exist when he was in graduate school.
"I became really attracted to UConn because I thought the University would give me the opportunity to develop those ideas," he says.
UConn stands out nationally, Green says, because of forward-thinking initiatives like President Susan Herbst's plan to hire roughly 300 additional tenure-track faculty members at a time when many other universities are cutting back or retrenching.
"For the kind of work I want to do, I need to be at a vibrant institution, one that's really on the move, really willing to take bold steps and innovate," Green says. "Those are the kinds of places where great things happen, and I really want to be a part of that."