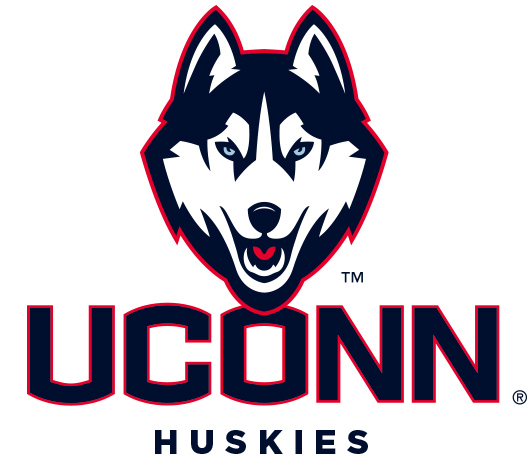 When next fall's athletic season starts for the University of Connecticut's 700 student-athletes, it will mark not only the beginning of the 2013-2014 season, but also the debut of a new look for the uniforms worn by the coaches and players of the Huskies' 24 men's and women's teams.
The two major changes will be the use of "UCONN" across the front of every uniform worn by each team, and a new look for the Jonathan Husky logo. The new look is part of a new institutional branding and marketing program announced in early April by President Susan Herbst that uses "UCONN" as the primary mark of the University in all signage, publications, advertising and marketing activities.
A new Husky dog logo was also developed as part of a review of all athletic team logos and marks, which in recent years had moved away from a consistent look on team uniforms.
Football had developed the block 'C,' men's basketball had the intertwined 'UC,' women's basketball had a 'C' around a basketball ball, and soccer and volleyball were developing hybrids from those. Only five of the 24 sport programs were using the Husky dog logo on their current uniform.
The new Jonathan Husky logo is a reflection of comments by coaches and student-athletes who participated in the process of reviewing the branding and logos used in the Division of Athletics.
Head women's basketball coach Geno Auriemma says he is eager to see the new look on his student-athletes.
"This logo is everything that a Husky is supposed to be – powerful, aggressive, determined," he says. "It is looking right through you and saying 'Do not mess with me.' This is a streamlined, fighting dog, and I cannot wait for it to be on our uniforms and court."
Adds head men's basketball coach Kevin Ollie, "I absolutely love this new Husky Dog logo. It looks fantastic on our uniforms and I know that our fans will love it as much as we do. Our new identity is a look that I know I will be proud to wear."
While new uniforms for 24 teams will not be introduced until next fall, the new "UCONN" mark and the new Jonathan Husky logo will begin to appear in buildings and facilities operated by the Division of Athletics this month.
Warde Manuel, director of athletics, says he is proud to share with everyone the new visual identity of UConn Athletics, which includes the new Husky dog logo. "Our student-athletes and coaches believe that the new Husky dog logo boldly reflects values such as Pride, Loyalty, Strength, Determination, and Athleticism. They are all very excited to wear it into competition and to see it displayed prominently in our facilities. The new logo is a significant piece of the new visual identity of UConn Athletics."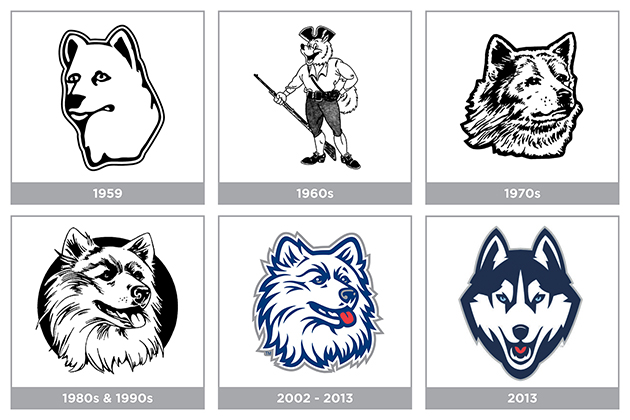 The Jonathan Husky image has changed since it was first adopted in 1934 and the original Jonathan was a brown, black, and white pup. There since have been five different Husky dog logos used, with the most recent update in 2002. The new Jonathan Husky logo returns to a more realistic depiction of a Husky, similar to the 1970s look.
UConn student-athletes wear the Nike brand of uniforms and footwear and, at the request of the Division of Athletics, the company worked with the University for about 18 months to review its athletic identity and brand.
During that process, says Kyle Muncy '92 (CLAS), assistant director of athletics for licensing, "the things that were talked about were athleticism, determination, and aggressiveness in competition that our program brings to the field and on the court.
"Coming up with a mark that our students, alumni, and fans can identify with is important, and it's as just important that our coaches and student-athletes identify with it because they are the ones wearing it on a national stage to represent us on a daily basis," Muncy says. "The focus going forward will be UCONN, with a strong Husky dog image."
Clint Shaner, senior graphic designer at Nike, says the process included an evaluation of how the various elements of the identity of Husky teams are perceived by the University community, including alumni, fans, and student-athletes. In particular, student-athletes expressed the view that the current Husky image did not reflect "the tenacity and toughness" they demonstrated on the field of play.
"They just didn't feel the existing mark reflected who they were or embodied the characteristic of a Husky," Shaner says. "That was really the challenge: how do we deliver against the student-athletes' expectation and deliver a mark that resonates with them."
He says the Nike design team wanted to develop a more graphic and iconic image of a dog, utilizing the unique aspects of an actual Husky – the white face and mask of the dog.
"We tried to develop a graphic mark that was straight on, something more intimidating and fierce than the [current] three-quarter profile," he says.
Muncy says the use of "UCONN" on all uniforms will constantly reinforce the overall University brand when the Huskies compete throughout the year in all sports and in nationally televised events.
"The uniforms will all look similar, consistent, and unmistakably UCONN," he says.
The new branding and logo effort will coincide with a statewide promotion with the University's athletic corporate partners – Webster Bank, Coca Cola, and Dunkin' Donuts. Webster Bank will launch a new credit card, Coca Cola will have logos on its trucks, and Metro North Railroad vending machines and Dunkin' Donuts will have logos on coffee cups.
"Those are incredible partnerships and our ability to co-brand with them is invaluable," Muncy says.
New Husky merchandise – including clothing and collectibles – will be introduced later this month at the UConn Co-op, and the existing inventory of products will be phased out.