Based on the comments from students, alumni, and fans here on UConn Today and on UConn's social media accounts, a number of questions have emerged about the new Husky dog logo. Here are some answers to the most frequently asked questions.
Q. Why is UConn Athletics changing the Husky logo now?
A. Athletics has been working to evaluate all parts of its visual identity, including wordmarks, logos, and uniforms, for the past 14 months. It became clear that the Athletics' identity was scattered, with different logos and marks for its teams. In meetings with coaches and student-athletes, it was also clear that they felt very strongly that the existing Husky dog logo did not represent all of the attributes they wished to portray. While the existing logo has reflected Pride, Loyalty, and Strength, the student-athletes and coaches wanted Determination and Athleticism reflected as well.
Q. Why does the new Husky logo look like a wolf?
A. The difference between huskies and wolves is a common point of confusion for many people. Our new Husky logo is, and will always be, a Siberian Husky.
Q. Will the mascot that we see at UConn games change?
A. The costumed Jonathan mascot will be sporting our new uniforms to match our teams. We're looking at possible changes in the future, however, no timeframe has been specified.
Q. What will happen to Jonathan, the real dog?
A. Jonathan XIII continues to serve as the UConn mascot.
Q. Some of the UConn sports, like UConn Baseball, have their own well-known logos. Will any of these be kept?
A. Baseball will continue to use the `Hook C' on its hat, but many other logos that have been featured over the past several years by our teams will not be used any longer. This includes the `Block C' used by football and the `Interlocking UC' and `C-Ball' by basketball.
Q. Why is there a red outline around the logo, and will that always be used?
A. The red line around the dog will be used primarily when it is shown together with the UCONN wordmark. There may be instances where it is outlined in red alone, but this will be limited during the initial rollout.
Here are variations of the logo without the red outline: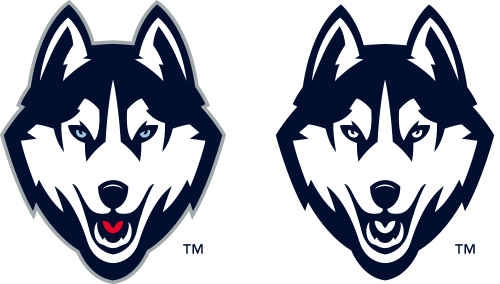 Q. What happens to all of the previous UConn Husky logos?
A. Any and all trademarked UConn logos remain as the intellectual property of the University, and we make them available for use on vintage apparel and other items regularly. These logos will all take their place among UConn's vintage logo program in the near future. UConn will retain the active trademark on all these logos for historical purposes.
Questions or concerns about Athletics, ticketing policies, or games should be directed to the Athletics Division. Questions or concerns about the Husky Athletics logo should be directed to licensing@uconn.edu.