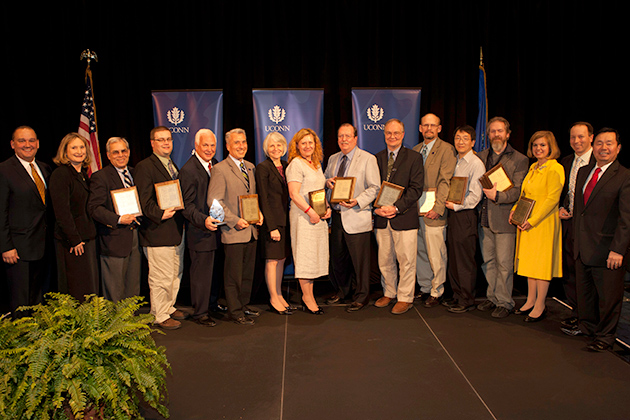 Cutting-edge technologies, innovative partnerships, and bold leadership took center stage April 10, during UConn's Second Annual Celebration of Innovation event at Rentschler Field in East Hartford. The event, presented by the Office of Economic Development, recognized the research and development achievements of UConn faculty, alumni, and UConn-related startup companies, as well as industry partners and state leaders.
"The event is an opportunity to spotlight the amazing research coming out of UConn, and recognize our partners in industry and state government who are leading the way to innovate business and industry in our state," said Mary Holz-Clause, vice president of economic development, who served as master of ceremonies.
Holz-Clause said that this past year, UConn researchers have developed 80 new inventions and filed 42 U.S. patents, and the University has signed 10 license deals. Commercializing university innovations is a growing resource for the University that has generated $1.2 million in patent revenue alone in the past year.
"UConn is raising the state's profile among the world's top researchers and is increasingly a major conduit for creating lasting economic growth in our state," said University President Susan Herbst. "At UConn we are asking the questions, daring to imagine, thinking boldly, and making the discoveries and inventions that will impact future generations."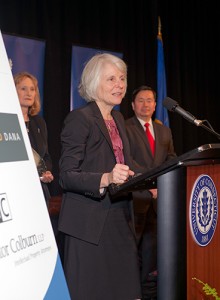 Catherine Smith, commissioner for the Connecticut Department of Economic and Community Development, received this year's Innovation Champions award for her leadership and dedication to promoting and championing economic development and change for the state.
"She brings such energy, vision, and passion to making the business climate in Connecticut stronger, helping to support existing and growing businesses, and working diligently to bring new firms into the state," said Holz-Clause during the ceremony.
Faculty members Dr. Charles Burstone from the UConn Health Center and Dr. David "Ed" Crow, professor emeritus, were also recognized as Innovation Champions. Burstone is a leader in the field of orthodontics, well known for development of the field of scientific biomechanics. Crow was recognized for his distinguished career in industry, where he led research and development for advanced technology systems in aerospace.
Speaking to the packed crowd, Crow emphasized the strength of America's innovation capabilities, and noted how the University's School of Engineering has evolved over the past decade to become a leader in the field. "UConn professors do great work for the world good, and great research to create the intellectual property for jobs in Connecticut."
Nalas Engineering services, a start-up chemical engineering and synthetic chemistry services company and a member of UConn's Technology Incubation Program (TIP), was recognized as a company of distinction. The company, which started at the University of Rhode Island and transitioned to UConn's Avery Point campus, moved last summer to a new 20,000 square-foot headquarters in Essex, Conn.
At UConn we are asking the questions, daring to imagine, thinking boldly, and making the discoveries and inventions that will impact future generations.
AlphaChromics, a company formed in 2010 by UConn Ventures to commercialize the electrochromic innovations developed in the lab of Greg Sotzing, professor of organic and polymer chemistry in the Department of Chemistry and the Institute of Materials Science, was recognized as the Top UConn Startup Company. The company's low-cost, color-changing conductive polymers can be applied to products as diverse as energy-efficient windows, tunable eyewear, and high-performance switchable fabrics.
Receiving the Alumnus of Distinction award was Dr. Marc Gastonguay, president, CEO, and co-founder of Metrum Research Group, a contract research company focused on the application of strategic modeling and simulation in biomedical research and development. He also holds the position of scientific director, chairman, and co-founder of Metrum Institute, a non-profit organization with a mission of addressing unmet needs in biomedical research and training, as well as serving as an adjunct faculty member at several universities including UConn.
"Our strong belief is that the private and academic collaborations in the training of scientists is really one of the keys here to succeed not only with our continued growth but I think really with all technology companies, so we are going to maintain our commitment in doing that," said Gastonguay, noting that his undergraduate days at UConn instilled in him the value of innovation. His company recently hired a UConn graduate, and has established a relationship with UConn to offer internships to help train the next generation of scientists.
Collaborator of the Year went to the international powerhouse GE, whose five-year, multimillion dollar investment in UConn is transforming the state's technology sector and sparking breakthrough innovations in electrical distribution products.
"The financial support from GE brings together researchers from various academic disciplines and from the energy industry to conduct research and development (R&D) on core electrical-protection technologies, including circuit breakers," said Holz-Clause. As part of the donation, the company also finances the creation of an endowed GE professorship in the UConn School of Engineering, as well as GE graduate fellowships and GE-sponsored research.
"We are very proud to accept the award as a great partner with the university," said Paul Singer who accepted on behalf of GE at the event. He continued, "GE is a big global company. GE is also a big Connecticut company. However, we can learn a lot from the incubator environments like the UConn Tech Park, because no matter how big you get, you can always learn how to do new things, especially in the world of high-tech innovations."
The range of innovation was also on display when 28 UConn inventors were honored for their research patents this year. Patents covered a diverse range of technologies including shape memory polymers, conductive polymers, transgenic plants, spider toxins, diagnostics and therapeutics for heart failure, cancer, infectious disease, obesity, and pain management, opto-electronics, underwater communications, and many more.
The growth of the University's patented technologies continues to demonstrate UConn's status as a leading research institution and helps to further industry collaborations. University figures show that income from licenses and other options has topped $1 million for seven of the last nine years, with the number of revenue-generating licenses created from university research growing from 12 in 1998 to 50 in 2012.
For a complete list of patent winners visit innovation.uconn.edu.