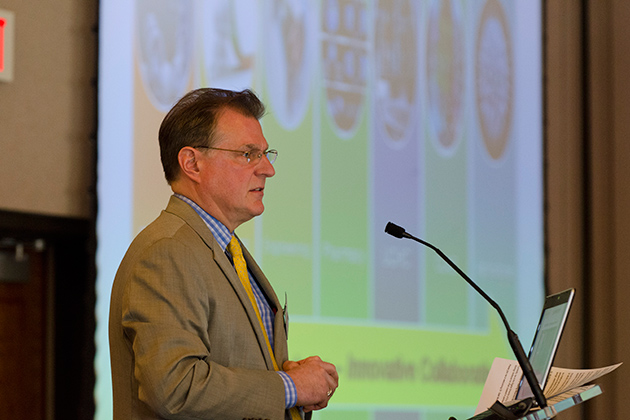 The old model of research and teaching – in which disciplines and specialties were walled off from each other in "silos" which permitted little chance to collaborate – is rapidly changing, thanks in large part to the growing field of digital media, a packed house attending a symposium at the UConn campus in Storrs heard Thursday.
The Digital Media Center's "Innovative Collaborations" Symposium drew speakers and panelists from a host of top institutions, while highlighting the University's commitment to growing its presence in the dynamic field of digital media and design.
One of the symposium's main goals was to show researchers and students alike that the benefits of incorporating digital media into academic work renders old distinctions between disciplines largely irrelevant.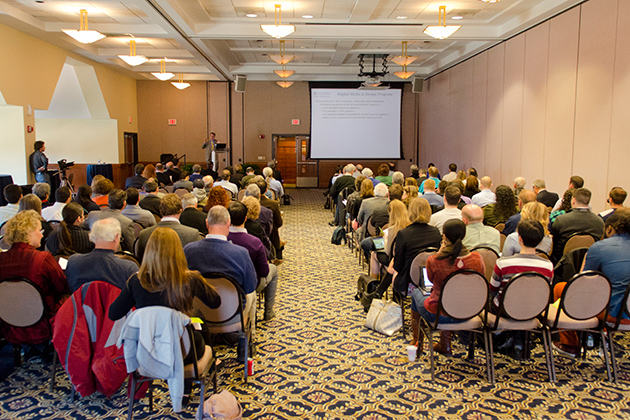 "Digital media is so important to such a broad array of fields," President Susan Herbst told the crowd. "It really is like an umbrella discipline."
Plenty of examples of that principle could be found in the afternoon's panel sessions, which ranged from digital media's ability to help students learn new languages to its impact in the field of health to its use in finding new business models for the journalism industry.
"You really can't escape digital media," said Tim Hunter, director of the Digital Media Center and head of the newly created Department of Digital Media and Design. "It's all around us."
The launch of the new department – which by the fall will have eight full-time faculty members, 23 courses, and both BA and BFA degree programs – is the most high profile demonstration of the University's commitment to the growing field, but it's only one of many. Researchers from across the University are collaborating on projects using digital media to help in everything from public health to agriculture and natural resources, Hunter said.
"This, in all of our minds, is really trans-disciplinary," he said. "It's intended to reach from one school to another to another to another."
UConn is already making a name for itself in the field, as demonstrated by some of the researchers in the discipline who attended the conference, like keynote speaker Gaël McGill, director of molecular visualization at Harvard Medical School, and Tom Scheinfeldt, director-at-large of the Center for History and New Media at George Mason University.
McGill, a biologist, used his presentation to explain how crucial it is to be able to visualize complex research problems and data, something he said had been ignored too long by some researchers.
"You may be firmly entrenched in your field with your own research interests, but if the proper training and collaborative tools are in place, you can fold in some of these insights and techniques into your own work," he said.
Scheinfeldt, talking about the use of digital media in the humanities, said the field actually calls to mind a much earlier model of scholarly collaboration: that of the agora, the central gathering place in ancient Greek cities where important artistic, cultural, and political developments were hashed out.
"Digital humanities is a return to an earlier era when scholarship was done in public," he said. "I think this is good news for all of us working in the humanities."