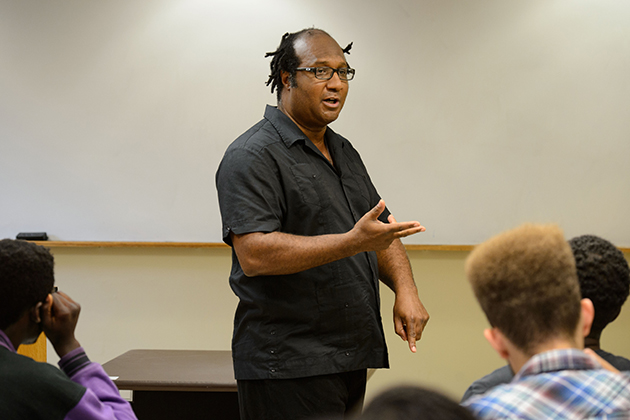 UConn philosophy professor Lewis R. Gordon will serve as the Nelson Mandela Visiting Professor in the Department of Politics & International Relations at Rhodes University in South Africa during the fall semesters of 2014 and 2015.
The Nelson Mandela Visiting Professorship brings world renowned scholars to Rhodes University to teach a graduate course in each year of their appointment and also give seminars and public lectures. The first Nelson Mandela Visiting Professor was Amitav Acharya, professor of international relations at American University in Washington, D.C. and UNESCO Chair in Transnational Challenges and Governance.
"The impact on the department, the faculty, and in some cases the university as a whole has been phenomenal. It has really been very good to have that kind of exposure to international scholars coming here talking about their research," says Fred Hendricks, dean of Humanities at Rhodes University. "To have someone of that caliber within our midst raises the bar within the faculty. You get the prospects of postgraduate and undergraduate students being exposed to somebody of that caliber and testing their own ideas against somebody like that who can then guide them."
Gordon, who joined the UConn faculty from Temple University, where he led both the Center for Afro-Jewish Studies and the Institute for the Study of Race and Social Thought, is an internationally known scholar and prolific author. He has held several distinguished visiting appointments, including a visiting professorship as the Europhilosophy chair at the University of Toulouse in France.
"The Nelson Mandela Visiting Professorship, as I see it, is a national professorship since its namesake embodies the spirit of the nation, its aspirations, and its sense of character," says Gordon. "That Mandela cannot – indeed, could not – be everything for the nation is a reminder of there being much to do, much to learn, much to figure out. The namesake of this appointment exemplifies the important meeting of knowledge and courage in the form of action. It reminds us of the importance of public commitment and what it means to attempt to make human institutions humane. It is thus also a world professorship since everyone understands the significance of Nelson Mandela."
In South Africa, Gordon will lecture on the themes of "Unjust Justice," "Theories from the Global South," and "African Humanism." He will spend several weeks in South Africa in the fall of 2014 and 2015, but also has activities planned in Storrs for the remainder of each of those semesters.
He has visited Rhodes University twice previously, in 2011 and 2012, to conduct week-long workshops with graduate students in the Department of Politics and International Relations.
Gordon is a member of the UConn faculty in the Department of Philosophy and the Institute for African American Studies, with affiliations in Judaic Studies and Latina/o, Caribbean, and Latin American Studies.