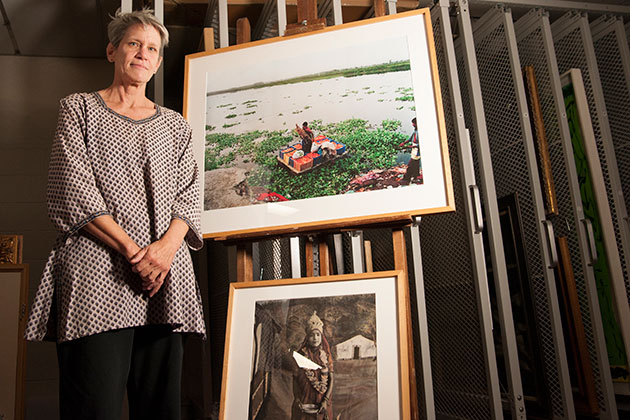 For Kathryn Myers, curating the exhibition "Convergence: Contemporary Art from India and the Diaspora" that opens on Oct. 22 at the William Benton Museum of Art was considerably less difficult than the first time she organized an exhibition of art from India nearly a decade ago.
The 2004 exhibition "Masala; Diversity and Democracy in South Asian Art" opened a couple of years after her semester-long Fulbright Fellowship to India in 2002, her third trip to India but the first that allowed her to spend an entire semester immersed in the art and culture of the world's second largest nation. It also was the first time the professor of art and art history in the School of Fine Arts had the opportunity to curate an exhibition.
"We didn't have enough grant money to hire curators for each section of the exhibition, so I had to do it myself," she says. "I had a Provost's Research Grant, so I could take the semester off to work on it continuously. It was like a crash course in India art. I was also able to make a short trip back to India to pick up more works of art. That was the beginning."
With regular visits to India since then, including a second Fulbright Fellowship in 2011 that was highlighted by conducting a series of video interviews with artists, Myers has established a reputation as someone who is deeply engaged with the art of India, teaching classes, curating art exhibitions, and using India as the inspiration for her own creative work.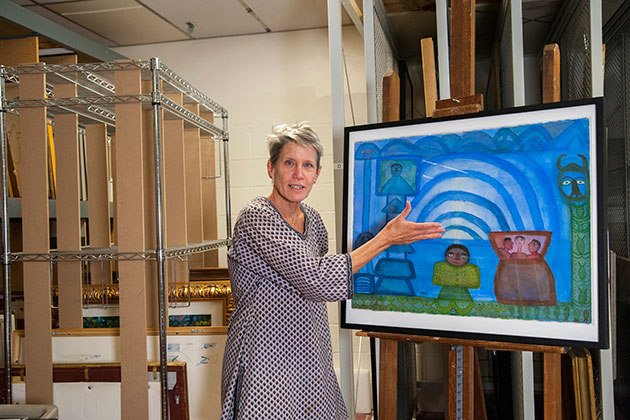 Now focused on the art and culture of India for more than a decade, Myers has also transformed her artistic efforts from oil paintings of large-scale interior spaces full of objects to smaller gouache on paper paintings depicting Indian architecture and space. She also has become a skilled documentary videographer, capturing the culture of India through moving images, as well as with her ongoing series "Regarding India, Conversations With Artists," interviews with more than 50 artists that form the foundation of her UConn classes.
The journey to India began while Myers was in Spain as an artist-in-residence. She frequently saw people reading A Suitable Boy by Vikram Seth, one of the longest novels ever published. When she returned to Connecticut, she began to read the book.
"I realized I knew very little about India, just stereotypical extremes of poverty or spirituality, and limited exposure while growing up in Chicago to small groups of Hare Krishnas, who I remember ringing bells and asking for alms in grocery store parking lots," Myers says. "[The book] was a story about a Hindu mother trying to find a suitable husband for her daughter, who falls in love with a Muslim. At the end of it, I felt like I knew something about India that I didn't know before." After that, she began reading Salman Rushdie's books.
Serendipitous choice
In planning a sabbatical from teaching in Storrs in 2000, Myers pursued several opportunities in Europe, but also two in India. She was accepted first to both in India and decided to go to New Delhi. The next day, she received an acceptance to one in Italy.
"If those had come in reverse order, I would have been in Italy, because I didn't know much about India," she says, smiling. "It was a big risk, but I decided to go to India."
Myers returned from India "hungry to know everything." A friend, who was a professor of Indian art at her alma mater in Chicago, helped her compile a library of books on Hinduism and India art. Two years later, she returned in 2002 on a Fulbright Fellowship to do research and collect folk art for the Benton Museum's "Masala" exhibition, which became a model for her proposed course on Indian art. Along the way, she continued to meet artists and made other connections in India, beginning relationships that have grown each time she returns.
Before leaving for India in the fall of 2011, Myers devoted the entire summer to learning video editing by watching online tutorials and seeking advice from a friend who is a video editor.
"Now working with video is second nature," she says. "The one thing I can't do is paint and work on a video at the same time. When I start to paint, I can't be interrupted. Part of it is that I'm using magnifying glasses, for the miniatures. Once I start, I get totally immersed and can't stop working. I am able to work on video in little segments. During the school year, I can start a video and get back to it … [but] I don't have enough continuous time to be able to focus enough to paint."
Myers' work in India has helped to establish a minor in India Studies, a program that draws on various academic departments throughout the University, says Elizabeth "Betty" Hanson, coordinator of India Studies and professor emerita of political science in the College of Liberal Arts and Sciences.
"Kathryn has enriched the curriculum at UConn through her course on Contemporary Indian Art and Popular Culture, and by hosting artists and scholars from India at UConn," says Hanson. "Her numerous exhibits, lectures, and curatorial projects throughout India and her extensive video interview project with Indian artists have established important linkages with artists and scholars in India and at UConn."
Working in different mediums
With so much effort directed to editing the hours of video she compiles during travel to India, Myers says she was concerned that an upcoming Boston exhibition of her work would not be representative of her creative output during the past year, since she had only made three paintings but had made many videos.
"I used to feel really guilty that I was not painting enough. But I've had to accept this is my total creative output," she says. "It's worked out.
"In the art world currently, people work in what has been defined as 'post-media,'" she adds. "When I was in art school, not only did you choose a medium, but also a style. I would be a painter, for instance, but making representational figurative paintings, while someone else might be an abstract painter. You were completely devoted to that. Now everything is open, people are working fluidly back and forth between mediums. … What's happening in my work now reflects what is going on in the art world. I think it's good for my students to see how an idea or concept can be translated through different mediums."
"Convergence: Contemporary Art from India and the Diaspora" opens Oct. 22 and continues through Dec. 15 at the William Benton Museum of Art, 245 Glenbrook Road, Storrs. The exhibition brings together 15 contemporary artists who explore issues of identity and the continued power of place through diverse creative approaches, often incorporating references to Indian art, culture, and history. There will be an opening reception on Sunday, Oct. 27 from 3 to 5 p.m., and a panel discussion with the artists represented in the exhibition on Tuesday, Nov. 19 from 5 to 7 p.m. For more information, call 860-486-4520 or go to http://www.thebenton.org