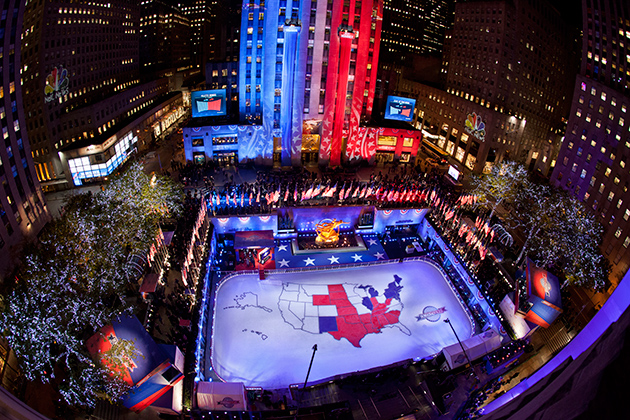 Dan Rousseau '08 (SFA) first stepped on to a stage as a child actor at the Warner Theater in his hometown of Torrington, Conn., where he was in the ensemble cast of "The Music Man" and "Joseph and the Amazing Technicolor Dreamcoat." After volunteering with his father to work on preparing the set for "Joseph" by hanging stage lights, he found himself drawn to the other side of the bright lights.
"I met the lighting designer – who I still work with today – and was instantly hooked on what he was teaching me," says Rousseau. "The experience was so good, I spent more time looking up at the lights than focusing on the show. That's a sign you're not supposed to be an actor."
Rousseau pursued what became his passion for lighting design, heading to Storrs to major in lighting design in the Department of Dramatic Arts in the School of Fine Arts. Soon after graduating, he moved from theatrical lighting to television lighting and from Torrington to New York City to join The Lighting Design Group, the largest television lighting design firm on the East Coast of the United States, with a roster of credits that includes network and cable news.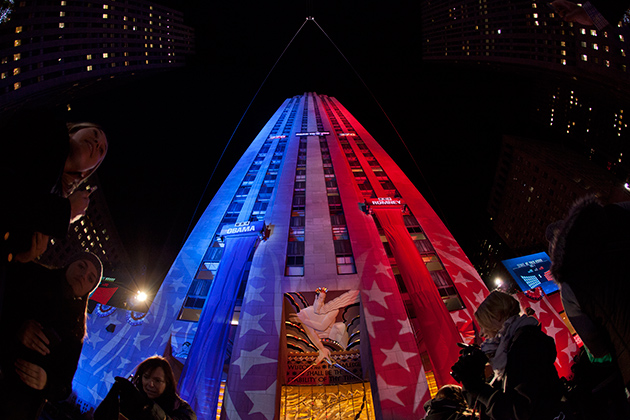 Now just five years later, Rousseau's work has been recognized as among the best in television with an Emmy Award for Outstanding Lighting Direction and Scenic Design for NBC News' coverage of the 2012 Presidential election, "Decision 2012 – Election Night Coverage from Democracy Plaza." Rousseau and his team from The Lighting Design Group transformed the plaza in front of the Rockefeller Center, which includes the iconic skating rink surrounded by American flags, into an outdoor broadcast studio for election coverage and bathed the 30 Rock tower in red, white, and blue lighting.
"The experience I had that night was one unlike anything I have had," Rousseau says about working a Presidential election, considered the "Super Bowl" of political coverage.
It was made more challenging because Hurricane Sandy hit New York City on the day they were to begin setting up equipment. "As soon as the plaza was given to us, we were working anywhere from 12 to 18 hour days for a week straight to make up for lost time. On Election Day, time felt like it stood still, as we were in full production mode. I walked out of the plaza as the sun was rising the next day, and when I got back home I was thinking about everything that had just happened, the entire roller coaster of what I had just experienced. It felt really good."
The next day, Rousseau was back to his regular assignment as lighting director at CNN New York. Before becoming an LD, he was an assistant lighting director for a variety of shows including "Showbiz Tonight," Fareed Zakaria GPS," "Lou Dobbs Tonight," and "The Joy Behar Show." Today he is the LD for "Piers Morgan Live" and "Quest Means Business," a CNNi production. Recently he lit a new version of "Anderson Cooper 360" and the new show, "AC360 Later." On New Year's Eve, he is in Times Square for CNN's coverage hosted by Anderson.
Transferring his lighting and design skills from the theatrical stage to television was challenging, and Rousseau credits his work at UConn with preparing him to make the leap from thinking about lighting an entire set that might be 30 to 40 feet away from a person in the audience to primarily lighting a single face on a television screen.
"None of this would have been possible without the education and support that UConn and the Department of Dramatic Arts gave me," he says. "I constantly think about the program and the University. I am grateful for the time I spent at UConn, when I was honing my skills in how to create a visual image on stage, crafting skills in color and texture, and finding a way of capturing the audience and bringing them into the scene."
Apart from unexpected delays resulting from Sandy – including having to walk to Manhattan from his home in Queens because of the limited subway service – the 2012 election coverage presented several different challenges for Rousseau and his team: Two skybox studios on the north and south sides of the ice rink that was converted into a map of North America, a polling station at rink level, and various outdoor remote locations, all requiring the lighting design to work for the early morning broadcast as well as the evening prime time broadcast.
"Rockefeller Center is an iconic piece of architecture. The existing lighting is phenomenal. At the same time it doesn't convey what we want it to do for the election," he says. "The tower needs to be eye popping. It's a very dominant image. Around the plaza there were hundreds of American flags. Each one had a light under it to make it pop and show up on TV. All the trees had lights uplighting them. The rink had dozens and dozens of moving [robotic] lights to give it color and texture. We used them to also highlight each state as it was won by Republican or Democrat."
Even as he continues to establish his career in television, Rousseau frequently returns to the stage. He is the lighting designer for Split Knuckle Theatre, which produces innovative theater productions that have been presented in New York City, Paris, and around the United States and is led by its artistic director Gregory Webster, assistant professor of dramatic arts at UConn. He has collaborated with Lauretta Pope '08 MFA on her New York production of "The Hamlet Collective," and also has done several lighting designs for showing, including those presented off-off Broadway, Playhouse on Park in West Hartford, and with Shakespeare and Company in Lenox, Mass. He also has returned to the Warner Theatre where it all began for him.
"Since I started working in TV in 2008, I have been a part of all the breaking news stories that have impacted our world," Rousseau says. "Some days are crazier than others. That is TV news. You never know what is going to happen and how it will be presented to the world."