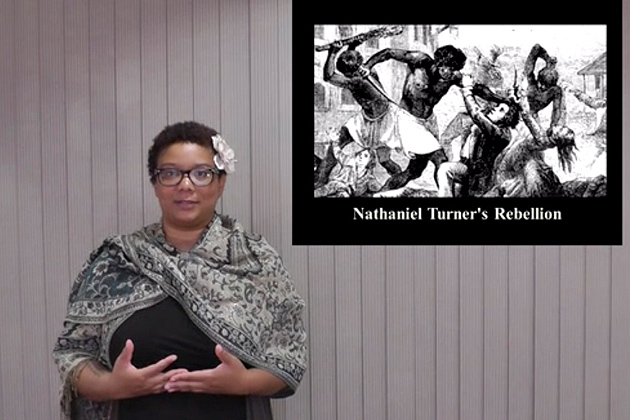 Talking about your work for three minutes might sound easy, but paring years of study into a short, easily understandable presentation takes tremendous effort.
This year for the first time, the UConn Graduate School held a Three Minute Thesis Competition for advanced graduate students to consolidate and crystallize their research ideas into a very brief presentation. The first-place winner will go on to compete internationally in the 3MT competition sponsored by Universitas 21 (U21), the leading global network of research-intensive universities including UConn.
UConn graduate students submitted presentations on a wide range of topics this year, showcasing the breadth and depth of research and scholarship at the University. Their videotaped entries were evaluated by a panel of judges to determine overall and People's Choice winners.
This year's winners are:
Vanessa Lovelace, 1st Place (and People's Choice winner)
Title of Presentation: Genealogies of Liberty: An Embodied Black Freedom Trail
Graduate Program: Political Science, College of Liberal Arts and Sciences
Cheryl Bell, 2nd Place
Title of Presentation: Estrogen and the Foreskin: Is Thicker Better?
Graduate Program: Molecular and Cellular Biology, College of Liberal Arts and Sciences
Austin Johnson, 3rd Place
Title of Presentation: Reliability of Data Derived from Time Sampling Methods with Multiple Observations Targets
Graduate Program: Educational Psychology, Neag School of Education
Watch their presentations on the Graduate School's Vimeo channel.
The judges who selected the winners of the UConn competition also represent the wide range of research and scholarship at UConn. Across the various viewing rounds, judges included:
Amanda Almond, pre-doctoral fellow in African-American studies
Janet Barnes-Farrell, professor of psychology
Pamela Erickson, professor of anthropology
David Etim, graduate student in computer sciences and engineering
Barbara Kream, professor of medicine
Tamika LaSalle, assistant professor of educational psychology
Tyra Lewis, graduate student in El Instituto
Joe LoTurco, professor of physiology and neurobiology
Charles Mahoney, professor of English
Lynn Puddington, associate professor of immunology
Margaret Rubega, associate professor of ecological and evolutionary biology
Kenneth Noll, professor of molecular and cell biology
Graduate students acquire deep knowledge and highly specialized skills through training in their discipline, but sharing that knowledge with a non-specialist audience is a struggle for many.
Providing opportunities for graduate students and postdoctoral scholars to build fluency with these discipline-independent skills is the focus of programming for the newly formed student affairs division of The Graduate School, led by Sandy Chafouleas, associate dean.
"Becoming a polished scholar can need as much cultivation as crafting discipline-specific skills," says Charmane Thurmand, graduate diversity officer and UConn 3MT coordinator.
The 3MT competition helps motivate students to work on their oral presentation skills. Third place winner Austin Johnson says, "It was a really wonderful experience to condense and practice my three-minute thesis presentation. I feel more prepared than ever to go out on my job search with this experience under my belt."
The 3MT competition began at the University of Queensland in 2008, and rapidly expanded to other Australian and New Zealand universities. Enthusiasm for 3MT grew rapidly throughout the world, with the competition now being held in 12 countries. This year marks the first 3MT competition sponsored by U21.
The UConn 3MT first place winner, Vanessa Lovelace, will join winners from other U21 universities in a virtual 3MT competition.
"It's a true honor to be able to represent the diverse research and scholarship of the University of Connecticut," Lovelace says.
Vice provost for graduate education and dean of the Graduate School Kent Holsinger says he welcomes the opportunity for UConn to take part in the first Universitas 21 Three Minute Thesis competition. "It's an exciting way that a few of our most talented graduate students can share their work and their passion with the world," he says.
Cast your vote for the winner of the U21 3MT People's Choice award here. Voting closes on Oct. 25. Both the People's Choice and the Judge's Choice award for U21 will be announced on Oct. 29.