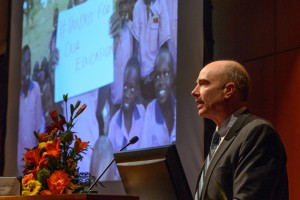 The presentation of UConn's 2013 Thomas J. Dodd Prize in International Justice and Human Rights to The Business and Human Rights Resource Centre (BHRRC) on Wednesday, Nov. 13 is recognition of the increasing role that businesses can have in promoting human rights in a global economy.
Since its founding in 2002, the Centre has encouraged companies to respect and promote human rights around the world. The nonprofit organization's website is an essential forum for collecting and disseminating information about the human rights records, both positive and negative, of more than 5,100 companies operating in more than 180 nations.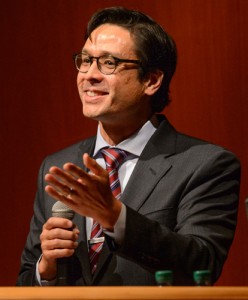 "Honoring the Business and Human Rights Resource Centre with the Dodd Prize is recognition that the struggle for human rights now is not just a matter for lawyers and courtrooms," says Glenn Mitoma, interim director of the Thomas J. Dodd Research Center. "Now it's being taken into board rooms and through business policy, consumer activists and as part of all forms of social and business advocacy."
The link between business and human rights was prominent earlier this year at the Dodd Center when John G. Ruggie, the author of the "Guiding Principles for Business and Human Rights" adopted by the United Nations Human Rights Council, spoke at Konover Auditorium to deliver the 19th Raymond and Beverly Sackler Distinguished Lecture. The next day, experts and officials from Connecticut, the United States government, the United Nations and the business community met in a roundtable to discuss implementation of what became known as "The Ruggie Principles."
The BHRRC website is comprehensive and  includes links to a variety of academic institutions, business organizations, human rights groups, national human rights commissions, publications, online news services, and other resources.  The organization also issues special informational bulletins on a range of topics that affect links between business and human rights concerns including business and children, private military and security companies, legal accountability and briefings on regional and country issues.
"The study of business and human rights is essential for understanding how firms can be a positive force for human dignity," says Robert C. Bird, associate professor of business law and Northeast Utilities Chair in Business Ethics in UConn's School of Business. "The BHRRC posts both accusations and responses and allows the user to draw his or her own conclusions about the conduct of a corporation in a specific market."
Bird says that businesses that are inattentive to human rights have the potential to increase pollution, corruption and disenfranchisement of vulnerable populations, threatening even the most basic rights to food, shelter and water in local areas.  At the same time, corporations can positively affect communities around the world with jobs, economic activity, foreign direct investment and higher living standards.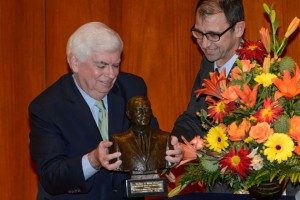 "Awarding the Dodd Prize to The Business & Human Rights Resource Centre is an ideal opportunity to highlight the impact that firms have on human rights," Bird adds. "Mutually beneficial understanding and dialogue with the business community can encourage collaboration and alleviate major human rights violations that face both the developed and developing world."
Last spring, Bird led a colloquium in the School of Business focusing on "Bridging the Gap between Business and Human Rights," which drew academics from around the United States.  Attendees at the conference explored how firms perceive and interact with human rights, examined how voluntary regulatory regimes can positively influence business behavior, and analyzed how multinational corporations can align their interests with human rights in their chosen markets.
Past honorees of the biennial Dodd Prize have included organizations such as the Committee to Protect Journalists and the Center for Justice & International Law, recognizing their efforts around the world, and individuals who have worked on behalf of human rights initiatives such as Louise Arbour, United Nations High Commissioner for Human Rights; The Honorable Richard J. Goldstone, former Supreme Court Judge of South Africa; Taoiseach Bertie Ahern, T.D., Prime Minister of Ireland; and Tony Blair, M.P. Prime Minister of the United Kingdom and Northern Ireland.