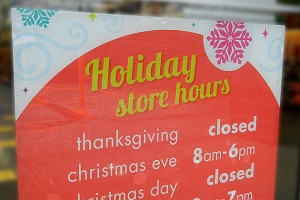 Although more stores than ever are opening to shoppers on Thanksgiving Day this year, 9 out of 10 Americans say they don't plan to spend the holiday hunting for bargains, according to a new UConn Poll released today.
Just 7 percent of adults say they plan to visit stores on Thanksgiving Day, which has begun to usurp Black Friday's role as the unofficial kickoff to the holiday shopping season, as more stores open for business on Turkey Day.
What's more, Americans are far likelier to disapprove of stores opening on the holiday than they are to approve of the decision by retailers to push the traditional Black Friday shopping frenzy a day earlier.
According to the poll, 49 percent disapprove compared to 16 percent who approve, while 34 percent are neutral on stores opening for business on Thanksgiving Day.
"Thanksgiving is a holiday that cuts across all kinds of demographic boundaries in America, so it's no surprise to see that people are wary about the possibility that it could become just another day to go shopping," says UConn Poll Director Jennifer Necci Dineen.
While "Black Friday" creep has been noticed for years, as the opening times for stores the day after Thanksgiving have gotten earlier and earlier, this year an unprecedented number of major retailers are trying to draw shoppers on Thanksgiving night, or even that morning.
Meanwhile, other retailers have staked out a strong public position against opening their doors on the holiday, even taking out ads to trumpet their decisions.
The UConn Poll found that 46 percent of Americans think stores should wait until Friday morning to open, while 34 percent think stores should open whenever they want. Sixteen percent think retailers should at least wait until midnight before Black Friday to start the holiday sales frenzy.
In addition, 34 percent of Americans say they negatively view stores that open on Thanksgiving, while 20 percent say that decision makes them less likely to shop at such stores, although 74 percent say a Thanksgiving opening makes no difference in their decisions about where to shop.
The National Retail Federation forecasts that Americans will spend about $602.1 billion in November and December, with the average holiday shopper spending $423 over Thanksgiving weekend.
The poll also found that 27 percent of Americans plan to go shopping on Black Friday, with 91 percent of those shoppers saying they do so because of the sales available that day, with other reasons including the chance to get shopping done well ahead of Christmas, and the fact that Black Friday itself is a holiday tradition for some.
The survey also measured the continued growth in popularity of online shopping, with 36 percent of adults saying they plan to shop on Cyber Monday, although 60 percent say they'll still do most of their holiday shopping in person.
These findings are based on The UConn Poll. The national sample of 1,189 randomly selected adults were interviewed by landline and cellular telephone between Nov. 16 and Nov. 21, 2013. The margin of sampling error for the survey is +/- 3 percentage points for the entire sample, and larger for subgroups.
The data have been weighted by the number of adults in a household and the number of telephone numbers, land and cellular, at which adults in the household can be reached in order to equalize the chances of an individual adult being selected. The data have also been weighted by the sex, race, and level of education of the respondent based on the American Community Survey conducted by the U.S. Census.