Balach Awarded Prestigious Fellowship
Dr. Tessa Balach, an orthopaedic surgeon at the UConn Health Center who has specialized training in the management of musculoskeletal tumors, was recently awarded a prestigious fellowship by the Ruth Jackson Orthopaedic Society (RJOS).
A national organization that promotes the professional growth and leadership of women orthopaedic surgeons, the Ruth Jackson Orthopaedic Society offers two fellowships each year to accomplished surgeons. Balach was awarded a Practice Enrichment Fellowship which will allow her to travel in 2014 to two large orthopaedic hospitals: the Royal Orthopaedic Hospital in Birmingham, England and the University of Toronto, Mount Sinai Hospital, in Toronto, Canada. She will spend several days in each location and will focus on new advances in pelvic tumor resection, a complex and challenging procedure.
---
Orellana Interviews Governor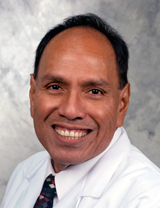 Dr. José Orellana, primary care physician, regularly appears on WPRX 1120 AM radio. Recently, he interviewed Gov. Dannel P. Malloy during the show "Hablando en Serio." Orellana says, "The governor was very kind, very forthcoming and reiterated his support for the UConn Health Center and the Bioscience Connecticut initiative. He covered many subjects but declined to announce that he is running for reelection; however, Secretary of the State Denise Merrill and State Comptroller Kevin Lembo, both present in the show, threw their hats in the ring for 2014."

---
Martinson Wins Poster Award at National Conference
Wendy Martinson, quality assurance specialist at the Health Center, was recognized at the Institute for Healthcare Improvement's 25th Annual National Forum on Quality Improvement in Healthcare.
The poster "Reducing Heart Failure Readmissions: The Connecticut Experience" was selected from 500 poster presentations to receive the Permanente Journal Service Quality Award.
It was developed in partnership with Qualidigm and the Connecticut Hospital Association (CA)HAHHA). Dr. Jason Ryan, Dr. Alison Hong with CHA, and Qualidigm registered nurse Anne Elwell also helped author the poster.
---
Chidambaram Selected to Attend Leadership Summit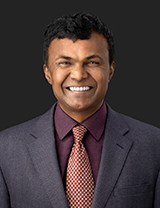 Dr. Ramaswamy Chidambaram, director of the Center for Comparative Medicine, has been selected as an Ad Hoc Consultant for the Association for Assessment and Accreditation for Laboratory Animal Care International (AAALAC) from 2013-2016.
Chidambaram is also one of the few to be selected for ACLAM leadership summit in Memphis, TN on Feb. 3 by the American College of Laboratory Animal Medicine (ACLAM).
---
Laurencin Named a Fellow of the National Academy of Inventors
Dr. Cato T. Laurencin, University Professor and Albert and Wilda Van Dusen Distinguished Professor of Orthopaedic Surgery, has been named a Fellow of the National Academy of Inventors (NAI).
Election to NAI Fellow status is a high professional distinction accorded to academic inventors who have demonstrated a prolific spirit of innovation in creating or facilitating outstanding inventions that have made a tangible impact on quality of life, economic development, and the welfare of society.
The 143 innovators elected to NAI Fellow status represent 94 universities and governmental and non-profit research institutes.  Together, they hold more than 5,600 U.S. patents.
The NAI Fellows will be inducted by Deputy U.S. Commissioner for Patents Andy Faile, from the United States Patent and Trademark Office, during the 3rd Annual Conference of the National Academy of Inventors, on Mar. 7, 2014, in Alexandria, Va., at the headquarters of the United States Patent and Trademark Office. Fellows will be presented with a special trophy and a rosette pin. 
---
Physical Therapists Recognized for Research
Two Health Center physical therapists, Sean Riley and Brian Swanson, were selected via peer review to present their original research at the American Academy of Orthopaedic Manual Physical Therapists national conference in Cincinnati, Ohio.
Riley presented his study titled "Effects of Thoracic Spinal Manipulations and Patient Expectation on Shoulder Impingement Symptoms: A Randomized Clinical Trial." This represented collaborative research performed with the Department of Rehabilitation, NEMSI/Dept. of Orthopaedic Surgery, and Texas Tech University. Swanson presented his study, titled "Manual Unloading of the Lumbar Spine: Can It Identify Immediate Responders to Mechanical Traction in a Low Back Pain Population? A Study of Reliability and Predictive Criterion-Related Validity." This research represented a collaborative effort of the Department of Rehabilitation, UConn Health's Comprehensive Spine Center, and Andrews University.
---
Follow the UConn Health Center on Facebook, Twitter and YouTube.