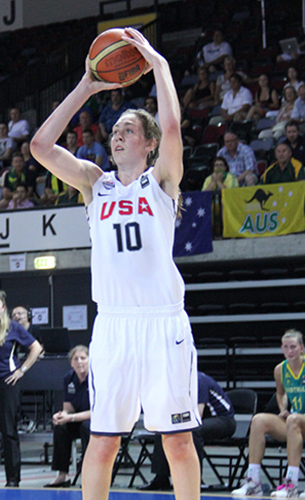 When Breanna Stewart '16 (CLAS) was selected last week as the USA Basketball Female Athlete of the Year for the second time in the last three years, she expressed the hope that one day she would be able to play for her country in the Olympics. As a veteran of USA Basketball with five international gold medals in her trophy case, the self-effacing second-year Husky did not have to wait very long to get a major step closer to the opportunity she desires.
Earlier this week, the 19-year-old Stewart was among seven current and former Huskies named by USA Basketball to the group of 33 of the nation's top women basketball players who hope to make the USA National Team. Once selected, the team will try to qualify for the 2014 FIBA World Championship and for the 2016 Olympic Games in Rio de Janeiro, Brazil.
"Ever since I watched the Olympics, that's something I've always wanted to do," Stewart says, adding that representing her country through basketball at the highest level is one of her biggest goals.
Stewart, junior Kaleena Mosqueda-Lewis '15 (CLAS), and senior Stefanie Dolson '14 (CLAS) were selected to the player pool, along with former Huskies Sue Bird '02 (CLAS) of the Seattle Storm, Tina Charles '10 (CLAS) of the Connecticut Sun, Maya Moore '11 (CLAS) of the Minnesota Lynx, and Diana Taurasi '05 (CLAS) of the Phoenix Mercury.
"Stewie has always been honored to be part of USA basketball. It's one of the most important things to her," says Huskies head coach Geno Auriemma, who will return as coach of the USA National Team. "As far as the game itself goes, she's never passed up an opportunity to participate and she's played at her age group, she's played up one or two and sometimes three years, and she always performs at a really high level. "You just tell her when training camp is and she shows up. Whatever team she's on usually wins a gold medal."
The current trio of Huskies are among just six student-athletes in the pool who are still playing as undergraduates and in the future will likely play in the WNBA. Dolson has won two gold medals and Mosqueda-Lewis has won four, playing in international competition. Bird, Charles, Moore, and Taurasi, along with Swin Cash '02 (CLAS) and Asjha Jones '02 (BUS), were members of the U.S. Olympic Team that won the 2012 London Olympics gold medal coached by Auriemma. They are among the group of USA veterans in this year's selection pool who collectively have won 14 Olympic and/or FIBA World Championship gold medals.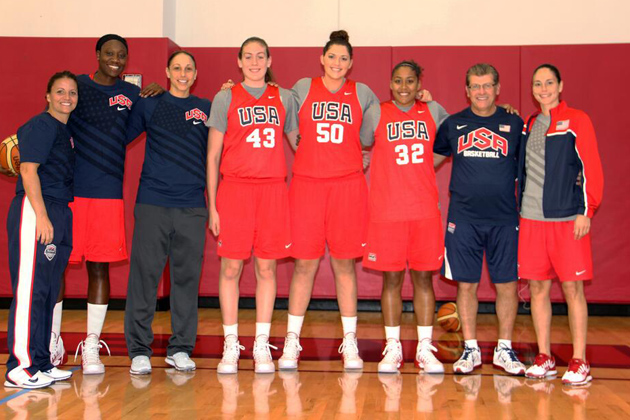 The seven UConn players represent the largest group of those connected to a university that has produced top student-athletes in women's basketball. Three players are from Tennessee and two each represent Baylor, Louisiana State, and Notre Dame.
"I think the game has changed tremendously and we are fortunate that the pool is probably greater than it's ever been," says Auriemma. "The gap between those that have won gold medals and those that are still playing for the USA Basketball National Team and those that want to be part of it who are younger and have made a name for themselves is narrowing every year. I'm excited that we have so many great players to choose from."
Says Dolson, "I don't know that I always thought it would really happen, but after putting in all the hard work here at UConn and doing the same with USA Basketball, I've grown and improved so much. It's really just awesome to be a part of this."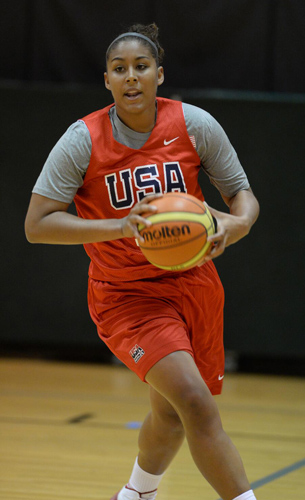 Adds Mosqueda-Lewis: "Ever since I started playing USA Basketball and getting a feel for the organization and seeing what it's all about, it's been a hope of mine to make the National Team. So now, being in the pool and getting closer to that goal is really cool."
Participation on a USA Basketball Team is by invitation only. Competition committees select athletes to participate in team training as well as the final 12-member team. The USA Basketball Women's National Team over the next three years will compete in the 2014 FIBA World Championship (Sept. 27-Oct. 5 in Ankara and Istanbul, Turkey), and if the USA qualifies, the 2016 Summer Olympic Games (Aug. 5-21 in Rio de Janeiro, Brazil). They will also take part in additional USA training camps and exhibition games, in order to determine the final roster of 12 players who would go to Brazil in 2016.
"It's always difficult when you're trying to put together a team," says Auriemma. "It doesn't always come down to picking the 12 best players, putting them on the team and let's go. I think there are other factors that go into it, and hopefully the committee and coaches can come up with a team that is capable of winning gold medals and represents the U.S. in the best possible manner."
Members of the USA Basketball Women's National Team Player Selection Committee include Chris Sienko '88 (SFA), Connecticut Sun vice president and general manager, as well as USA Basketball women's national team director Carol Callan; WNBA appointees Reneé Brown, WNBA chief of basketball operations and player relations, and Dan Hughes, San Antonio Silver Stars head coach and general manager; and three-time Olympic and two-time FIBA World Championship gold medalist Katie Smith, who played in nearly 200 games for USA Basketball from 1993 to 2008, and serves as the athlete representative.