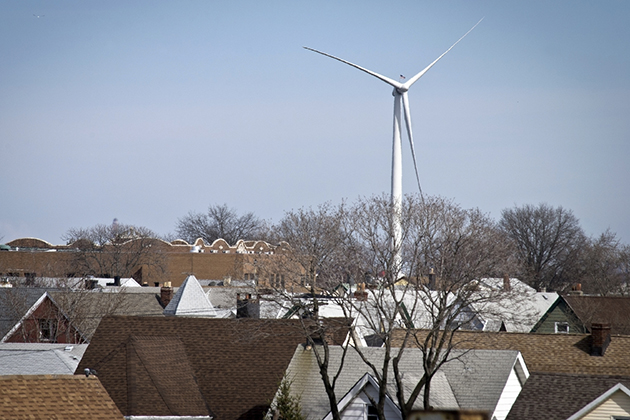 A new report by researchers at UConn and Lawrence Berkeley National Laboratory has found no evidence that wind turbines – increasingly common as a source of clean energy – have negative effects on nearby property values or home sales.
The study, which involved assembling the largest-ever dataset for research of this type, examined more than 122,000 home sales in Massachusetts between 1998 and 2012 occurring within five miles of the current or future location of 41 turbines. Unlike previous studies on wind turbines and property values, which measured rural communities where home prices are typically lower, the new study examined home sales in densely populated areas, where no negative impact on property values could be found.
"One of the factors that gives us confidence in our results is that we were able to assemble such a large data set of home sales," said lead author Carol Atkinson-Palombo, a UConn professor of geography. "If turbines really were blighting these areas, you wouldn't be able to give property away. The fact that you have all these transactions means people want to buy."
However, while the study found no impact on property values or home sales from wind turbines, the researchers did find that other environmental features can have significant positive or negative effects. Beaches and open space, for example, increase property values, while proximity to major highways or electricity transmission lines can have negative impacts.
"Although there have been claims of significant property value impacts near operating wind turbines that regularly surface in the press or in local communities, strong evidence to support those claims has consistently failed to materialize in all of the major U.S. studies conducted so far," said Ben Hoen, co-author of the report and a researcher in the Environmental Energy Technologies Division of Berkeley Lab.
The research, which was supported by the U.S. Department of Energy's Office of Energy Efficiency and Renewable Energy and by the Massachusetts Clean Energy Center, focused on areas within five miles of the 41 turbines in Massachusetts that are larger than 600 kilowatts and were operating as of November 2012.
Download the new 2014 UConn/Berkeley Lab report, "Impacts of Wind Turbine Proximity on Property Values in Massachusetts."