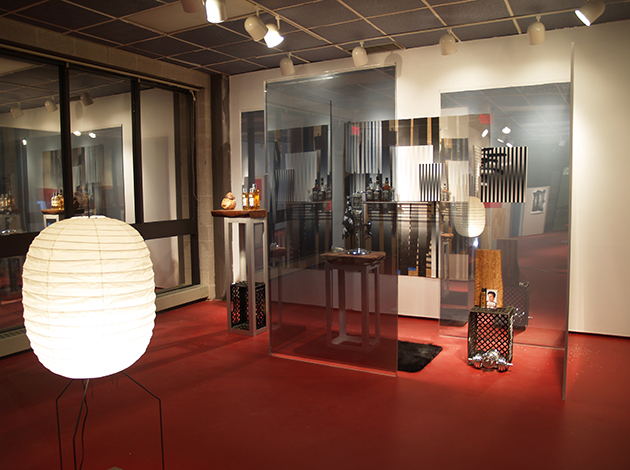 The shadow of philosopher and communication theorist Marshall McLuhan is cast long in the 21st century. He predicted the Internet three decades before it was invented; first presented the concept of the global village; and preached, "The medium is the message." He also in effect described marketing – which focuses on price, product, place, and promotion – as high art.
"Display: Marketing as Art," an exhibition at the Contemporary Art Galleries (CAG), provides a fresh look at these ideas through the work of five artists who utilize found objects in their works that illustrate, engage, and challenge the visual language of commercialism.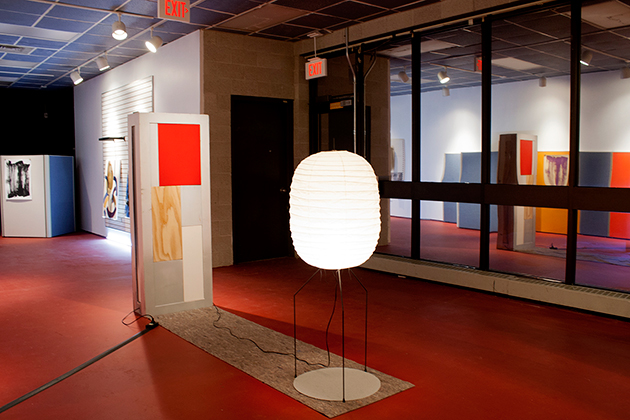 Using fashionable product display materials such as chrome fixtures and shelving usually found in high-end retail stores, the five artists incorporate found objects such as rocks, old liquor bottles, plastic milk crates, and wood pieces, and combine them with artwork.
The artists include Martin Basher of New Zealand, Gabriele Beveridge of London, Dike Blair whose studio is located in upstate New York, Josephine Meckseper of Germany, and Mika Tajima of Los Angeles.
Barry Rosenberg, curator of CAG, says after seeing Meckseper's work on display in a New York City gallery he thought the use of found objects was taking hold in a different way than he had previously seen in contemporary art.
"There's all this chrome and glitter, like going into a high-end boutique or into Lord & Taylor," Rosenberg says. "The first thing you see is lots of mirrors and lots of reflection that's always there for jewelry and cosmetics with these found objects and the art."
The curator has transformed the gallery into a more open space than in recent exhibitions, taking down partitions that previously divided the room and removing coverings that revealed the glass windows along the street-side of the gallery. Combined with the reflective glass and mirrors that make up parts of the exhibition, the gallery has a roomy, spacious feel.
"I wanted to take advantage of the reflected image, recreating retail space," Rosenberg says. "Each of them works individually but also together. The floor is painted red. It's all about high-end design and product."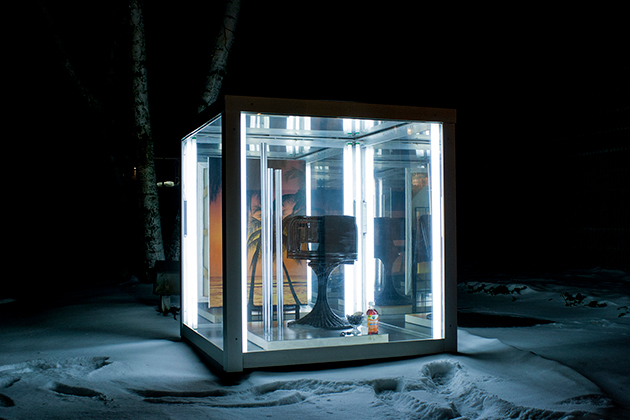 Two works by Basher were created for the exhibition, which is supported by Walbridge Capital and Kristi Ann Matus. "Paradise Sale" is located outdoors and is a mixed media work that includes Plexiglas, aluminum, and fluorescent lights on a concrete base that at night reveals a painting of a saturated sunset beach. "Untitled (Spiritual Marketplace 3)" uses the illusion of hyper-masculinity through the use of men's hair and skin products, chrome, mirrors, wood, whiskey bottles, and free-weights to address commercialism.
Two installations by Tajima, "A Facility Based on Change II" and "A Facility Based on Change III," turn wall panels used for office cubicles into sculpture used as a mini-gallery for art by painting blue-gray canvas with primary colors with silk-screen prints hung from push pins.
Meckseper uses slat boards as the canvas for hanging abstract paintings that could be plucked off the wall for purchase, along with chrome hanging bars and clothing hooks to comment on art as a commodity.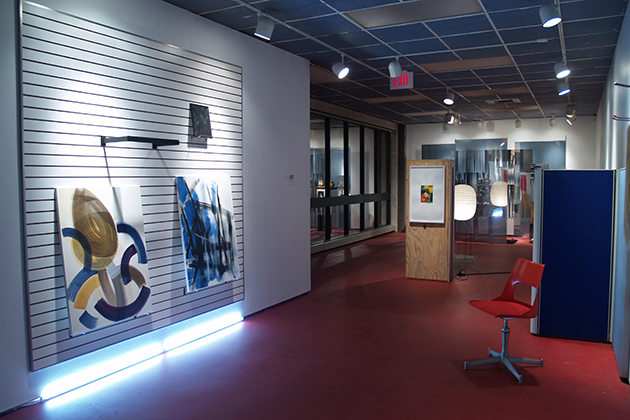 Beveridge works with a pegboard and chrome hooks to display a bleach blond wig, a crystal with glittering minerals, a wind chime, fake pearls, a framed magazine photo of a woman's face, and a photo-transfer of a beach scene to create "Post-Exertion Visibility," which represents the cluster of advertising that is found everywhere.
Blair's work "(IN) Out" combines painted art shipping crate, carpet, framed gouache on paper, and a Noguchi lamp to explore the possibility of different media.
"Display: Marketing as Art" continues through April 14 at the Contemporary Art Galleries, 830 Bolton Road, Storrs. Hours are Monday through Friday from 10 a.m. to 4 p.m. and Sunday from 1 to 4 p.m. On April 14 there will be an artist's reception and a symposium on the show's theme that will include artists and members of the School of Business faculty.