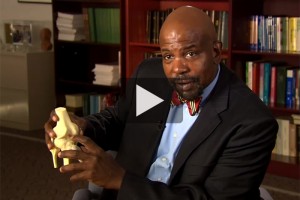 The pioneering work of UConn Health researcher Dr. Cato T. Laurencin is featured in an educational video series on NBC called the "Science and Engineering of the 2014 Olympic Winter Games."
A segment called "Injury and Recovery" describes new treatment advances in sports-related injuries, such as anterior cruciate ligament (ACL) tears – a relatively common injury in skiing and snowboarding. The piece highlights Laurencin's invention of the L-C Ligament, the first bioengineered matrix shown to completely regenerate ligament tissue inside the knee. This patented technology is currently being tested in human clinical trials in Europe.
Laurencin specializes in regenerative engineering, an advanced form of tissue engineering that combines materials science, stem cell science, and developmental biology to regenerate muscles, ligaments, and tendons. His work has been cited by National Geographic among '100 Scientific Discoveries that Changed the World.'
In the video, he explains his work: "By understanding how cells interact with materials, we can create three-dimensional matrices that when implanted into humans can regenerate the ACL. The goal is not just to create a material that is like the ACL, the goal is to create a material that becomes the ACL."
Laurencin is Van Dusen Distinguished Professor of Orthopaedic Surgery at the UConn Health Center, founding director of the Health Center's Institute for Regenerative Engineering, and University Professor in UConn's School of Engineering.
Direct Link: http://nbclearn.com/2014olympics/cuecard/68290
---
Follow the UConn Health Center on Facebook, Twitter and YouTube.