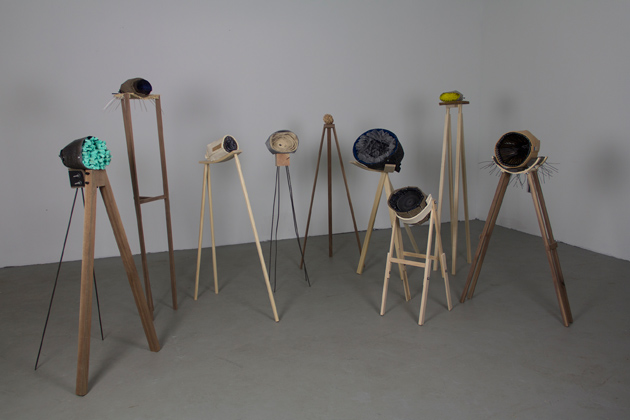 Finding his way to sculpture was an evolutionary process for Shane Morrissey, one of five MFA candidates whose work is part of "Unclaimed Space: The 2014 Master of Fine Arts Exhibition" at the William Benton Museum of Art through May 11.
Morrissey began working in sculpture during his senior year in high school in the metropolitan New York City area, and then headed south to pursue a degree in drawing and sculpture at the Maryland Institute College of Art in Baltimore.
"In my senior year in high school it just all clicked," he says. "It became more of an endeavor and a personal investment. I started spending a lot more time making my art."
In Baltimore, Morrissey learned about woodworking while being mentored by two artists, one who worked in wood and another who created works in metal and concrete. He says: "I kind of fleshed out my skills. I found my own voice in sculpture."
Returning north to live in Brooklyn, N.Y., he found a job building frames for museums and galleries in Chelsea and improved his techniques working with wood. He described his finely crafted sculptures as being "more playful with the materials in pairing texture and color," such as his 2008 work "Soles," which is an inverted pair of shoes on a finely crafted table, and "Rock Basket," a work from the same year that depicts a rock wrapped in a cloth resting on a serving board with a handle.
In deciding to pursue a master of fine arts degree at UConn, Morrissey says he wanted to change his work, leaving his more minimal creations, and "take a leap in a new direction."
Part of the new direction before heading to UConn found him doing two residencies after he had been accepted to the program. One was at the Wassaic Project in Dutchess County, N.Y., and another at The Contemporary Artists Center at Woodside in Troy, N.Y., where he was able to work with other artists and hear their critiques of his work. While in Troy, he met Lani Asuncion '11 MFA, now a media production specialist and adjunct professor of video at Quinnipiac University, who described the rigors of the program he would soon join.
"It was an important time for me. It got me working really intensely before I came here," Morrissey says. "I was ready to do work full time in the studio."
His work on display at the Benton is based primarily in wood, with a variety of mixed media that complements each piece. The artist says the MFA program helped him to cycle through his creative ideas in order to make decisions on when to move forward on a project.
"It's toughened me up in a lot of ways," Morrissey says. "If something is not working, I should be willing to admit it."
He says reading and doing academic research for the MFA has been beneficial. The MFA students shared a seminar with students in art history. "It was great getting their feedback," he says, "because they have a historical and academic read on art, and it's really useful."
Morrissey's works on display at The Benton are based loosely upon memory, "evidence of a larger event that happened around an object I chose." He is interested in conveying a lot of meaning through just one commemorative object, noting this is a different way of working, to develop a larger idea and then work toward it.
Morrissey recently had his first solo exhibition at Real Art Ways in Hartford, one of the nation's leading contemporary arts organizations, which funds emerging artists and provides an opportunity for showcasing their work. His work "The Hobie Cat" is based on a memory of his sister being stung by a swarm of bees while she was playing on the family's beached catamaran.
He has also been invited to return to the Wassaic Project and contribute a piece to an exhibition this summer, installing his 2013 walnut, cast paper, and bolts work, "Cactus," into a cactus field.
"It was a good idea on their part," he says. "It is different in that once it is expanded, it won't be based on one memory, it will be its own full-scale piece."
Morrissey says the critiques and guidance from faculty in the Department of Art and Art History have become integral to the work he has produced. His advisor, Barry Rosenberg, curator of the Contemporary Art Galleries, in particular, has been influential.
"I have spent many enjoyable hours in Shane's studio over the past two years discussing his art making and creative interests," says Rosenberg. "His thesis work has strong conceptual foundations, built upon a mix of logic and wit, often taken to a playful extreme. He's found his voice."
The 2014 MFA exhibition also includes works by Micah Cash, painting and photography; Julia DePinto, printmaking; Jared Hold, interdisciplinary work; and the Research Team of Regan Elizabeth O'Reigaekn, artifacts and evidence. For more information, go to The Benton website.