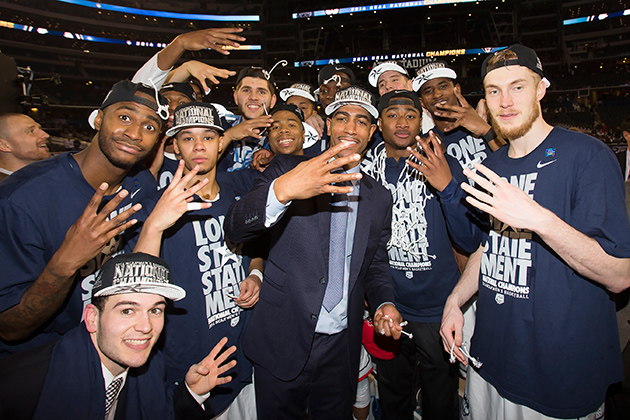 With grit and determination and a profound belief in themselves, the UConn men's basketball sealed a win over Kentucky last night and claimed the program's fourth national title.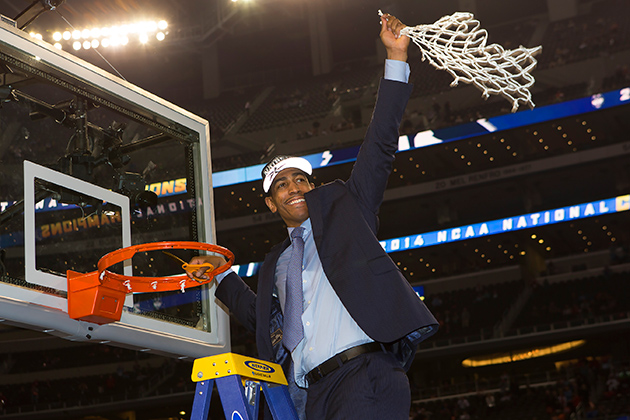 The seniors who persevered when the program was in transition earned their reward, with a second national championship to bookend their UConn careers.
Kevin Ollie, in just his second year as head coach and first as head coach in the NCAA Tournament, led his team to a 60-54 win over the Wildcats, fufilling the promise he made to fans at the end of the regular season that the Huskies would be back in Gampel in April.
"You're looking at the hungry Huskies," UConn senior guard Shabazz Napier told the crowd of 79,238 at AT&T Stadium, last night.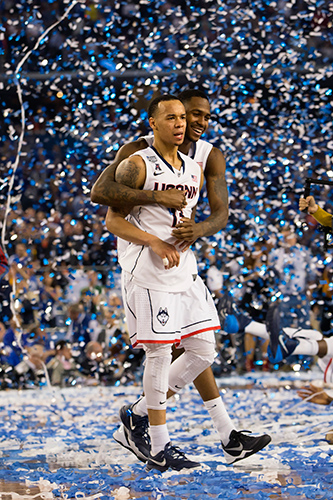 Teammate and senior forward Niels Giffey noted, "It's not about going to the next level, it's not about going to the pros, but playing for your university, playing for your teammates. And I'm so proud of all the guys on this team that stuck with this team."
The NCAA Championship men's team will make their appearance at a pep rally in Gampel Pavilion this afternoon, beginning at about 5:15 p.m. The event, which will include brief comments from Ollie and others, is free and open to the public. Doors will open at 4:15 p.m.
UConn Police will escort the bus, and will close Hillside Road in the area between Glenbrook and Jim Calhoun Way as the bus nears campus.
Following the rally, Gampel Pavilion will remain open for a student viewing of the NCAA women's national championship game between UConn and Notre Dame. The game is scheduled to begin at 8:30 p.m. Following the game, there will be a DJ on Fairfield Way.
Hillside Road will be closed off toward the end of the women's game. In addition, the following facilities will close early today: ITE Building at 6:30 p.m.; Laurel Hall, 8 p.m.; the School of Business, 8 p.m. The Student Union will maintain normal business hours.
See the crowd watching last night's game in Gampel react to the Huskies win.
See how UConn fans greeted the men's team on their return to Storrs.