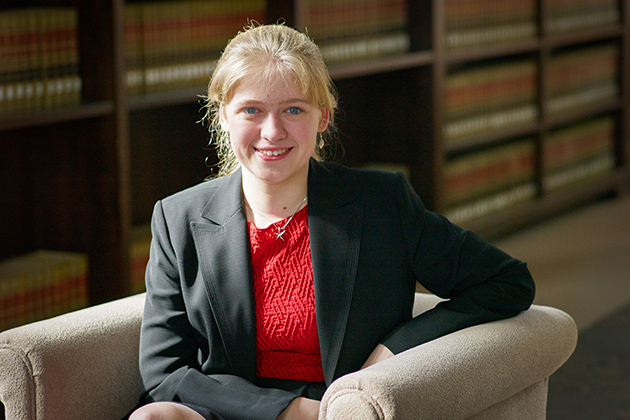 Junior Molly Rockett '15 (CLAS), a political science major, has been awarded a prestigious Truman Scholarship, a highly competitive national scholarship.
She is the fifth UConn student to receive the Truman Scholarship, which provides recipients with up to $30,000 for graduate studies. This year, the Foundation selected 59 new Truman Scholars from among 655 candidates nominated by 294 colleges and universities.
The mission of the Harry S. Truman Scholarship Foundation is to fund students who are dedicated to a career in public service. Scholars also receive priority admission at some premier graduate institutions, leadership training, career and graduate school counseling, and special internship opportunities within the federal government.
The 2014 Truman Scholars will assemble May 22 for a leadership development program at William Jewell College in Liberty, Mo.
"Mary (aka Molly) Rockett is a dynamo," wrote Jill Deans, director of the Office of National Scholarships & Fellowships in her nomination letter to the Truman Review Committee. "She has tremendous potential to be a mover and shaker in the political arena – some might argue that she already is, here in Connecticut."
My mission is to show people the magnitude of their own personal power in the political system. (Molly Rockett)
An Honors student, New England Scholar, and 2014 University Scholar – UConn's highest academic distinction, she has been a research assistant for political science assistant professor Matthew Singer, examining voting behavior in Latin America, and earned a RARE award for research using Roper Center for Public Opinion Research data, working with political science associate professor Virginia Hettinger on a project titled, "Public Perception and Judicial Legitimacy."
Rockett is deeply committed to political engagement. She began her political activism in high school and is now an elected member of the Town of Somers Board of Education.
"My mission," she says, "is to show people the magnitude of their own personal power in the political system."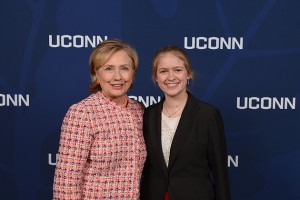 As president of the UConn College Democrats, she led the group to an impressive showing in an off-year election cycle. She was also invited to participate in UConn's Leadership Legacy program and in other opportunities for emerging leaders, including the National Education for Women (NEW) Leadership New England Conference and "Elect Her": Women in Politics Training Conference.
Rockett has served as an intern in the Washington, D.C., offices of U.S. Sen. Richard Blumenthal and U.S. Rep. Joe Courtney '78 JD, and as an intern for Washington Analysis Investment Research, a private sector company that analyzes the effects of federal policies and regulations on corporate investments.
She plans to attend law school after graduating from UConn and eventually to apply her legal skills in supporting the political campaigns of women and LGBT candidates.