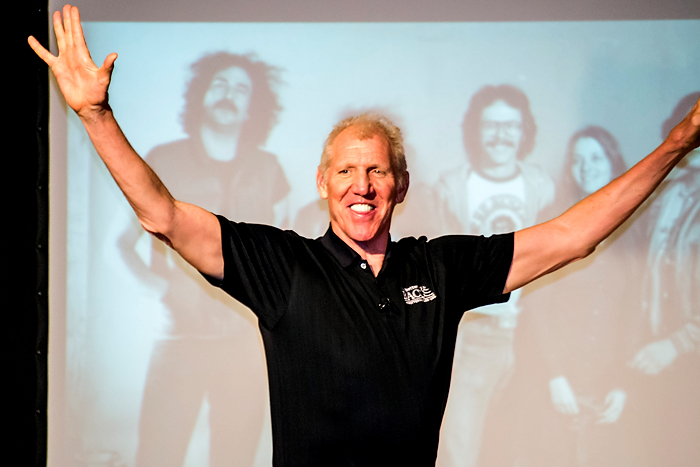 Bill Walton had a stellar basketball and broadcasting career but excruciating back pain brought the Hall of Fame player to the brink of suicide.
During a special educational program at UConn Health Thursday, the nearly seven-foot tall former NBA star told the audience, "Although I had a great family and wonderful friends, my life was so limited, so painful, so empty, I thought about ending it."
Additional Coverage
Walton said he tried everything to stop the unrelenting pain: acupuncture, chiropractic adjustments, massage, yoga, physical therapy, core strengthening, medication, injections. Nothing worked.
Walton knew surgery was an option but he fought that decision for as long as he could. "I certainly wasn't a stranger to the operating room—I had already had 35 orthopaedic surgeries on my feet, ankles, knees, and hands. But I did not want anybody cutting on my spine."
A friend of Walton's told him about the XLIF (eXtreme Lateral Interbody Fusion) procedure in which the surgeon enters the patient's spine from the side, rather than from the front or back as in traditional surgeries.
UConn Health was one of the first in the region to offer this option for chronic back pain patients. Orthopaedic surgeon Dr. Isaac Moss has done more than 100 of the XLIF procedures.
Moss says the surgery is minimally disruptive because the surgeon approaches from the side and avoids injury to the sensitive lower back muscles (one of the main sources of pain after traditional back surgery). The XLIF procedure also uses patented nerve monitoring technology so the surgeon avoids major nerves in the area between the incision and spinal column. This means a reduced incidence of nerve injury during surgery so patients are more comfortable after the procedure, require less pain medication, and return to normal activity more quickly.
Consumed by the pain and at the end of his rope, Walton had the surgery that he says changed his life. "Today, I'm healthier than I've been since high school, and I'm busier and happier than I've ever been. It's a miracle."
Walton is now back doing normal activities and has become a patient ambassador for The Better Way Back®, a community that provides free support, information and resources to those suffering from severe chronic back pain.
"Now that I have my life back, I have a responsibility to 'pay it forward.' I want to do everything that I can to help those suffering the way I did."
If you would like more information about the XLIF procedure, call 860-679-4719.
---
Follow UConn Health on Facebook, Twitter and YouTube.