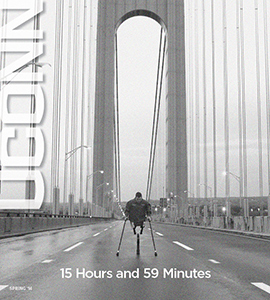 Feature
Portraits of Strength – In 1933, UConn students designated the husky as the symbol of strength that has come to define the true spirit of the University. Eleven proud alumni speak out about their own enduring spirit, sharing their darkest struggles as well as their greatest triumphs.
Alfredo Fuentes '08 MPS
Bessy Reyna '72 MA, '82 JD
Dominique (Soucy) Matteson '03 (CLAS)

Jena Greaser '10 (CLAS)
Joseph Zinski '10 (ENG)
Khaliyl Lane '10 (CLAS), '13 MSW
Lucas Massella '13 (CLAS)
Mikey Chase '13 (CANR)
Phillip Valentine '87 (CLAS)
Sandra Bixler '07 (CLAS)
Big Idea
A Growing Knowledge: From Plants to Pollinators – How might the disappearance of pollinators impact the world as we know it, from plants to humankind? With the help of the National Science Foundation, botanist Krissa Skogen '08 Ph.D. has resolved to begin seeking out the answers.
10 Questions
Nature of the Beast – In the face of one of nature's most astounding displays of devastation, expertise in the ecology of fire has equipped wildland firefighter Lt. Christopher Renshaw '01 (CANR), '07 MS with the strategies essential to survival.
Vantage Point
Guilty Until Proven Innocent – The truth is not always what it seems. Stephen Saloom '90 (CLAS), '96 JD explains how his work has been critical to turning over hundreds of wrongful convictions through DNA testing – and preventing future injustice for innocent inmates nationwide.
Huskymania
Beyond the Goal Line – Raised in a neighborhood pervaded by drugs and violence, persisting through a years-long struggle to succeed in the NFL, Danny Lansanah '08 (CLAS) has never wavered in carrying his message of determination back to those who need to hear it.
Number Cruncher
UConnservation – What does preserving the environment look like on a university campus? Get a glimpse into UConn's many eco-conscious highpoints, from our ranking No. 1 as the greenest, most sustainable university in the U.S. to our plans to become a carbon-neutral campus.
Leaders of the Pack
This Side of Survival – Surviving against all odds, yet told he would never walk again, UConn student and motivational speaker John Tartaglio '14 MBA is proving to people across the country that adversity does not define who you are.
Notes and In Memoriam