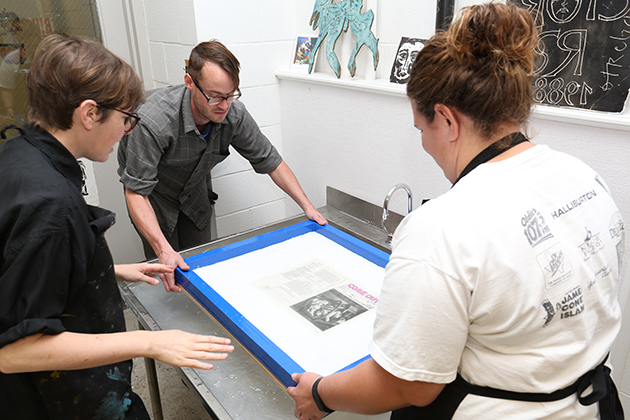 Amid the struggle of traditional print media to survive in the Digital Age, spending time among the books, artifacts, pamphlets, and ephemera of The Alternative Press Collection at the Thomas J. Dodd Research Center can provide inspiration for those interested in activist movements for social, cultural, and political change.
For the past several months the collection, which is part of the Dodd Center's Archives and Special Collections section, has been the source of artistic inspiration for "Time to Think Like a Mountain," an exhibition by Louise Menzies, which opened Oct. 8 at the Contemporary Art Galleries and continues through Nov. 21.
Menzies, a New Zealand multimedia artist, has served as an artist-in-residence in Storrs for the past month while creating the exhibition, which focuses on materials in the Alternative Press Collection from the 1960s through the 1980s. She has selected newspapers, flyers, photos, posters, and other media covering a variety of issues and reproduced them on hand-made papers created in the printmaking shop located in the Merlin D. Bishop Center.
"I find it interesting to work in an archive as an artist," Menzies says. "It's a very different process than if you're doing any other kind of research. I've chosen artifacts to reproduce and make a new image of. I find I'm responding to them visually as much as to the content in them. How something looks can be, at times, as meaningful as what is trying to be mobilized by that piece of paper."
The artist says she has an ongoing interest in printed material, particularly the media. In fact it was her 2013 exhibition "World, Business, Lifestyle, Sport" at a contemporary art gallery in her hometown of Christchurch, New Zealand, that caught the attention of Barry Rosenberg, the director of the Contemporary Art Galleries.
Rosenberg, associate professor of art in the School of Fine Arts, saw the exhibition while traveling in New Zealand to visit studios and identify artists who might benefit from the resources available at UConn.
"The idea was to find artists who hadn't been shown in the States but worked in an interdisciplinary way," Rosenberg says, much like Sally Smart of Australia and Lina Pearson of Sweden, who also created new works while serving as artists-in-residence in Storrs in recent years.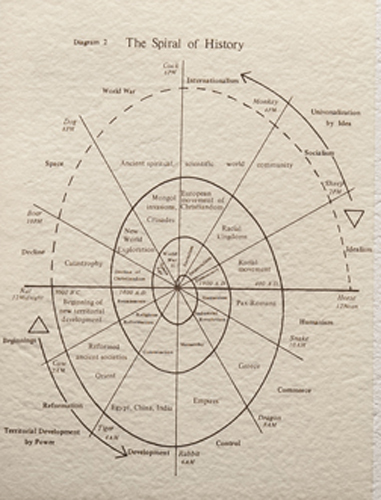 While researching what UConn might have to offer her art making, Menzies learned about The Alternative Press Collection. It brought to mind her previous work on the School of Radiant Living, a New Zealand movement that centered on the interaction between mind, spirit, and body, which also grew out of materials in an archive.
Last spring, Menzies spent two weeks at the Dodd Center reviewing the thousands of national and international newspapers, serials, books, pamphlets, ephemera, and artifacts documenting activist themes and organizations that make up the collection. She also began discussions with faculty in several disciplines, and staff at the Dodd Center helped her narrow the focus of her preparatory research.
"It's been a real privilege to explore a history from somewhere else," Menzies says. "I have taken it as an opportunity to learn as I go. I've had some important dialogue with people I've met during the project that has influenced what I've searched and become curious about."
Menzies says she was drawn to issues emerging during the 1980s, a time when American politics moved to a more conservative emphasis during the presidency of Ronald Reagan.
"You can feel the change in tone in the materials," she says. "A lot of groups who had been active and public about their ambitions for change previously are very cautious and suspicious of authority."
The CAG exhibition created by Menzies is presented in three ways: a series of works created with handmade papers and with ephemera recreated and forged into a single document; works that treat paper materials photographically; and a 16mm film that Menzies made for "World, Business, Lifestyle, Sport."
Menzies says working with the resources available at a large research university has provided a novel experience for her as an artist that is different from her work in residence in an art gallery environment.
"I've gotten to work with a wonderful team here in the print shop with Laurie Sloan [associate professor of printmaking], and have been able to find a new direction in my thinking and process," she says. "It's been wonderful working within the context of an art school, because there is a different dialogue among staff and students. It's been a very generous and rich time for me to be here."
Following the completion of its Storrs exhibition, "Time to Think Like a Mountain" will travel to the Gus Fisher Gallery in Auckland, New Zealand. A publication based on the exhibit will be a joint activity of the Contemporary Art Galleries and New Zealand's Split Fountain Publications.
"Time to Think Like a Mountain" continues through Nov. 21 at the Contemporary Art Galleries, 830 Bolton Road, Storrs. For more information, go to the CAG website.