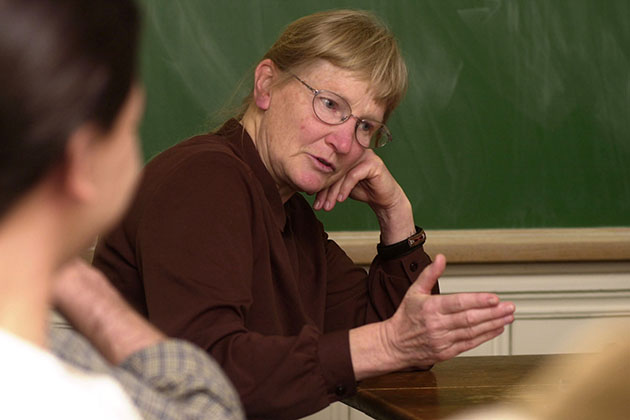 Philosopher Ruth Millikan was recently inducted as a member of the American Academy of Arts and Sciences, one of the nation's most prestigious honorary societies and a leading center for independent policy research.
Millikan, Distinguished Professor emerita of philosophy in the College of Liberal Arts and Sciences, was elected as part of the 2014 class of members, which includes winners of the Nobel Prize, MacArthur Fellowship, Pulitzer Prize, Fulbright Fellowship, and Grammy, Oscar, and Tony Awards.
Named a UConn Board of Trustees Distinguished Professor in 2001, Millikan's teaching and scholarship has focused on philosophy of the mind, of psychology, of language, pragmatics, and biology. Her landmark book, Language, Thought and Other Biological Categories (MIT Press, 1984) set the foundation for her work, which focused on what she called "biosemantics" – a distinctive approach to what is known in philosophy as the problem of intentionality.
An example of this problem arises when an individual makes a false judgment, and thereby affirms a state of affairs that does not really exist. The problem: how that is different from affirming nothing at all – and how could affirming nothing at all qualify as a case of judgment?
"Her book began with a novel solution to a problem that had remained unsolved for more than 2,000 years, sometimes called 'the problem of intentionality,'" says Crawford Elder, professor emeritus of philosophy and former head of the department. "It took a long, long time for her work to receive the recognition it deserves. In the meantime, she was adding insightful solutions to problems about perception, concepts, natural kinds, biological functions, and natural signs. Her work is profound and sweeping in its scope, and yet her writing remains sparkling and engaging."
Millikan's scholarly writing includes seven other books, and more than 90 articles published in scholarly journals. She has received a host of honors, ranging from the Jean Nicod Prize from The Centre National de la Recherche Scientifique of France and The Gareth Evans Memorial Lecture at Oxford University to the First Annual AAUP Award for Excellence in Research at UConn and the Distinguished Woman in Philosophy Award from the Society for Women in Philosophy. She has lectured at universities throughout the United States and the world, and is a past president of the Society for Philosophy and Psychology. She currently serves on the editorial board of "Philosophical Papers," an international journal of philosophy based at Rhodes University in South Africa.
Millikan continues to write on a variety of subjects for scholarly publications, websites, and conferences, including "An Epistemology for Phenomenology" ("Studies in Brain and Mind," 2013); "What's Inside a Thinking Animal? (22nd Germany Congress for Philosophy, 2012); and "Thoughts of Real Kinds" (Handbook of Philosophy of Psychology, Oxford University Press, forthcoming).
"Besides Ruth the philosopher, there is Ruth the remarkable person," says Donald Baxter, head of the Department of Philosophy. "I have marveled at how she balances an accurate estimation of her abilities and accomplishments with utter unpretentiousness and lack of affectation. She is a model for us all, as a philosopher and as a person."
Millikan is the most recent member of the University faculty to be elected to the AAAS. Other current faculty include Mary Jane Osborn, professor of molecular biology and biophysics at the School of Medicine and UConn Health (1977), Gene Likens, Distinguished Research Professor of Ecology and Evolutionary Biology (1979), Roy D'Andrade, professor emeritus of anthropology (1990), David A. Kenny, Distinguished Professor emeritus of psychology (2008), and Robert Colwell, Distinguished Professor emeritus of ecology and evolutionary biology (2011).