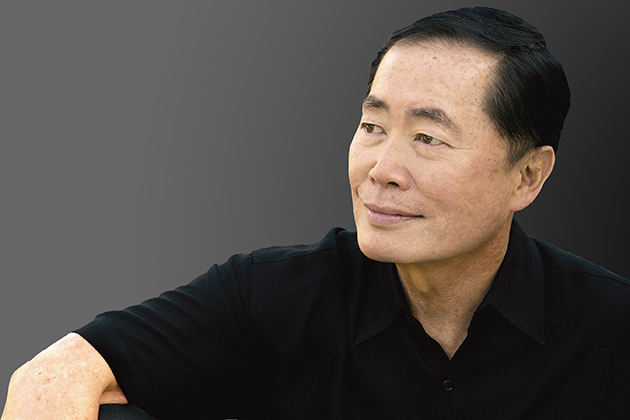 Actor and activist George Takei says he believes in following the mantra that is the overarching theme for his best-known work as Hikaru Sulu, helmsman of the Starship Enterprise.
"I believe, as 'Star Trek' says, in boldly going where I haven't been before," says the actor. Takei will speak at 7:30 p.m. on Wednesday, Nov. 5, at the Jorgensen Center for the Performing Arts about his five-decade acting career and his 21st-century second act using social media to advance his role as an activist for social justice.
Takei says his ascent to having more than seven million likes on Facebook began when he was promoting his Broadway-bound production "Allegiance," which originated from his own experience as a child during World War II, first living in the stables of Santa Anita Park in California and then relocated for internment to the Rohwer War Relocation Center in Arkansas. Japanese Americans were sent by the United States government to several remote locations after the bombing of Pearl Harbor in 1941, and the musical production centers on a family moved from Salinas, Calif., to an internment camp in Wyoming.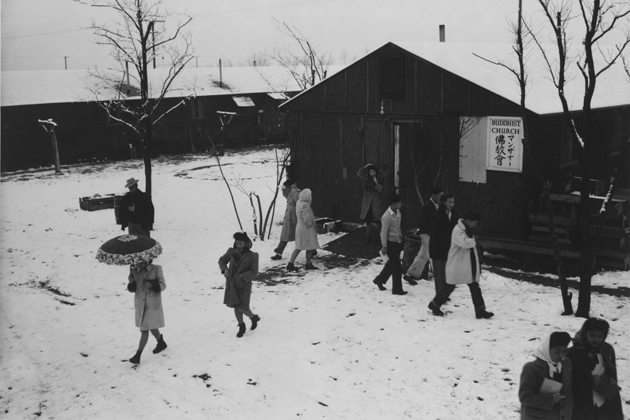 The actor was 5 years old when his family was among the 120,000 American citizens of Japanese descent living on the West Coast sent to the camps in 1942. Later in the war, some internees were permitted to leave the camps to continue their education at colleges, including 18 who arrived at UConn in 1944. That same year, as the Allied Forces needed more soldiers to bring the war to a close, Japanese Americans were recruited to make up the 442nd Infantry Regiment of the U.S. Army fighting in Europe, where it became one of the most decorated combat units in U.S. military history.
"It was my childhood imprisonment that shaped who I am," Takei says. "When I was behind those barbed wire fences, I was too young to understand what was going on and why we were there. As a teenager starting to read books and being exposed to ideas of our democracy, not being able to reconcile our childhood incarceration I engaged my father in long discussions after dinner. My father explained our democracy as a people's democracy, with all of the potential greatness that people have as well as the fallibilities that people do have.
"The fallibility of people is what made the incarceration of innocent people," he adds. "I'm a political activist because of my childhood incarceration."
George Takei was asked by director J.J. Abrams his thoughts on casting Korean American actor John Cho as Sulu in the 2009 reboot of the "Star Trek" film series, instead of a Japanese American actor.
"I told him as long as the guy is Asian, that's what matters," Takei says. "['Star Trek creator'] Gene Roddenberry felt that the strength of Starship Enterprise, which was a metaphor for the planet Earth, was the diversity of this planet coming together. That's why he had an African woman as communications officer, a North American as captain, a Scottish engineer representing Europe, and the helmsman representing Asia."
Takei says Rodenberry chose Sulu as the character's name because it was the name of a sea off the coast of the Philippines, not a name specific to a nation: "The waters of the sea touch all shores. That's how he came up with the name Sulu for the Asian character."
Working in films and television – including "Perry Mason" and "The Twilight Zone" on television – early in his career led to Takei's casting as Sulu in the original "Star Trek" television show from 1966 to 1969. After "Star Trek" ended, he continued to find roles on television and in film, while also becoming active in Los Angeles politics. He served as an alternate delegate from California to the 1972 Democratic National Convention, and was appointed by Los Angeles Mayor Tom Bradley to the board of the Southern California Rapid Transit System, where he cast the tie-breaking vote to create the Los Angeles subway system after being called away from the set of "Star Trek – The Motion Picture" in 1978.
Takei continued to work as an actor on television, in film, and on stage, including appearances on radio with shock jock Howard Stern, where his natural humor and inclination to talk about any issue drew a favorable audience response. When Stern moved to satellite radio, Takei became his regular announcer and developed the actor's now signature response to some of the host's antics: "Oh my!"
The rise of social media increased Takei's ability to reach a wider audience using postings of photos with commentary that is both humorous and insightful. The online news aggregator, "The Huffington Post," said of Takei: "He isn't just about fun and games; in times of national upheaval he gives solid advice."
Since revealing his long-time homosexual relationship in a 2005 magazine interview, Takei has traveled around the nation to advocate equality for the Lesbian, Gay, Bisexual, and Transgender community. He sees this as part of his effort to speak out on social justice issues – including raising awareness about the wartime internment of Japanese Americans, which he calls a "dark chapter of American history" – using the kind of technology that "Star Trek" foretold years ago, as well as his stage production of "Allegiance."
"When I began social media, I had a very small base of support, made up of sci-fi geeks and nerds. I had to grow that," Takei says. "The audience grew, and as it grew, I started adding social justice issues and it grew more. That's how I got to be called King of All Media. We have this amazing technology which still surprises me. It can grow this fast and this massive. I have over 7.8 million followers on my Facebook page. Just the numbers are mindboggling. 'Star Trek' as a TV series didn't get a fraction of that viewership. We live in an amazing world of astounding technology. We can tap that to do what we want to do."
For more information about "An Evening with George Takei" at the Jorgensen Center for the Performing Arts, go to the Jorgensen website.
The program is sponsored by Asian American Cultural Center, Asian & Asian American Studies Institute, Jorgensen Center for the Performing Arts, Student Affairs, CLAS, Neag School of Education, Global Affairs, UConn Alumni Association, Community Outreach, Leadership Office, Residential Life, Rainbow Center, Puerto Rican Latin American Cultural Center, Women's Center, and the African American Cultural Center.