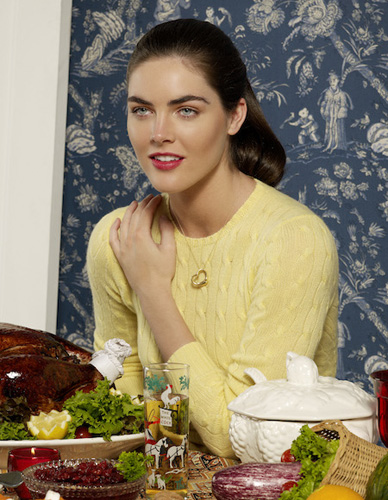 After reading Michael Pollan's Omnivore's Dilemma: A Natural History of Four Meals, the book selected for the 2014-15 UConn Reads program, Barry Rosenberg soon thought of a work he would want to include in the Contemporary Art Galleries exhibition he would curate for the spring semester.
"The first piece I thought about was 'Blister' by Keith Edmier," says Rosenberg, director of CAG, of the 1995 sculpture of a corn stalk that appears to have grown out of the floor of any gallery where it is exhibited.
The CAG exhibit "The Omnivore's Dilemma: Visualized" runs from Feb. 4 through April 25, with a companion UConn Reads exhibit, "Sweet Sensations," continuing at the William Benton Museum of Art through March 29.
Pollan's best-selling book takes readers on what Publisher's Weekly describes as "a fascinating journey up and down the food chain," causing readers to change the way they approach reading the content label of prepared foods and consider how what they eat arrives to the supermarket and the dinner table.
Rosenberg says in curating the CAG exhibit, he wanted to highlight the key points in Pollan's narrative, tracing the author's cross-country journey from Midwest corn fields to Chicago stockyards and fast-food restaurants. The multimedia show includes sculpture, video installation, photography, painting, and graphic design.
"In the book, Pollan's family stops at McDonald's on their way to a Midwest farm. It's about farming, but where corn turns into cornstarch and then moves to food engineering," says Rosenberg. "My exhibition presents meals in terms of art content, since the book is about creating meals and enjoying the experience of sitting down at the table together."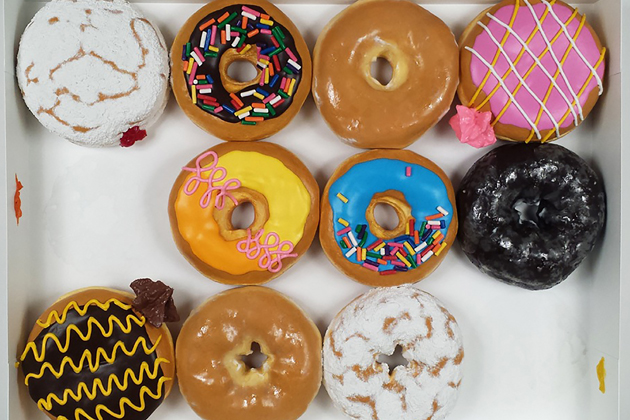 The exhibit includes direct text from the book, such as: "The shared meal elevates eating from a mechanical process of fueling the body to a ritual of family and community," and "When chickens get to live like chickens, they'll taste like chickens."
The works show contrasting views of a meal, from the celebration of a family gathering in Roe Ethrige's color photograph, "Thanksgiving, 1984" which was made in 2009, showing a woman sitting at a table, to the stark imagery of Mat Collishaw's "Last Meal on Death Row," a photograph of dinner for a death row inmate that includes fruit, vegetables, cheese sticks, and two glasses of milk.
Food is seen through a range of artistic genres, including still life: Sharon Core's photograph "Early American – Still Life with Steak" and Mia Brownell's "Still Life with Meat Flower;" landscapes: "Corn Field" and "Potato Field" by David Allee; and the seemingly abstract: "Untitled (Pasta Painting)" by Scott Reeder; along with realistically rendered canvases "Biosphere – Laboratory" by Alexis Rockman and "Cocktail" by Frank Moore. Rosenberg says much of the art addresses the questions Pollan raises in his book about economic issues and health concerns related to the nation's food industry.
"'Biosphere,' for example, is about food engineering and what the future can hold for us. The Roxy Paine sculpture 'Untitled (Mushrooms)' is from the part where Pollan goes mushroom hunting. His mushrooms are all poisonous or hallucinogenic, but they're beautiful," he says.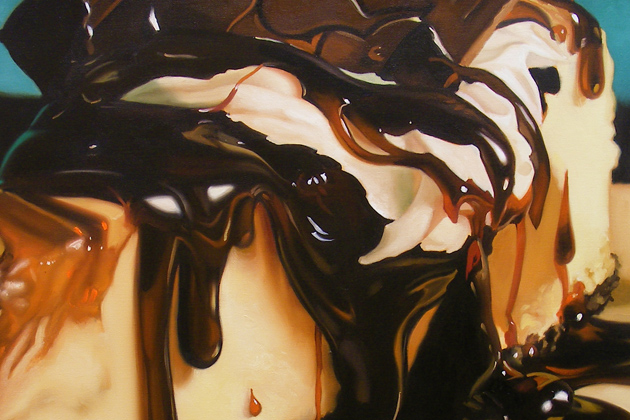 "Sweet Sensations" at the Benton focuses on the sweet and sugar-laden foods that contain corn syrup, a theme in Pollan's book. The works selected by assistant curator Jean Nihoul, a former professional chef, are colorful and at times whimsical.
There is a pairing of sculptures showing cereal boxes dripping with sugar. One by Rachel Lee Hovnanian, "Snap, Crackle, Pop," contains Rice Krispies, often used to make a sweet dessert. Another by Desire Obtain Cherish is titled "Married to Success," that contains boxes of Wheaties, known as the "Breakfast of Champions," showing a championship athlete on the front. Among the stars are golfer Arnold Palmer, basketball Hall of Famer Larry Bird of the Boston Celtics, and Olympic medalist Sarah Hughes.
Gina Beavers uses acrylic and pumice on canvas to create three-dimensional works, including "Food Porn (Chicken and Waffles)," and Cherish has a series of sculptures titled "Meltdown," showing giant lollipops stuck to the ground.
Photographer Joe Nanshe's "Rocket's Red Glare" is a series of 12 images showing the meltdown of a red, white, and blue ice pop.
"Food for Thought Symposium" will take place at the Contemporary Art Galleries, 830 Bolton Road, Storrs, on Feb. 4 at 4 p.m. For more information, go to the CAG website.
"Food Matters: The True Cost of Industrializing our Food Supply" will take place on March 10 at 4:30 p.m. at the Benton Museum of Art, 245 Glenbrook Road, Storrs. For more information, go to the Benton website.