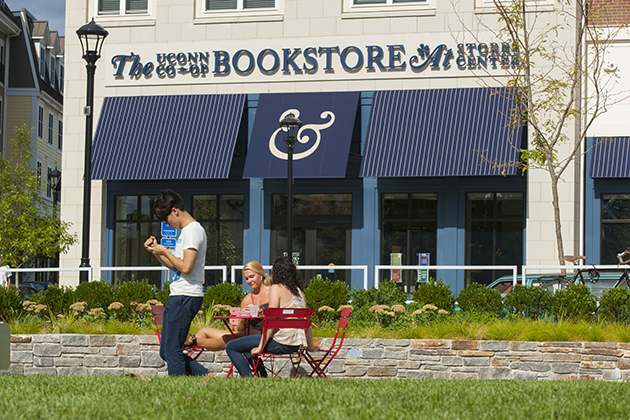 Long an integral part of the literary and cultural life of the community, the history of the UConn Co-op goes back to 1975, when it first opened a store in the Student Union after the University ended a short-lived experiment with the private, for-profit bookstore chain Follett. In 1980, it moved to a new building on Fairfield Way at the heart of campus, and a couple of years later, a young bookseller named Suzanne Staubach joined the staff. On the occasion of her retirement this July, UConn Today invited Staubach, the longtime manager of the Co-op's General Books Division, to take a look back at her 34 years working for the store and doing what the UConn Co-op does best – bringing readers and authors together.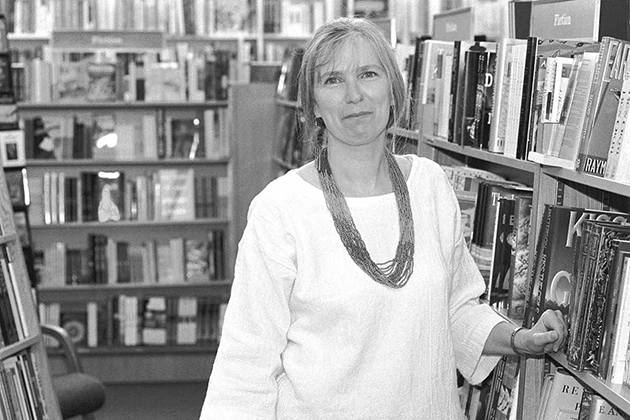 My tenure in the book industry, in the General Books Division of the UConn Co-op, has been filled with incredible excitement, magical moments, and dramatic change. When I came into the business, the Internet did not exist. Today we live in a world of cloud computing. Yet, throughout this whole time, it has been at its core a people business.
From my very first days, I learned from English professor Francelia Butler that it was important to support the books written by faculty, and books by authors who were the guests of faculty. When Francelia, a children's literature specialist, suggested that we do an event in the bookstore for English professor Feenie Ziner and Ed Young, Arnold Lobel, and Anita Lobel, I said yes. It was my first event.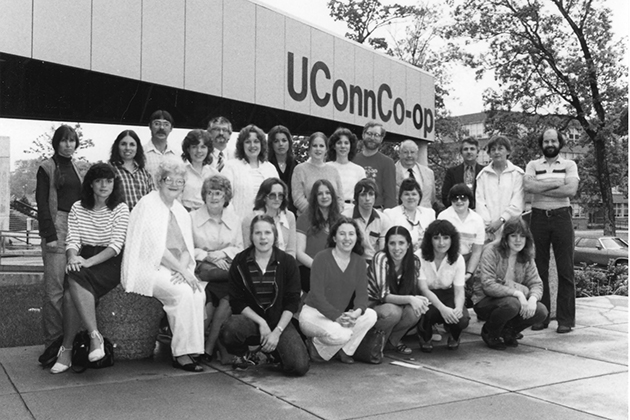 In those days, the early '80s, the bookstore was in the heart of campus, adjacent to Babbidge Library on Fairfield Road. We looked up books in Books In Print, an annual multi-volume set of reference books with incredibly fine print. We kept track of inventory on index cards. What is now PenguinRandom House, the largest English language publisher in the world, was then almost 20 individual publishers, each with a traveling book rep who came to the Co-op to sell us books.
Francelia didn't just expect that we would host authors in the bookstore for her. She expected me to come to her class and sell the books her guests, such as children's book author and illustrator (and Mansfield Center resident) James Marshall, had written. Ever since, we have taken books all over campus and beyond, going to wherever an author was speaking. Authors love nothing more than seeing people buy their books.
Of course, when her novel The Lucky Piece was published and later her book on skip rope rhymes came out, we hosted book parties for her in the bookstore. We sliced cheese, arranged crackers, and made punch ourselves.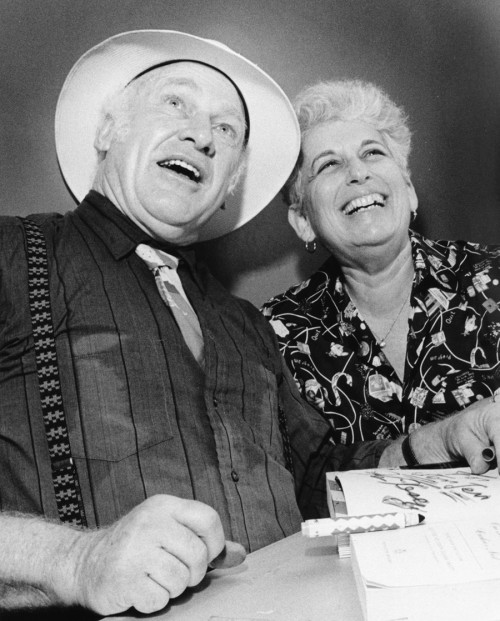 Soon, we were collaborating with individual faculty, with departments, the Cultural Centers, SUBOG, and others, plus bringing in authors ourselves. Allen Ginsburg visited during his last tour (I promised his publisher that English professor Ann Charters would introduce him). One Flew Over the Cuckoo's Nest author Ken Kesey, also lured by a promise of Annie introducing him, spent hours signing books in psychedelic colors with markers we had given him. We held a tea party for The Hitchhiker's Guide to the Galaxy author Douglas Adams, and a long line of students rimmed the store, drinking tea from teacups while they waited their turn for an autograph. We also hosted publication parties for Writing UConn, the student literary journal that later, with the guidance and support of author and alum Wally Lamb, became the Long River Review.
Meanwhile, the industry was rattled by the big box bookstores that rapidly spread across the nation, offering aggressive discounts. Many independents were pushed out of business before it was discovered that the chains were illegally receiving special and secret terms from publishers. In a settlement, publishers agreed to extend the same terms to all book retailers, and one – Penguin – sent us each a large check.
We computerized our inventory in 1984. Soon thereafter, we were selling computer software in General Books (we did not yet have a Technology Department) and many computer books. Oh, how many emergency copies of Fortran 77 we sold to grateful engineers!
CDs became popular not just for music but also for books. Almost immediately, pundits predicted that they would replace the printed page, especially in education and for children's books. I never believed this, but I was thrilled to have Books in Print on a searchable CD.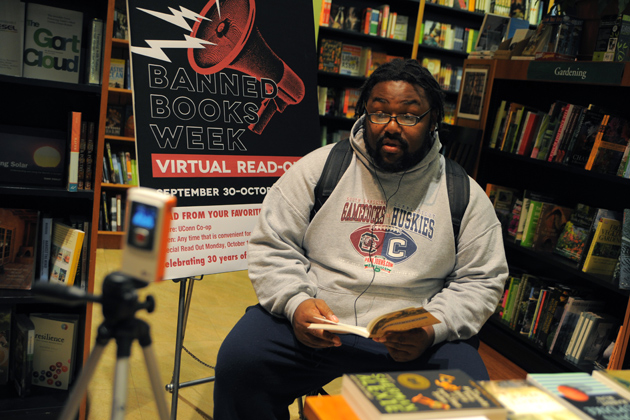 The freedom to read and freedom of expression are core values of the Co-op, highlighted each year with Banned Books Week. When the Iranian leader Ayatollah Khomeini issued a fatwa (death sentence) on Salmon Rushdie for his novel Satanic Verses, the Co-op – along with most independent bookstores – supported Rushdie. We kept the novel on our shelves and on display. The major chains, including Barnes and Noble and B. Dalton, removed the book from their stores. How proud I felt when Rushdie sent a personal thank you to the bookstore.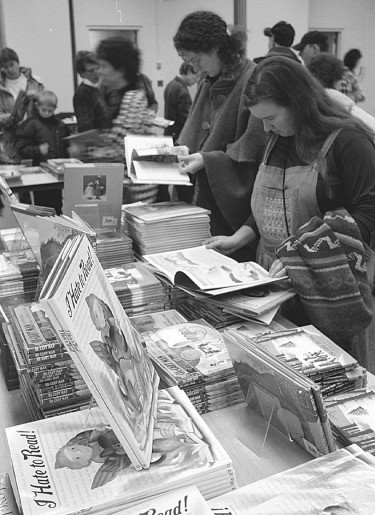 In 1992, we partnered with the UConn Libraries to create the Connecticut Book Fair, which a few years later we renamed the Connecticut Children's Book Fair. This year's book fair on Nov. 14 and 15 will be the 24th. The event regularly attracts top authors and illustrators, such as Tomie dePaola, Jeff Kinney, Suzanne Collins, Patricia MacLachlan, and more as featured guests. The Raab prize for illustration is highlighted during the Fair, with one of our guest artists offering UConn illustration students individual critiques.
We began hosting annual faculty author events, in addition to all the individual events. For this we would showcase all the books published by faculty members in the prior two years, and bring in a speaker, such as the editor of Publisher's Weekly. After hosting this for several years ourselves, it became a University function, which we supported. We mailed printed newsletters to a mailing list of our customers. We founded a small press, Bibliopola, and published books by Lary Bloom, UConn's Gina Barreca, and others.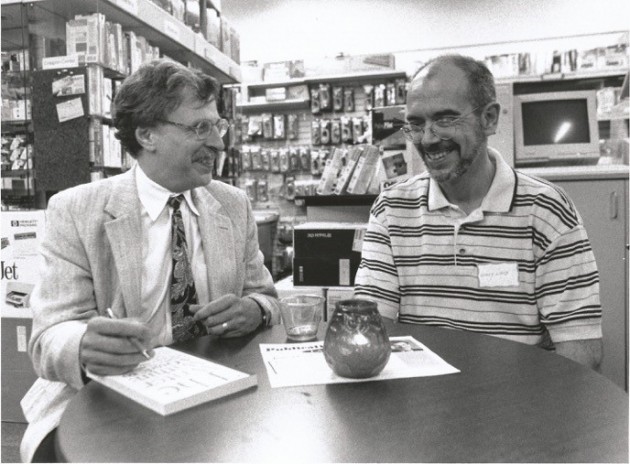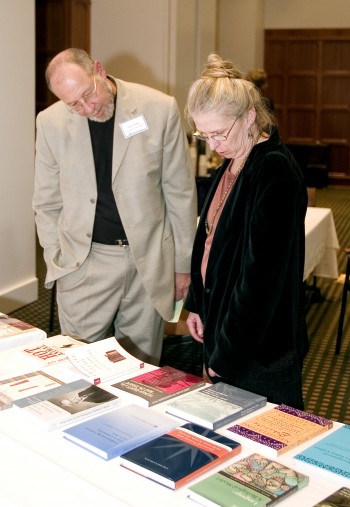 ---
And then the Internet, email, and Amazon entered the book industry, followed by e-books.
We signed up for the American Booksellers Association e-commerce solution, launching a website for trade books. Here you can check on events, order print books, or download e-books. Yes, you can download e-books from the Co-op! We soon began sending out e-newsletters instead of print.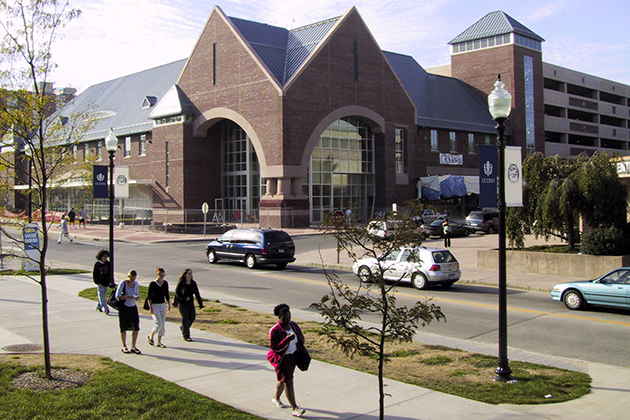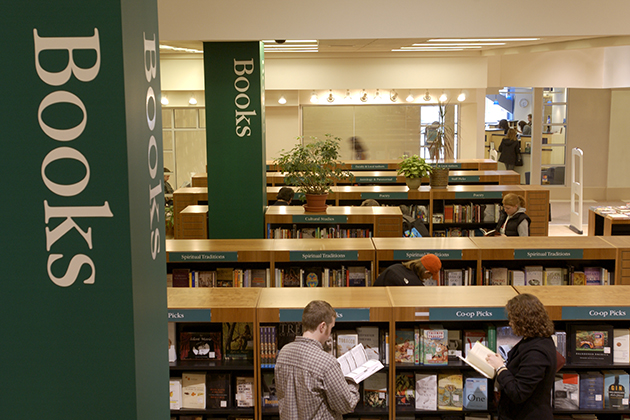 In the autumn of 2002, the Co-op moved to a new building on Hillside Road. General Books were prominently featured on the first floor. Our events included midnight parties for Harry Potter, a Twilight Prom, launches for Wally Lamb's books, cooking demonstrations, and many faculty author events. We brought the hip-hop artist Prodigy to the African American Cultural Center, where history professor Jeffrey Ogbar joined him in conversation. Poets such as Martín Espada, Marilyn Nelson, and Elizabeth Alexander read at the Co-op. We continued to promote and celebrate student zines and journals.
Amazon's disruptive impact on the book industry increased. They sold books as loss leaders, and refused to collect state sales taxes. They made unprecedented demands of publishers, who began to see them as a threat. More independent bookstores closed. Borders, one of two major national chains, went bankrupt. E-book sales soared. College stores reduced the sizes of their general books departments or eliminated them altogether. Many college stores were taken over by one of two corporate lease operators. Pundits predicted the death of the printed book within a few years, and the disappearance of bricks-and-mortar bookstores.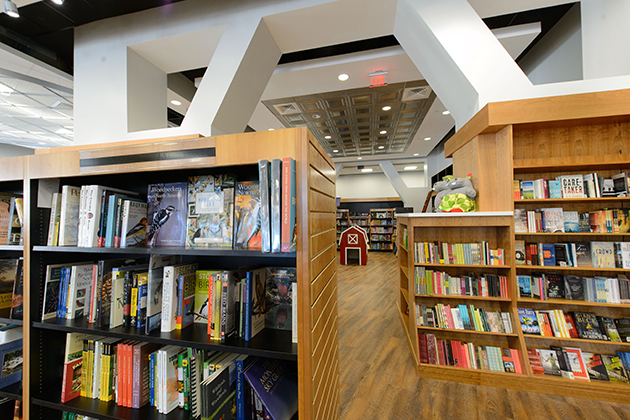 The UConn Co-op took a different course. In response to the University and the town of Mansfield, we built a beautiful new bookstore in Storrs Center and moved General Books from the Hillside Road location to the new space. The Storrs Center store has become a cultural hub and meeting place. It includes a dedicated theater for events, which we share with the Ballard Institute and Museum of Puppetry. We host music as well as book events, and feature local and student musicians. We are able to showcase local and student artists with exhibits and sales. Student-run poetry slams are hugely popular. Most recently, we hosted Viet Nguyen for his book The Sympathizer, which received a rave front-page review in the New York Times Sunday Book Review.
E-book sales have plateaued the past few years. Print books continue to be the dominant form. With the rise of the Shop Local movement, independent bookstores are now flourishing, with new independent bookstores opening throughout the country. Though there are fewer independent college bookstores than in years past, some, like the University Bookstore serving the University of Washington, are world class and world famous. Books, reading, and bookstores are alive and well.
For me, it has been a thrill and an honor to be a bookseller and in a position to nourish the literary and cultural life of UConn. Publishers have remarked to us upon receiving our author requests, that few other bookstores in America are as interested in such culturally diverse or intellectually rigorous authors as the Co-op is. We believe, I believe, that celebrating diversity and scholarship are crucial to the role a university bookstore plays on its campus.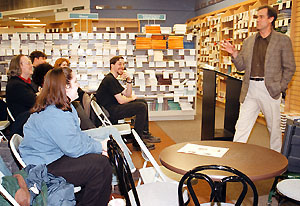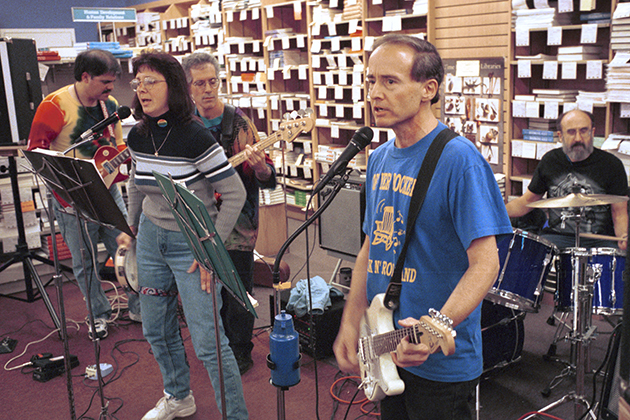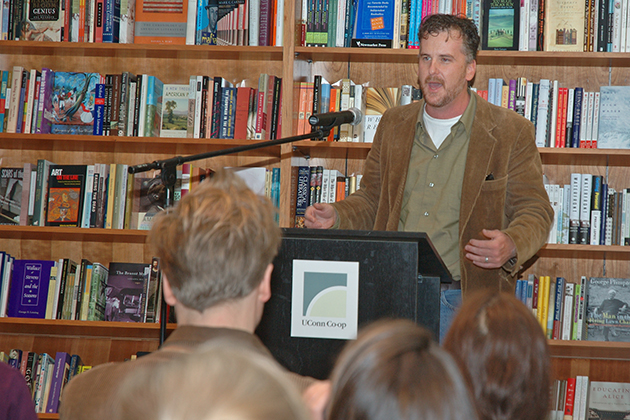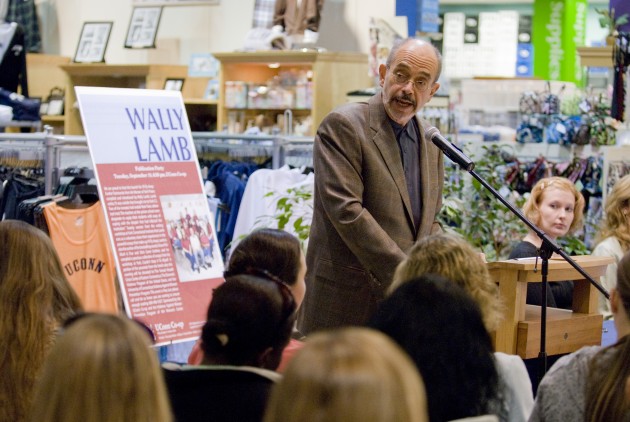 ---
I am grateful for the books and people that have filled my days. Before ending my bookselling career, I was able to get a commitment for puppeteer and award-winning children's author/illustrator Brian Selznick to come to campus Sept. 18 at 7 p.m. The Ballard Institute and the Illustration Program are collaborating with the Co-op to make his visit special for UConn and the surrounding communities.
The UConn Co-op has talented and dedicated booksellers committed to personally serving the University's literary and cultural life going forward. Undoubtedly there will be changes we cannot imagine, as we could not have imagined the Internet. However, this will always be at its heart, a people business.