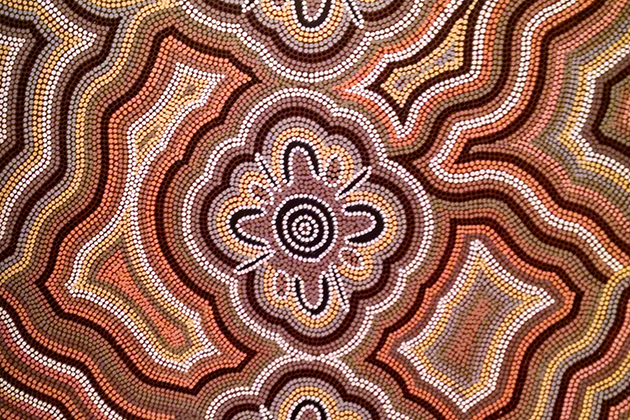 Three decades ago, governmental policies of self-determination began to encourage the Aboriginal people of Central Australia to reclaim their indigenous cultural identity, which had long been eroded through colonization and forced sedentarization.
Examples of the paintings and sculpture that resulted are featured in an exhibit now on display at the William Benton Museum of Art.
"Dotted Dialogues: Contemporary Indigenous Art from Central Australia" comprises acrylic paintings and sculpture highlighted by colorful dotted patterns based on the iconography of the Aboriginal culture. The exhibition was curated by students in an anthropology class taught last spring by Francoise Dussart.
"All this artwork is grounded in ancestral religious stories," says Dussart, professor of anthropology. "The intent of the artist is to use those stories and their skills as artists to dialogue with non-indigenous people and show they had not lost their culture despite colonization and they still knew about their culture and the land."
While art has often been inspired by religion in Western civilization, the art of Aboriginal culture inspired by religion is also linked to specific land.
"The religious dimension is about identity," Dussart says. "Religion is tethered to the land, and you are tethered to both. Unlike Christianity, it cannot be exported. This cannot be owned by anybody else than those people who inherit the rights to those particular stories on those specific sites."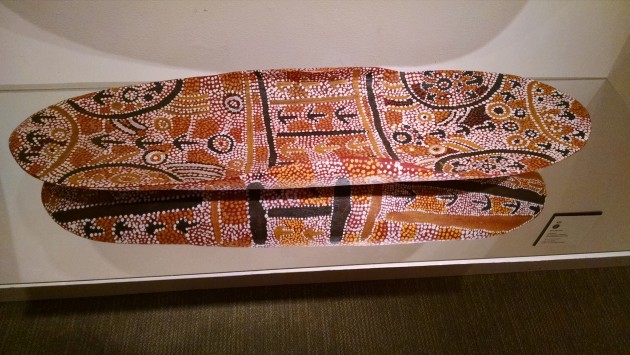 Aboriginal art in central Australia is "very abstract" but also very symmetrical, in part because the designs that represent the land and other objects are also used as body art, says Dussart, who began her career in anthropology at the Sorbonne in Paris and earned her doctoral degree from the Australian National University conducting fieldwork with the Warlpiri people in the Tanami Desert. She has since focused on curating the paintings created by the Central Desert Aborigines.
Dussart had the idea of creating a class that combined her expertise in both anthropology and curatorial work, an idea that was supported by College of Liberal Arts and Sciences dean Jeremy Teitelbaum and Nancy Stula, executive director of the William Benton Museum of Art.
The 14 students in her class "Anthropological Perspectives in Art" came from various different majors, including psychology and neurobiology. Only one was an anthropology major.
"The students brought their own disciplinary expertise," says Dussart. "They brought their own ideas. The first half of the class involved looking at theories of art through an anthropological perspective and figuring out how to apply them."
Dussart says even though the current generation of students is versed in a social media world of 140-character messages, her students found it difficult to restrict their writing to the 50 words allowed for the labels adjacent to the art and the 200 word-limit for the exhibition's introductory wall panels.
"They wanted to tell everything they had learned," she says.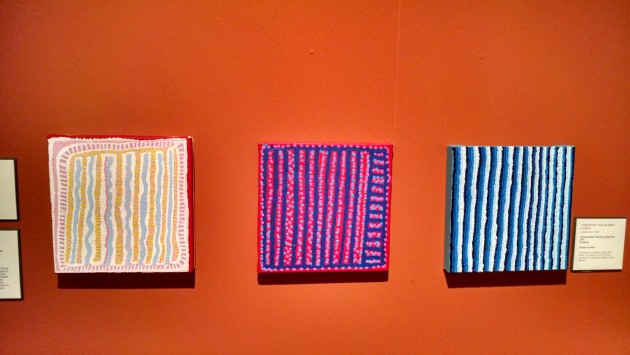 Three students in the class developed a floor plan for the exhibition, which is displayed in the center room of the Benton Museum's main galleries, by moving the artwork around the space until they settled on a final location for each piece. The paintings depict dreams tied to religion, as well as designs resembling aerial maps. The sculptures include goannas, a large lizard that is found in Australia.
The majority of works on display are from Dussart's personal collection of Aboriginal art, with the remainder on loan from art dealer Peter Tillou of Litchfield, Conn.
"Dotted Dialogues: Contemporary Indigenous Art from Central Australia" continues, along with "Speak Up! Speak Out! Bread & Puppet Theater," through Oct. 11 at the William Benton Museum of Art, 245 Glenbrook Road, Storrs. For more information, go to the Benton Museum website.