Gov. Dannel P. Malloy joined UConn, state, and corporate leaders Wednesday in breaking ground for a new engineering and science building on UConn's main campus in Storrs. The building will provide dedicated laboratory space for the University's growing genomics, biomedical, chemical engineering, and cyber system research programs.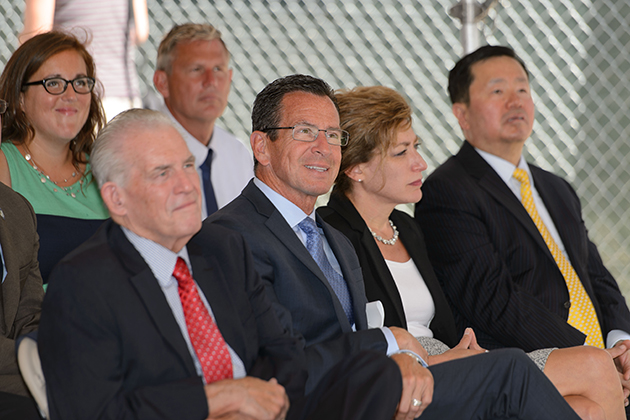 The five-story, 118,000-square-foot structure, located at the north end of the Storrs campus, was made possible through funding from 21st Century UConn and Next Generation Connecticut, initiatives that are among the most ambitious state investments in economic development, higher education, and research in the nation.
"This building and these laboratories give University of Connecticut researchers the resources they need to secure UConn's standing as one of the best public research universities in the country," Malloy said. "The innovations and new technologies coming out of these laboratories will invigorate Connecticut's economy, support business and industry, and create high-paying jobs. It's what we need to do as a state, and it is happening right here at UConn."
Said UConn President Susan Herbst: "Having this state-of-the-art engineering and science building in the heart of our campus will allow UConn to do more than ever to spark innovation, catalyze research advances, and build on the momentum we've already gained as a source for new and groundbreaking research. This is a powerful driver for Connecticut's economy, and will provide amazing opportunities for our faculty and students."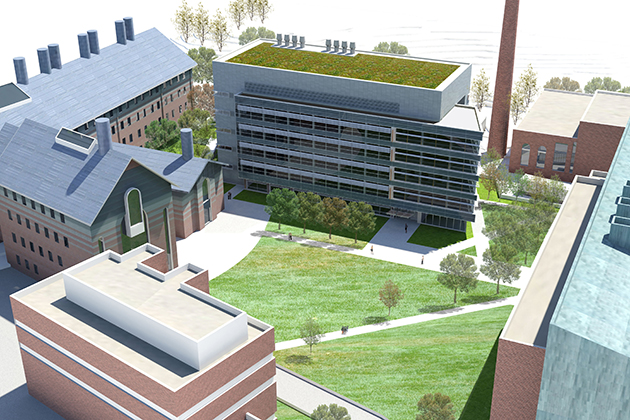 The Engineering & Science Building will feature an innovative open-floor layout designed to encourage interdisciplinary collaboration and to allow scientists to share both knowledge and equipment in the labs. The building is expected to be ready for occupancy in 2017.
Three of the building's five floors will be dedicated to engineering research, with laboratory space devoted to high-tech fields such as virtual reality systems, controls and sensors, bioengineering, and nanomaterials. The other two floors will house UConn's Institute for Systems Genomics and Center for Genome Innovation.
Construction of the new space comes as UConn's School of Engineering celebrates its 2016 centennial, honoring the start of its four-year engineering degree program in 1916.
"UConn engineers have contributed to everything from the planes and submarines that won World War II, to the International Space Station, and much more," said School of Engineering dean Kazem Kazerounian. "These new laboratories will allow our talented faculty and students to continue breaking new ground in such important fields as biomedical and nano engineering, chemical engineering, and cyber-physical systems. The innovative technologies coming out of these fields are transforming healthcare, manufacturing, defense systems, and how we live today."
Construction of the Engineering & Science Building will open up much-needed classroom, lab, and office space in other areas around campus to meet a surge in undergraduate and graduate student enrollment in the School of Engineering and other disciplines over the past decade. It also will help accommodate a large wave of new faculty at UConn over the past five years, many hired away from top research programs around the country as the school continues to build on its robust internationally recognized research portfolio.
Over the past decade, undergraduate enrollment in the School of Engineering has quadrupled. Graduate enrollment has doubled. The number of faculty has risen by nearly 60 percent, and the number of specialized research centers – many supported by public-private partnerships – has grown from four to 15. (Click on the images to enlarge.)
"UConn's focus on science and engineering continues to push Connecticut to the forefront of technology and innovation," said J. Michael McQuade, United Technologies Corp. senior vice president, Science & Technology. "This latest investment to develop the next generation of skilled engineers will help United Technologies and other state companies innovate and compete, serving as a driver for the state's economy well into the future."
Professor Ki Chon, head of UConn's biomedical engineering department, said he is eager to move into the new space. Chon currently juggles his various research projects between two labs located in different buildings on the Storrs campus. He said it would be nice to have his team of graduate workers and research colleagues interacting more closely.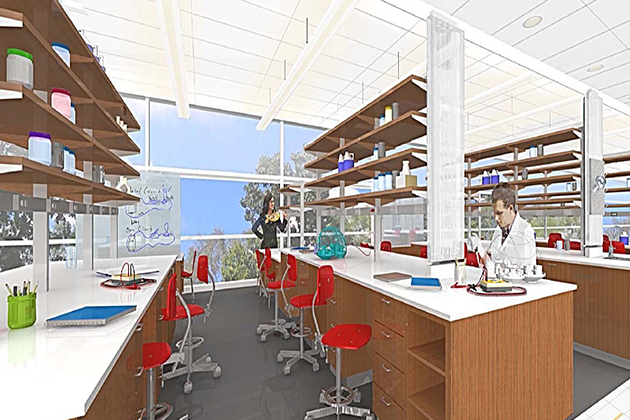 "I rely on people who are hardware experts as well as software designers," said Chon, whose research involves new medical instrumentation and wearable devices for such applications as cardiovascular monitoring and health.
"This new building will allow me to work more closely with people who specialize in hardware development, micro- and nano electronics, and computer science – individuals whose expertise is very important to me as my research grows," he said. "Having access to people on the same floor or the floor above or below will be nice, and will encourage collaboration."
In the genomics areas, the new building will feature state-of-the-art equipment for genomics research and powerful computational capabilities that will allow researchers to efficiently process and analyze the enormous volumes of sequencing data generated by their work.
Professor Marc Lalande, head of UConn's Institute for Systems Genomics, said the new facility supports UConn's Academic Vision for research and teaching excellence, and will offer genomic technologies and training to all of the University's campuses. It will also allow for closer collaboration between genomics researchers in Storrs and those working at UConn's genomics labs at the School of Medicine, UConn Health, and the Jackson Laboratory for Genomic Medicine in Farmington.
"The most challenging part of genomics research is analyzing the data, looking for mutations, and matching things up," said Lalande. "This collaborative space and the data pipelines that we will develop will allow us to support genomics research in any UConn department, as well as educate, train, and assist faculty and students in the cutting-edge areas of genomics and personalized medicine."