Barry Rosenberg visits art galleries in cities large and small as part of his ongoing effort to identify new trends and issues in contemporary art and then bring them into UConn's Contemporary Art Galleries.
The latest product of his travels is the new exhibition "Painting@ The Very Edge of Art," which features hybrid paintings by young artists demonstrating a noticeable interest in abstraction.
"The idea for me is to bring to the University the awareness of change," says Rosenberg, director of Contemporary Art Galleries, who curated the exhibition.
The exhibition, now on display in the Art Building, includes creations of acrylic and wax on walnut wood, woven glass beads, enamel on a wooden frame with linen, oil on linen, and oil and acrylic on canvas with leather.
Rosenberg says the artists are "playing with the two-dimensional picture plane, breaking the usual rules but respecting them at the same time."
Works by Donald Moffett, for example, are hybrid creations that protrude from the walls. His canvases are covered with thick paint and have highly tactile surfaces. His "Lot 010615 (Spore trap 5, ore green)" is a wood panel with bored holes seen through flecks of green paint resembling an artificial evergreen tree.
"Music Factory" by Julia Dault presents some optical illusion with a lattice of leather covering a colorful painting that pops through from the canvas behind the cut leather design.
"There's a lot of reference to art history," Rosenberg says. "For the longest time, a lot of things have been figurative. I started to see in New York and other places something else happening. There's a new interest in abstraction from a younger generation, a lot of interest in modernism, and they're looking at minimalists. They are making references to art history. Abstraction, modernist design, minimalism, color field, op art. These were the things of the 1960s and 1970s and the early 20th century. They're knowledgeable about it."
He says part of his inspiration for seeking out emerging trends is a quote from the 1955 William Gaddis novel, The Recognitions: "Most paintings, the instant you see them, they become familiar and then it's too late," which he has on the door of his office.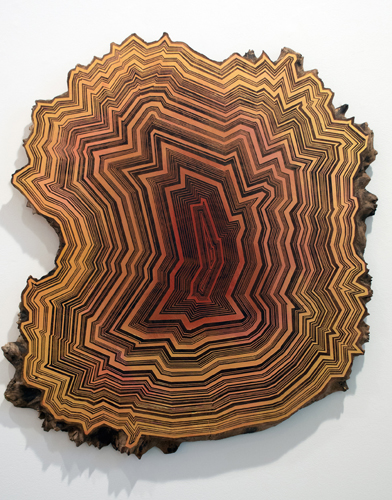 In several instances, the artists use the materials of painting as part of the creation, as in the case of Cordy Ryman, who uses salvaged industrial and construction materials such as 2×2 pieces of wood in "Clackered," or Jason Middlebrook's "Collecting Stones," a piece of walnut wood painted with layers of jagged lines reminiscent of late 1960s psychedelic posters. Guillermo Pfaff's "Inside-Out" uses a transparent bleached linen stretched over a wooden frame so the viewer can see through the colored linen.
Rosenberg says the woven beaded glass creation "ixube (multi rose)" by Liza Lou is an example of the title for the exhibition. The work is the Zulu word for random and was created by blending glass beads in large vats which were distributed to a collective of Lou's neighbors in South Africa and woven into long strips. The artist then edited and assembled the strips into a unified field that is stretched over steel bars.
"The edge meaning what's new. It's about painting, but not necessarily painted. There's the other edge, what's happening on the other edge, with sometimes paint on the other side," he says. "There's something happening here that's really interesting. I wanted to be quick to point it out. As a teaching university, it's critical that our students be aware of emerging trends."
"Painting@ The Very Edge of Art" continues through Dec. 4 at the Contemporary Art Galleries, 830 Bolton Road, Storrs. For more information go to contemporaryartgalleries.uconn.edu