The University of Connecticut is one of several leading public research universities that will support a new national manufacturing institute for flexible hybrid electronics, an emerging manufacturing field that is expected to revolutionize the electronics industry.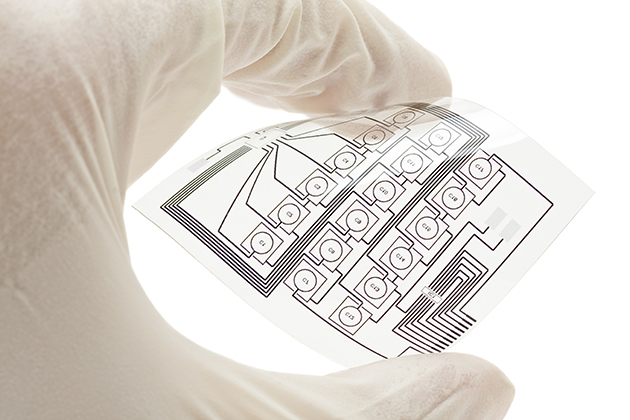 Flexible hybrid electronics refers to a new generation of bendable and wearable electronic sensors and components that offer a broad range of applications from smart bandages in health care, to high-tech military uniforms, to durable embedded sensors in airplanes, bridges, and roads.
The Manufacturing Innovation Institute for Flexible Hybrid Electronics is the seventh of nine such public-private research consortia envisioned by President Barack Obama's administration to ensure that the United States continues its leadership on the frontiers of manufacturing.
"Connecticut's partnership on the Flexible Hybrid Electronics Manufacturing Innovation Institute is another recent example of UConn working with the State and industry to bring new opportunities to Connecticut," says University President Susan Herbst. "The Institute will engage Connecticut companies and UConn researchers to develop new technologies and manufacturing processes that promote economic development."
Flexible hybrid electronics integrates the world of high-tech electronics and high-precision printing to create a new generation of sensor platforms that work the same way as traditional non-flexible circuits yet will conform, stretch, and be lighter and more durable than existing products. Imagine for instance, the rigid green circuit board inside your computer being made instead of a flexible material that can be stretched and bent, opening scores of new possibilities for designs and applications. Another use might involve embedding ultra-thin electronic components into medical tape to allow greater comfort and flexibility in monitoring patients during health care.
The institute is supported by $75 million in federal Department of Defense funding over five years. Those funds are being matched by $96 million in cost sharing from private and public sources, including private companies, state investments, universities, and non-profit organizations.
Connecticut's Department of Economic and Community Development (DECD) is contributing $2.5 million to the initiative, which will be matched by $2.5 million in federal funds on selected projects. UConn is contributing $2.5 million as well, mainly through the use of Next Gen Connecticut funds that will support the purchase of flexible hybrid electronic equipment and related research associated with UConn's new Tech Park. The United Technologies Research Center also contributed to the project.
"We're demonstrating our commitment to seeking – and securing – new and innovative sources of support to develop key technologies in our state," says Connecticut Gov. Dannel P. Malloy. "Just last month, Connecticut earned a federal designation and access to federal dollars that will support advanced manufacturing primarily in our aerospace and shipbuilding industries. This latest national affirmation builds on and strengthens our state's reputation as a manufacturing leader."
Operating from a central hub in Silicon Valley in San Jose, Calif., the institute will be managed by FlexTech Alliance, a non-profit research and development consortium. Members of the institute's research consortium will be spaced out around the country via regional "nodes" and will include 96 companies, 11 independent research laboratories and non-profits, 43 universities, and 15 state and regional organizations. UConn is part of the Northeast research node.
"The intent of the (Manufacturing Innovation Institute) is to draw in the country's 'best of the best' scientists, engineers, manufacturing experts, and business development professionals in the field of flexible hybrid electronics," says Malcolm Thompson, the institute's executive director-designate.
Under the FlexTech proposal, Thompson notes, the central Hub provides overall program direction and will create prototypes, among other responsibilities. The Hub will rely on external research sites like UConn for the development of necessary equipment, materials, devices, and other vital components.
"We are very pleased that we have a key role in the Flexible Hybrid Electronics Manufacturing Innovation Institute," says UConn School of Engineering Dean Kazem Kazerounian. "UConn is particularly well suited to contribute to this institute in terms of our faculty expertise, students, facilities, and industry partnerships. The activities associated with this institute will integrate seamlessly into plans for the UConn Tech Park, and will enhance our ability to impact the economic development in the state."
UConn has more than 20 faculty researchers working in areas associated with flexible hybrid electronics, and a number of research centers helping advance manufacturing science. Those centers include the Institute for Materials Science, the newly-established FEI Center of Excellence in Microscopy (one of the foremost microscopy facilities in the world), the UTC Institute for Advanced Systems Engineering, and the Center for Hardware Assurance, Security, and Engineering or CHASE.
The federal project includes an education and training component to prepare a new generation of workers experienced in flexible hybrid electronics.
"This is great news for Connecticut because the impact of this institute's activities will go way beyond its initial objective of supporting the defense industry," says Connecticut DECD Commissioner Catherine Smith. "To capitalize on the full potential, the integrated circuit, graphics printing, and electronic assembly and packaging industries will have to be engaged in the processes, and the benefits could extend far into the automotive, communications, consumer electronics, medical devices, healthcare, transportation, and agriculture industries."