The University of Connecticut and UConn Health are partnering with Yale University to promote new business ventures that emerge from groundbreaking drug research.
Known as the Program in Innovative Therapeutics for Connecticut's Health or PITCH, the initiative aims to translate basic science discoveries into therapeutic strategies that can be used to treat disease and improve human health. Licensing agreements associated with these new drug compounds will generate revenue for both universities. External investments in the new therapeutics will encourage the creation of biotech and biopharmaceutical start-up companies and jobs in Connecticut.
Key participants in this initiative are Craig Crews, professor of molecular, cellular, and developmental biology and director of the Center for Molecular Discovery at Yale; Dennis Wright, professor of medicinal chemistry in the UConn School of Pharmacy and co-director of the High Throughput Screening Facility at UConn; and Sandra Weller, Board of Trustees Distinguished Professor and chair of the Department of Molecular Biology and Biophysics at UConn Health.
"This cross-university collaboration will showcase our collective strengths in the area of drug discovery and development," says Wright. "UConn's School of Pharmacy is uniquely positioned to engage at many stages of the development process, and we look forward to working in partnership with the teams at Yale to build on biological discoveries made in Connecticut and generate a unique pipeline for economic development."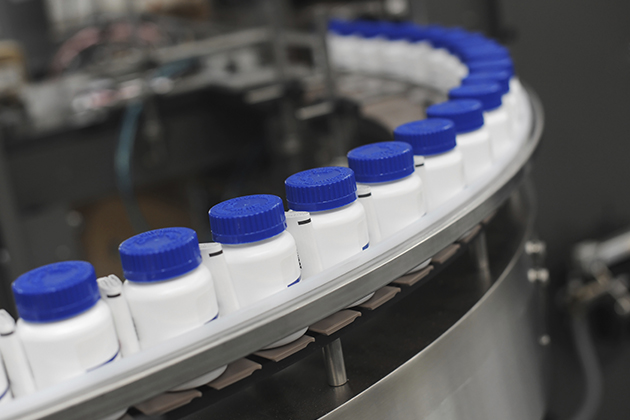 The initiative is supported by a three-year, $10 million investment by BioInnovation Connecticut, which helps innovators speed bioscience discoveries toward commercialization. BioInnovation Connecticut is managed by Connecticut Innovations Inc., a quasi-public entity considered the leading source of financing and support for Connecticut's innovative growing companies. The money was allocated through the Connecticut Bioscience Innovation Fund.
"This program directly aligns with the overall mission of our fund," says Margaret Cartiera, vice president and fund manager of BioInnovation Connecticut. "Not only does this program create collaborative links among Connecticut's college institutions, but it also encourages the commercialization of research coming out of the universities."
The effort will partner Yale's Center for Molecular Discovery at the former Bayer pharmaceutical site in West Haven, Conn., with research cores at the UConn Storrs and UConn Health campuses to create a new, multi-centered statewide academic drug discovery consortium. Professors Crews, Wright, and Weller will lead teams at their respective campuses to identify and pursue possible leads in new drug discovery.
Weller explains how the process will work:
The first step in a successful drug discovery pipeline is to identify appropriate "druggable" biological targets. Typically the targets are proteins that are linked to the underlying disease pathology. Academic research labs are one of the most important sources of these new targets and this initiative directly seeks to leverage the untapped potential of established research programs at UConn Health, UConn Storrs, and Yale. Other targets will be identified based on genomic research performed at UConn's Institute for Systems Genomics, a cross-campus initiative spanning the Farmington and Storrs campuses, as well as the Jackson Laboratory for Genomic Medicine.
Once a potential target has been identified, the next step is to synthesize large quantities of the purified target protein. That process, as well as characterization of the proteins, will take place in a core facility housed in the Department of Molecular Biology and Biophysics at UConn Health.
These purified proteins can be used in high throughput screening campaigns to identify lead compounds that modulate the protein's activity. Assay development and screening will be carried out in the Yale Center for Molecular Discovery under the supervision of Crews, the Lewis B. Cullman Professor of Molecular, Cellular, and Developmental Biology. The compounds discovered in the screen will be given to the originating labs to be used as reagents to investigate the biological system of interest.
For select projects with high entrepreneurial potential, the lead compounds from the screens will serve as a departure point for the development of novel lead matter to serve as the foundation of new start-up or licensing activities. The resulting new compounds will be optimized by medicinal chemists in UConn's School of Pharmacy, under Wright's direction. His team has a longstanding interest in drug design and development, and welcome this new opportunity to work with faculty from UConn Health and from Yale.
"This is the first time researchers from UConn and Yale have collaborated on such a large-scale project," says Weller. "One of the most direct benefits will be increased productivity at both institutions thorough synergistic and collaborative efforts. Additional long-term benefits to the universities and the State of Connecticut come from the intellectual property embodied in the discoveries themselves."
The project allows academic scientists from both universities to optimize the research outcomes in their laboratories, increasing the chances of commercializing those discoveries, says Crews.
"The U.S. pharmaceutical industry is undergoing a major transformation driven by the expiry of patents, diminishing drug pipelines, and the high cost of conducting internal research and development," he says. "This is the optimal time to launch new biotech companies, and this program is designed to increase the speed with which it is done in our state."