Baritone Ryan Burns '12 MM likens the preparation for his performance with the Jessica Lang Dance Co. presentation of "The Wanderer" at the Jorgensen Center for the Performing Arts on Nov. 19 to having the lead role in an opera.
"It's not something you can put together in a couple of weeks," Burns says of singing Franz Schubert's "Die schöne Müllerin" (The Lovely Maid of the Mill), a song cycle of 20 songs sung over an hour. "It's been a unique challenge to prepare this body of music in such a way that you can maintain all that good technique and language and stay focused. It's been a challenge, but a really great one."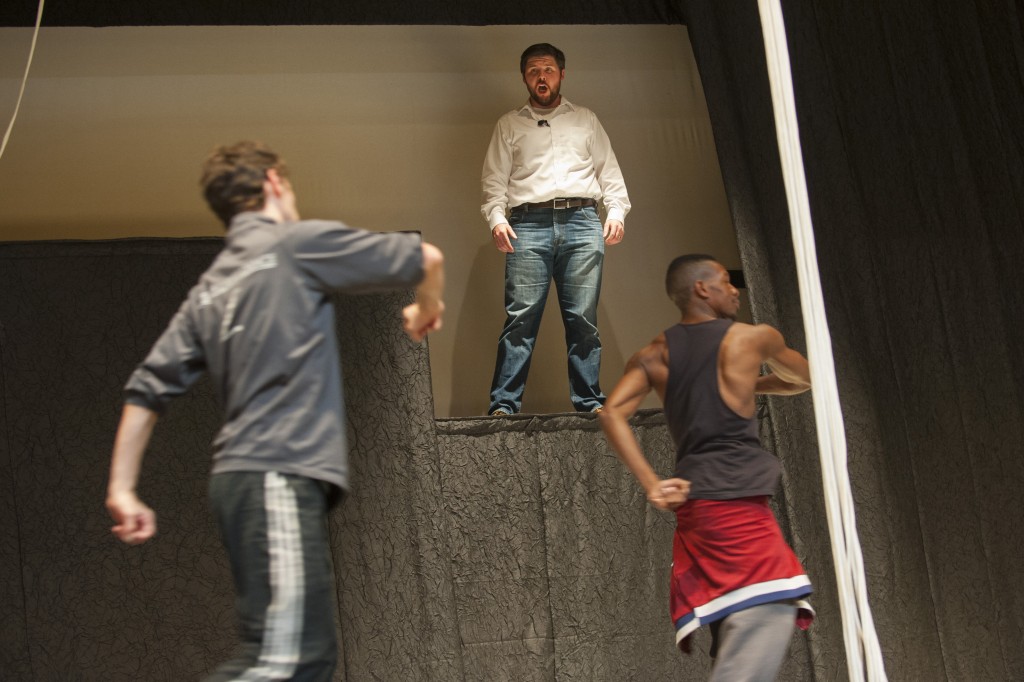 A doctoral candidate in music who has performed with the Connecticut Lyric Opera and the Opera Theater of Connecticut, Burns was selected by the contemporary ballet choreographer for the unique joining of dance and classical music that has been described as "a true work of art" by the Boston Globe and "a work of high craftsmanship" by The New York Times.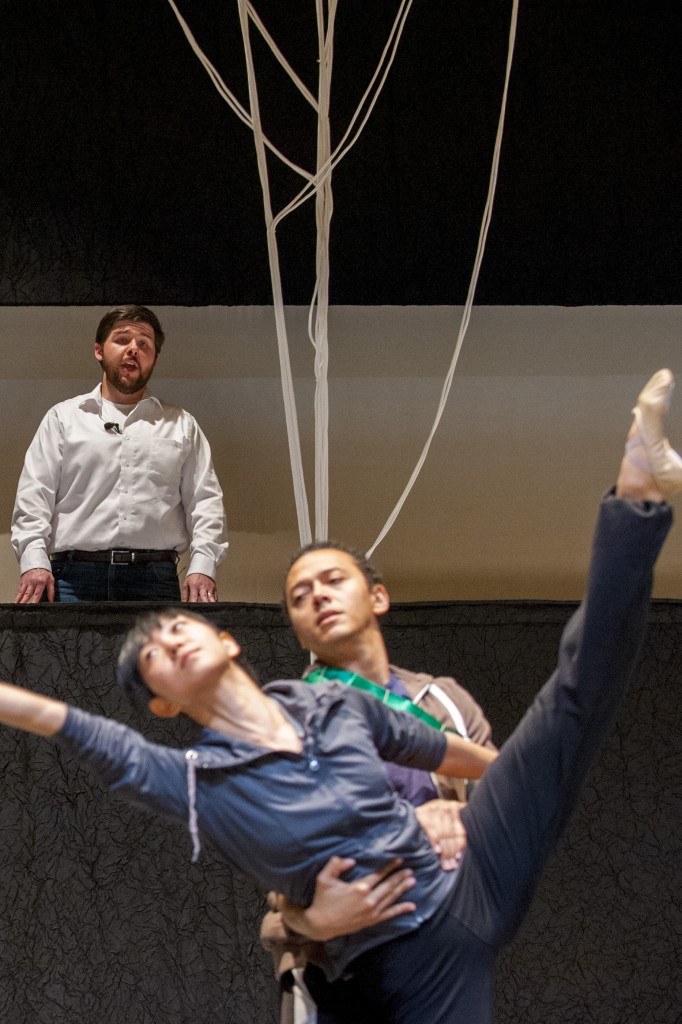 The innovative Jessica Lang Dance has become one of the most talked about new companies in the dance world. "The Wanderer" is a romantic contemporary tale of jealousy and obsessive desire, performed by nine dancers with sweeping choreography and imaginative set design. "Die schöne Müllerin" is based on poems written around 1820 by Wilhelm Müller and is one of the composer's most important song cycles written in 1823 in the tradition of setting Romantic German poems to classical music.
Burns says combining the two artistic fields is "a really unique way to take something that's almost 200 years old now and make it fresh and new. What's unique about this particular pairing is taking two mediums that you wouldn't necessarily think to put together. It's a way to connect different audiences that maybe have never heard Schubert's music or seen contemporary dance. I've approached it as if it were an opera, because it has so many of the same elements."
Burns grew up in a home surrounded by music, singing, playing trumpet, and performing in musicals. As an undergraduate at St. Anselm College, he majored in criminal justice, played football, and once performed the National Anthem while in pads and uniform before a game. After completing his degree, Burns worked in the development office of his alma mater while taking voice lessons and started performing.
"The opera bug bit me," he says. "I knew I wanted to go back to music and would have regretted it had I not done it."
He decided to pursue a master's degree in music and looked at several programs, deciding on UConn because of the opportunities to perform within the School of Fine Arts. In addition to his work with the Connecticut Lyric Opera and the Opera Theater of Connecticut, he has performed with the UConn Opera Theater and was a member of the ensemble for Opera Boston's "Beatrice et Benedict."
He was the winner of the graduate level of the 2012 UConn Concerto Competition and has sung in a masterclass with baritone Nathan Gunn and tenor Matthew Polenzani of the Metropolitan Opera. In 2011 he was awarded the J. Louis von der Mehden Music Scholarship and represented UConn in a collaboration with the Dublin Institute of Technology, Conservatory of Music and Drama in Ireland.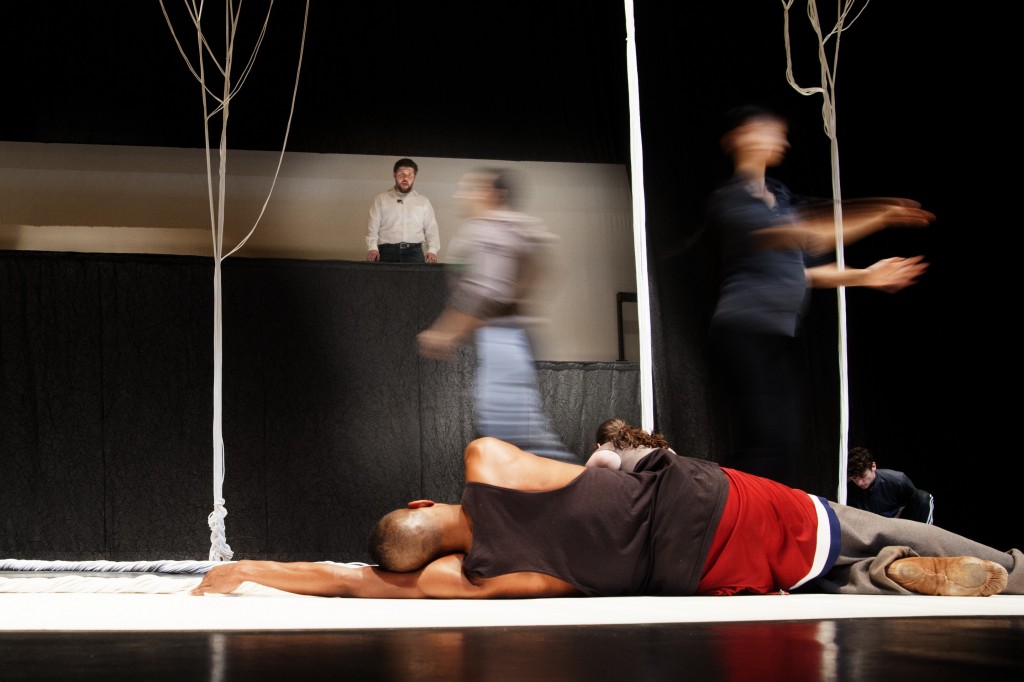 Burns was selected by Lang for the performance last spring and has been preparing since then working with his piano accompanist Brian Moll, who is musical director for opera and vocal studies at The Boston Conservatory and chair of the Collaborative Piano Department at the Longy School of Music in Cambridge, Mass.
They have seen early performances of "The Wanderer" by the Lang Company and met with the choreographer during their rehearsals of the music before the dancers arrived in Storrs earlier this week for full rehearsals at Jorgensen.
Burns says he has listened to several recordings of the Schubert song cycle but is working to develop his own performance.
"When you're learning a piece it's very easy to pick up other people's habits, both good and bad," he says. "It's run the gamut from singers 50 years ago to more contemporary singers. When I was first learning it, it was just me at the piano. I think the trap young singers can fall into is learning the piece of music by listening to a recording. With singing, there's so much about vocal coloring and how we express the music and the text. It's best to know the work without relying on the recording of someone else for the interpretation. I've listened to recordings, but I haven't locked into one in particular."
Another challenge for the performance is the duration of the work, singing almost constantly for about an hour. Burns says he learned the songs in short groupings, working with the melodies and German lyrics, keeping in mind there also would need to be coordination with the dancers' movements with his positioning on stage.
"I can count on one hand since the spring the days I've taken off not doing something on it, because it's such a massive work," Burns says. "One piece flows into the next. I've been singing it out in chunks without taking breaks or sipping water. I'm trying to mimic what it will be like at Jorgensen. Their choreography is timed. I can't screw up a verse. I can't miss an entrance. I'm conditioning like an athlete."
While preparation for "The Wanderer" has dominated his time, Burns has still kept up working on his doctoral dissertation, giving voice lessons, and looking toward performing next semester with the UConn Opera. He expects there to be a long-term benefit from his preparation.
"I'm growing in my own artistry because of this project," he says.
"The Wanderer," by Jessica Lang Dance with Ryan Burns, will be performed Nov. 19 at 7:30 p.m. at Jorgensen Center for the Performing Arts. For more information go to the Jorgensen website.