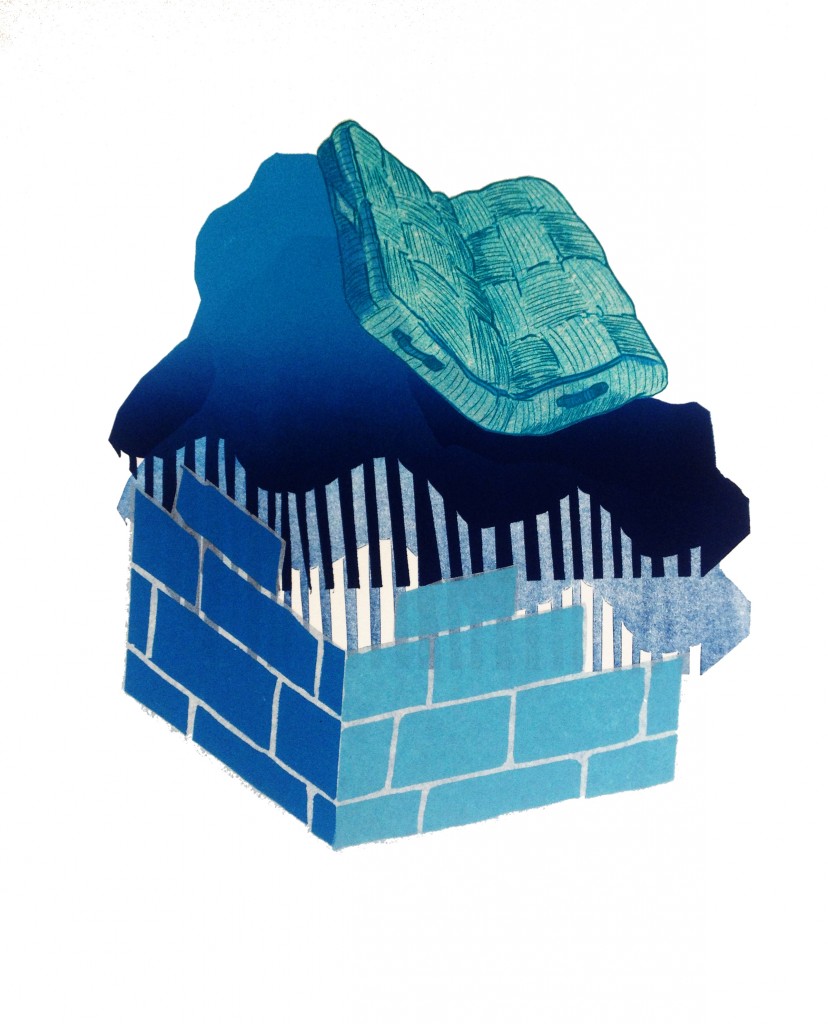 Growing up in Montana, John O'Donnell spent a lot of time constructing tree houses, forts, and dams to create swimming holes, using the big chunks of wood and cinder blocks that his grandfather and uncle used for their construction projects. He also played with Legos. He thought he might become an architect.
But O'Donnell, assistant professor of printmaking in the School of Fine Arts, was also a fan of MAD magazine and alternative comic books such as Zap Comix, and attracted to the detailed drawings of artists such as the legendary Mort Drucker in MAD and Robert Crumb in Zap. He began to draw.
What the artist likes to describe as his "accidental architecture" prints are among his creations now on display as part of the annual Faculty Art Exhibition at the William Benton Museum of Art through Dec. 20.
O'Donnell's works replicate the bricks, wood pallets, and other materials from his past in drawings and sculptures, often in colorful prints that he says are influenced by the exaggerated colors found in 1960s pop art.
"I'm interested in the aesthetic established in the '60s of bright colors, illustrating things that are fantastic but still a bit relatable to life," he says. "What I'm really doing is isolating them on a white background as a way of drawing attention to the colors and the negative space in between things. I'm also just interested in building things."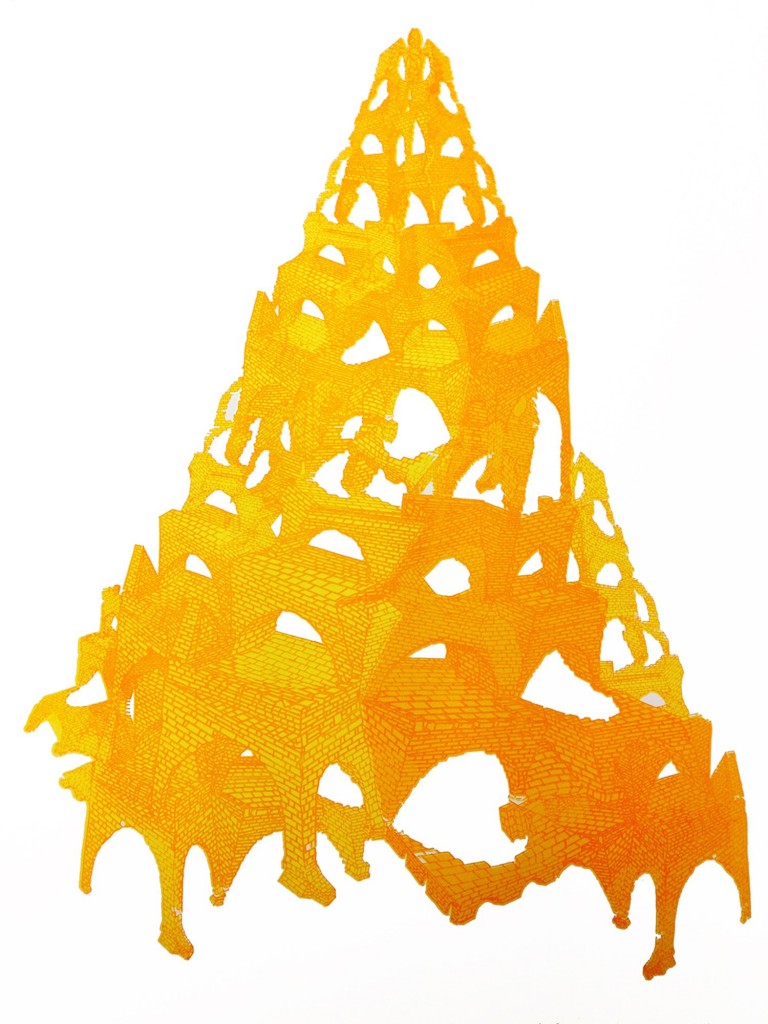 Much of O'Donnell's work in the exhibition is from his "Tower" print series. "Rainbow Tower" rises from the ground made of bricks and Greek columns with colorful flags hanging from various parts of the structure. "Cheese Tower" is a mountain of yellow bricks with arches and openings resembling Swiss cheese. In a trio of photos showing sculptures in his "Backyard Configuration" series, coal barbecue grills, wire cages and cinder blocks rise from the ground.
"When I visited the Roman Forum as a student I did a lot of drawing. I like to draw ruins because there's no expectations of how it should be constructed," O'Donnell says. "I usually don't have a final destination in mind. I like to call it accidental architecture, where I start letting the bricks accumulate and I slightly follow the rules of physics so it makes sense to me. It kind of meanders about. I do like to use those traditional representations of construction."
O'Donnell says teaching one of the oldest art forms to the Millennial generation provides an intersection of technology and history for students who are used to creating their art in a digital realm. The students create their initial sketches on a computer before transferring them to a wood block or zinc plate for replication.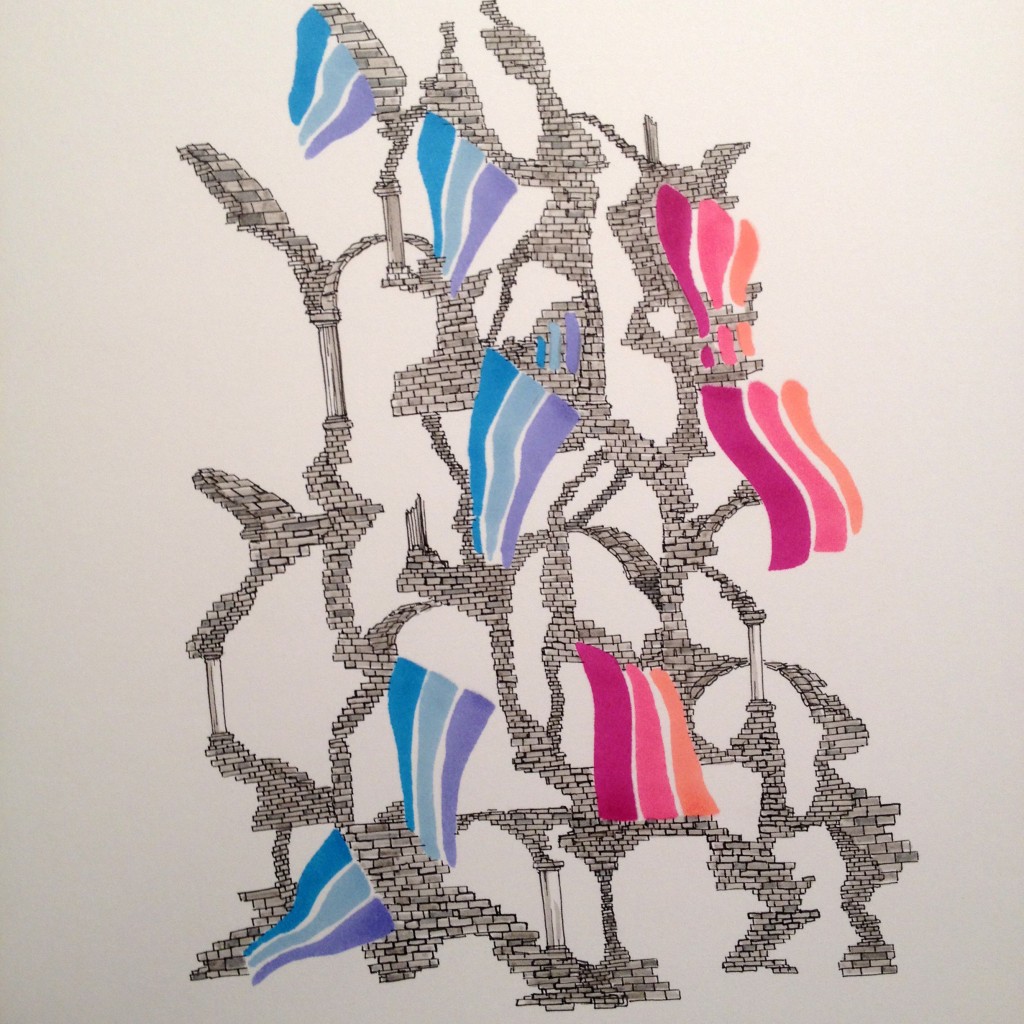 "They're using tools, activating physical objects, and making multiple images through that process. It's fun to see them realize what's possible," he says. "There's always this little tipping point where they're thinking, what's the point of this? But by the time they make their second and third image, they realize it's multiples that are originals. It's one of the earlier forms of sharing an image. Now you post something on Instagram and share it with your friends. That's a concept they can relate to – sharing an image that's consistent, that different people can share at the same time."
Over the years, in addition to his printmaking courses O'Donnell has taught drawing and animation classes. A course he now teaches each fall that brings all of these forms together with modern technology is Foundation: Studio Concepts, which covers invented text, the history of written language, and how they affect drawing.
"We look at the history and development of writing and how that's changed in all kinds of cultures," O'Donnell says. "Students invent their own kind of script based on their own gesture and interpretation of letters. They apply it to a drawing and make their own animations on their smartphones. We kind of start at the beginning of time and end right here in 2015 with different programs and applications available on their smartphones. We get a lot of good results. The key to that is that it's cumulative; every project is dependent upon the last one."
The 49th Annual Art Department Faculty Show at the Benton, includes work by faculty artists representing a broad spectrum of mediums, including painting, sculpture, illustration, graphic design, printmaking, photography, and installation art. Faculty works include those by Pamela Bramble, Cora Lynn Deibler, Ray DiCapua, Brad Guarino, Charles Hagen, Kathryn Meyers, Frank Noelker, Olu Oguibe, Alison Paul, Blake Shirley, Laurie Sloan, Judith Thorpe, Jennifer Wheeler, and Edvin Yegir.
A concurrent exhibit is "Sacred Sisters: In Praise of Art & Poetry." For more information go to the Benton website.