At the conclusion of "Get Back," the last song on his band's final studio release "Let It Be," John Lennon of The Beatles says sardonically, "I hope we've passed the audition."
His comment was a reference to the times when what became one of the most influential rock 'n' roll groups failed auditions while trying to gain a recording contract, in the days before "American Idol" and "The Voice" could jumpstart a successful career in music.
Auditions continue to be part of the music profession – from pop and rock to jazz and classical genres – including UConn's annual Concerto/Aria Competition which provides the opportunity for students in the music department to perform as soloists in concert with the University's Symphony Orchestra.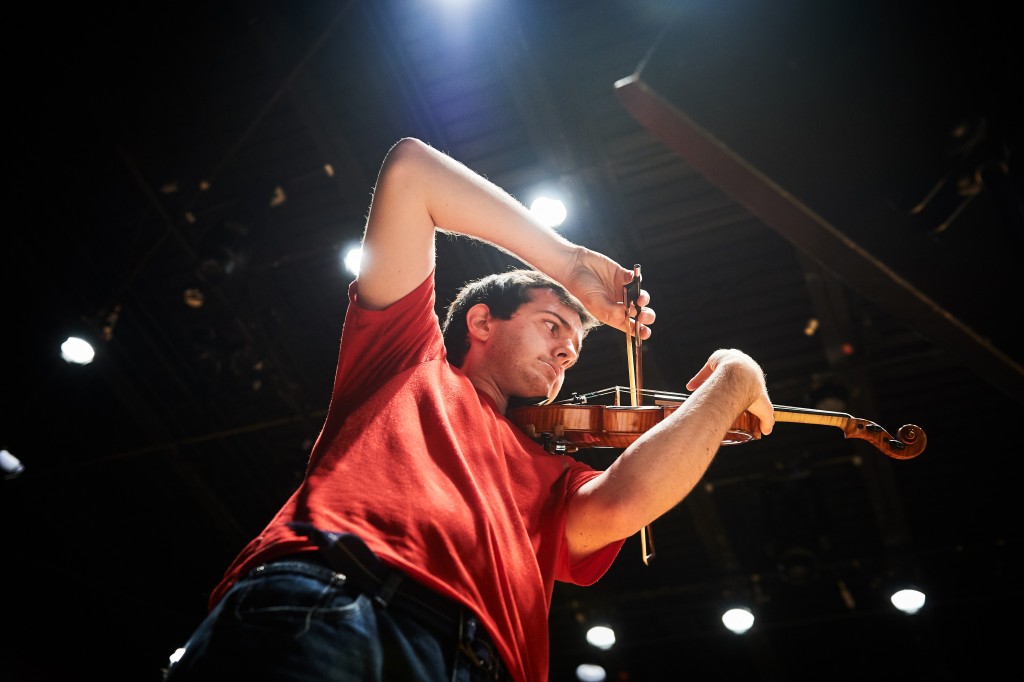 This year's concert takes place at 8 p.m. on Dec. 10 at J. Louis von der Mehden Recital Hall, featuring performances by graduate student Hyejin Bae, who plays flute, and undergraduates Samantha Lake '16 (SFA), a tuba player, and Myles Mocarski '16 (SFA), a violinist.
"It's a real celebration of the achievements of these particular students," says Eric Rice, head of the Department of Music. "For all of their professional work as performers, they will have to perform auditions, which can be very stressful. The students who learn not only how to overcome that stress but to perform exceptionally well have the potential to do well in the music business. Our Concerto/Aria Competition audition is a fairly high pressure environment, with three judges sitting in the audience listening to them."
Twenty students participated in the auditions held in von der Mehden Recital Hall on the afternoon of Halloween, ranging from mezzo-soprano and baritone vocalists to various instrumentalists performing on the piano, trombone, tuba, flute, and bassoon. Each prepared a solo work no longer than eight minutes in length to perform, and could have an accompanist. Often students select a familiar work, one that they have performed for many years.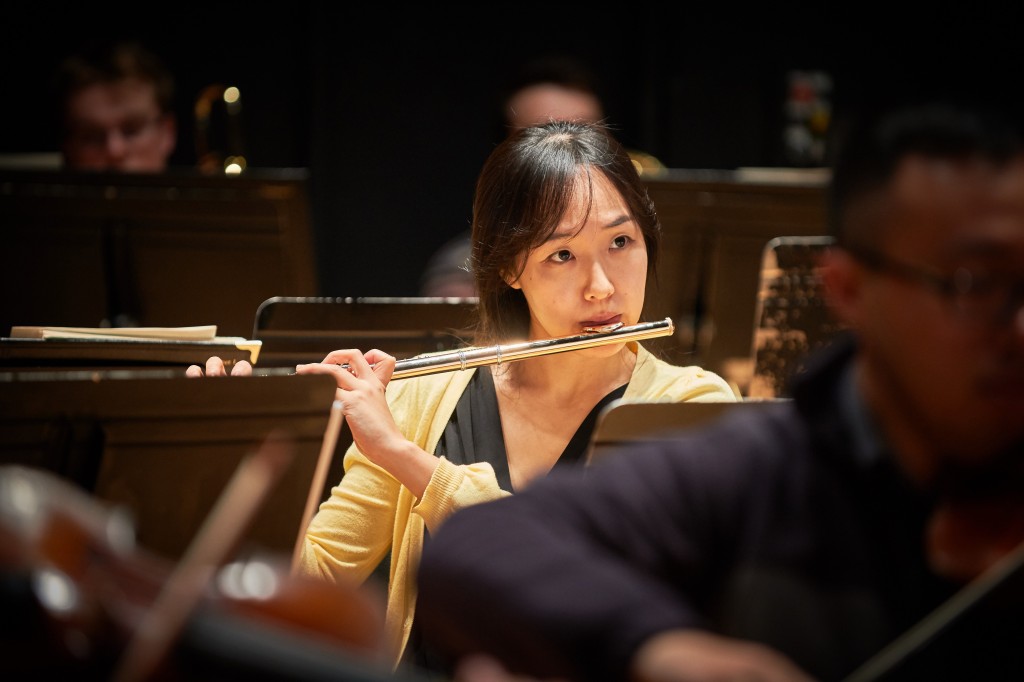 In some instances, however, the work may be one more recently determined, as was the case for mezzo-soprano Jordan Swett '16 (SFA), who began singing "Que fais tu, blanche tourterelle?" from Gounod's Romeo et Juliette just over a year ago. Swett said she spent a lot of time in the practice room.
She noted that her voice teacher, Meredith Ziegler '02 (SFA), '04 MM, adjunct professor of voice, emphasizes the importance of emotion for a vocalist. "Meredith always says if you don't have the emotion in it, nobody's going to buy what you're selling. Singers don't have the instrument to hide behind. We are the instrument, so we're providing the story for you with words and expression."
Swett, who last year won the Rhode Island Civic Chorale and Orchestra competition, was satisfied with her performance at the audition: "I think it went pretty much as well as it could have gone," she said. "I was as prepared as I could have been."
Clarinetist Sam Beckwith '15 (SFA) performed Mozart's Clarinet Concerto in A major, a piece he first played as a high school student.
"It's a challenge," said Beckwith, who also performs as part of the popular Conn-Men a cappella group. "It has to sound effortless and free; there can't be any edge to it. Mozart has to be virtuosic without sounding virtuosic."
During his audition, Beckwith swayed and bent his knees as he played the clarinet, matching the range of sounds he produced during the performance. In the backstage area of von der Mehden, he offered his evaluation of how he did: "No train wrecks. I played a couple appoggiaturas wrong. There were some nerves, shaky fingers. The ending was alright, which is important."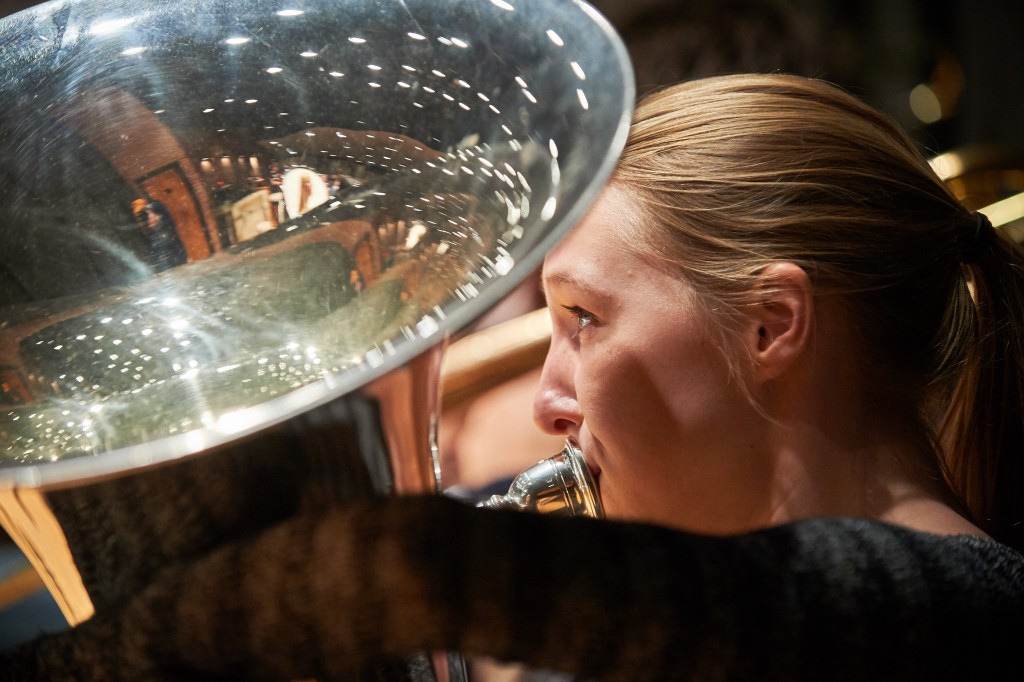 Rice says students who participate in the annual competition benefit from it in several ways, from making the decision to compete, to intense rehearsal and preparation for the audition. Just preparing for the audition is an opportunity for improvement and confidence-building, he says, whether or not the student wins.
The competition also offers the chance for an independent evaluation by judges not affiliated with the music department.
"Part of our job in the Department of Music is preparing people to perform professionally," says Rice. "This competition is an area in which other people corroborate our work … Every individual studio, every teacher thinks about which of his or her students should be sent to compete. It's always good to have goals."
The judges for this year's competition were three accomplished musicians and teachers: Irina Muresanu, an internationally acclaimed violinist who is assistant professor of violin at the University of Maryland School of Music; soprano Patricia Schuman, who made her debut at the Metropolitan Opera with James Levine and has performed internationally; and Lt. Commander Adam R. Williamson, a tenor saxophonist who is the director of the U.S. Coast Guard Band.
"Most [of the students] are following the score very well, and they have a lot of technical ability," Schuman says. "I look for that feeling when I want to put my notes down and start to really just enjoy it. That's when I find they have a special talent. When their heart and soul is in it and their own personality is so strong that you start to enjoy a performance, that's when I think the magic is there."
Bae says going through the preparation for the competition playing Mozart's Flute Concerto in D Major has added to her confidence as a performer.
"I felt a little nervous when I was playing, so I was not able to deliver 100 percent of what I prepared," she says of her performance. "I was mostly satisfied because I could keep my focus and composure much better than before. I remember that I struggled with stage fright time to time. I feel more motivated toward my goals. I have no doubt that this kind of stage experience will become a great foundation for my journey to become a professional musician."
Bae's performance on Thursday will be the third time she has performed as a soloist with an orchestra.
Mocarski is playing Sarasate's Carmen Fantasie, Op. 25, for Violin and Orchestra, the music that inspired him to first take up the violin.
"I absolutely love how exciting the music is," he says. "I think it's a very difficult piece that gives the player an opportunity to display their technique. I thought I played well after the audition. I was happy with my performance and thought I did everything how I had practiced. Rehearsing with the orchestra has already taught me a lot about how to be a strong soloist, as I am used to playing in the orchestra. I am extremely excited to perform as a soloist for the first time."
Lake says she decided to perform Bruce Broughton's Concerto for Tuba and Orchestra, even though she was not very familiar with the work.
"There are quite a few great sonatas and concertos for tuba, but only one or two are widely known," she says "I didn't know much about the Broughton, but when I listened to it I liked that it had moments of playfulness, beauty, and vigor. Also the orchestra accompaniment is interesting and surprising, and features my friends who play the clarinet and bassoon."
There's an added benefit for a tuba player selected to perform as a soloist, she adds: "I look forward to being front stage and all dressed up. Normally I am in the back row."
The program for the Concerto/Aria Competition also will include the UConn Symphony Orchestra under the baton of Harvey Felder, associate professor of music and director of orchestral studies, performing selections from Tchaikovsky's Nutcracker Suite, Op. 71a and Édouard Lalo's Overture to Le roi d'Ys.
The performance will begin at 8 p.m. on Thursday, Dec. 10 at J. Louis von der Mehden Recital Hall, located at 875 Coventry Road, Storrs.