Husky Nation is buzzing about getting ready for its first post-season game since the 2010 season, with Sunday's announcement that the football team will travel to Florida to face Marshall University of Conference USA in the St. Petersburg Bowl on Dec. 26 at Tropicana Field in St. Petersburg. The game will kickoff at 11 a.m. Eastern time and will be televised on ESPN.
Second-year head coach Bob Diaco's team upset unbeaten American Athletic Conference rival Houston to gain its sixth win of the year on Nov. 21 to qualify for the post-season. The Huskies won three of their last four games to end the regular season.
"I think it's remarkable that UConn has gone from a two-win season which ended with a loss, to play in a bowl game the following year," says radio analyst Wayne Norman of the UConn IMG Sports Network. "The Huskies earned this opportunity. It took a three-game winning streak, which included a win over a Top 20 team, to become eligible for a bowl."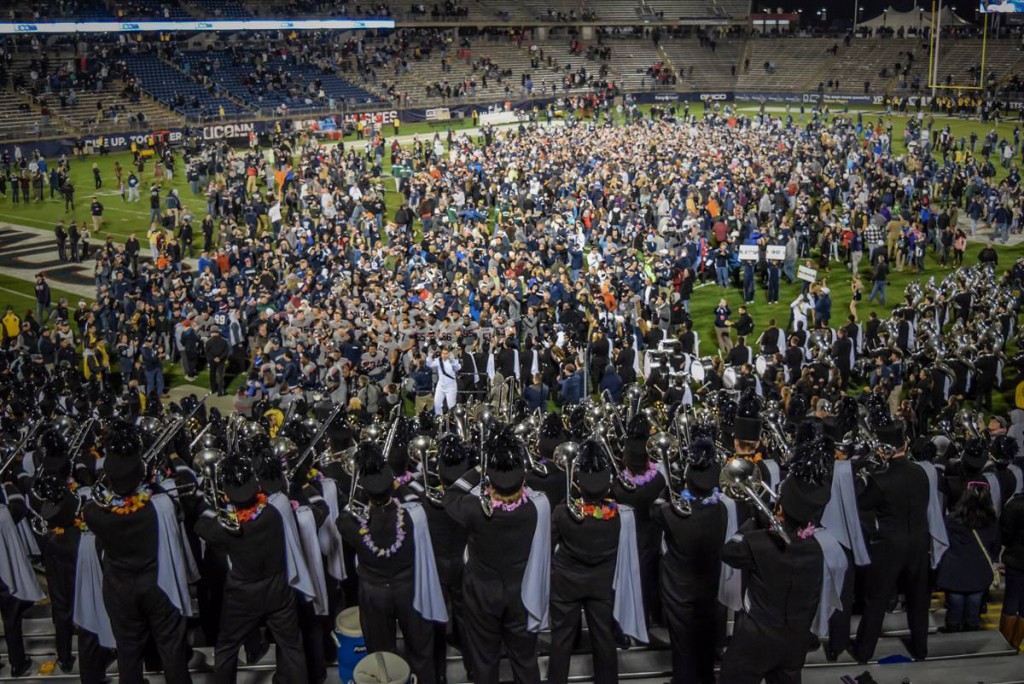 President Susan Herbst adds: "This is exciting news for our football program and for UConn fans all over the country. And I can't wait to join those fans in cheering on the Huskies in the St. Petersburg Bowl."
Head coach Bob Diaco says the UConn football family is proud and honored to be playing in the 2015 St. Petersburg Bowl. "I am especially excited for our senior class," he says, "who are an outstanding group of young men and have worked so hard for this. I also want to congratulate Marshall University on their selection to the bowl and on an excellent season. We look forward to the challenge of meeting an outstanding football program."
Marshall is a member of Conference USA and had a 9-3 record during the regular season and a 6-2 mark in league play. The Thundering Herd opened the season with a win over Purdue of the Big Ten Conference, and had a seven-game winning streak midway through the season. Doc Holliday is in his sixth season as the head coach at Marshall.
UConn athletics director Warde Manuel says the entire UConn Division of Athletics is excited and proud to accept the invitation to the 2015 St. Petersburg Bowl: "Our football student-athletes and coaching staff have worked very hard this season and the results of those efforts have shown on the field. UConn Nation has a strong presence in Florida and we look forward to a strong showing of Husky fans and alumni at the game."
Last week, while awaiting the announcement of who the Huskies will play, football fans on the Storrs campus were talking about the progress made by the team this season.
"I know overall on campus there's excitement and a lot of expectations for the team," said Silvia Luque-Blakz '16 (BUS), while chatting with friends at the Puerto Rican/Latin American Cultural Center in the Student Union. "I've been going to games since my freshman year. I think the coach has brought a lot of good things to the team. They're committed to the University and trying to connect with the students. I've also seen a lot more students going to the games showing support to our team. I think it's valued by the team."
Matt Zampini '16 (CLAS), sports editor of The Daily Campus, said the team surprised many fans with their progress toward gaining a bowl invitation this year.
Zampini said going into the season, there were those who had their doubts about the team, but that has changed: "The majority of students on campus are pretty impressed with the team this season. I don't think anyone expected a bowl game. Now that we're going to one, it's pretty incredible. Fans are excited."
Kevin Fahey, longtime season ticket holder and senior associate director emeritus of student activities, adds: "It's good to see our football team back in the bowl picture. Bob Diaco and his team gave us a great year and are moving in the right direction."
UConn finished the regular season with a mark of 6-6 and 4-4 in the American Athletic Conference.
Five Huskies earned post-season recognition for their play during the year, led by cornerback Jamar Summers '18 (CLAS), who had a conference high seven interceptions and was named AAC First Team. Defensive lineman Julian Campenni '16 (CLAS) and safety Andrew Adams '16 (CLAS) earned Second Team honors, while defensive lineman Folorunso 'Foley' Fatukasi '18 (CLAS) and linebacker Junior Joseph '17 (CLAS) earned honorable mention. Summers and wide receiver Noel Thomas '17 (CLAS) were named All-New England by the New England Football Writers' Association.
The Huskies' scoring defense is among the Top 20 in the NCAA this season. Fatukasi is among the Top 10 defensive players forcing fumbles, and the Huskies' defense is among the top 10 in interceptions. Arkeel Newsome '18 (CLAS) is among the nation's Top 20 all-purpose yardage leaders, with an average of 135.08 yards per game.
From 2003 to 2010, the Huskies were bowl-eligible in six of eight years and played in four consecutive bowl games from 2007 to 2010. The 2010 team won the Big East Championship and advanced to play in UConn's first-ever Bowl Championship Series game, the Tostitos Fiesta Bowl.
The bowl game will be the eighth of Diaco's coaching career and his first as a head coach. As a player at Iowa, he took part in the 1993 Alamo Bowl and the 1995 Sun Bowl.
Ticket and travel information for Husky fans will be announced later Sunday night, and all bowl information is available at UConnBowl.com.