Staging a centuries-old Germany fairy tale about the journey of a brother and sister through the woods to a house made of candy inhabited by a fearsome witch, requires as much imagination from the performers on stage as it does from a 21st-century audience.
The UConn Opera Theater production of "Hansel & Gretel" on Saturday, Jan. 30 at 7:30 p.m. and Sunday, Jan. 31 at 3 p.m. at Jorgensen Center for the Performing Arts is a modern interpretation of the Brothers Grimm story that in recent years has been used as the basis for films such as the 2013 horror tale "Hansel & Gretel: Witch Hunters" and M. Night Shyamalan's 2015 film "The Visit."
"The Harry Potter films showed a generation that witches can look like they stepped out of a Renaissance fair, off a rugby field, or from behind an office desk," says Michelle Hendrick, stage producer for the opera. "The pointy-hat, broom-riding, cackling crone is a Halloween costume and not the witch of this story. We wanted to make choices that were true to our place and time."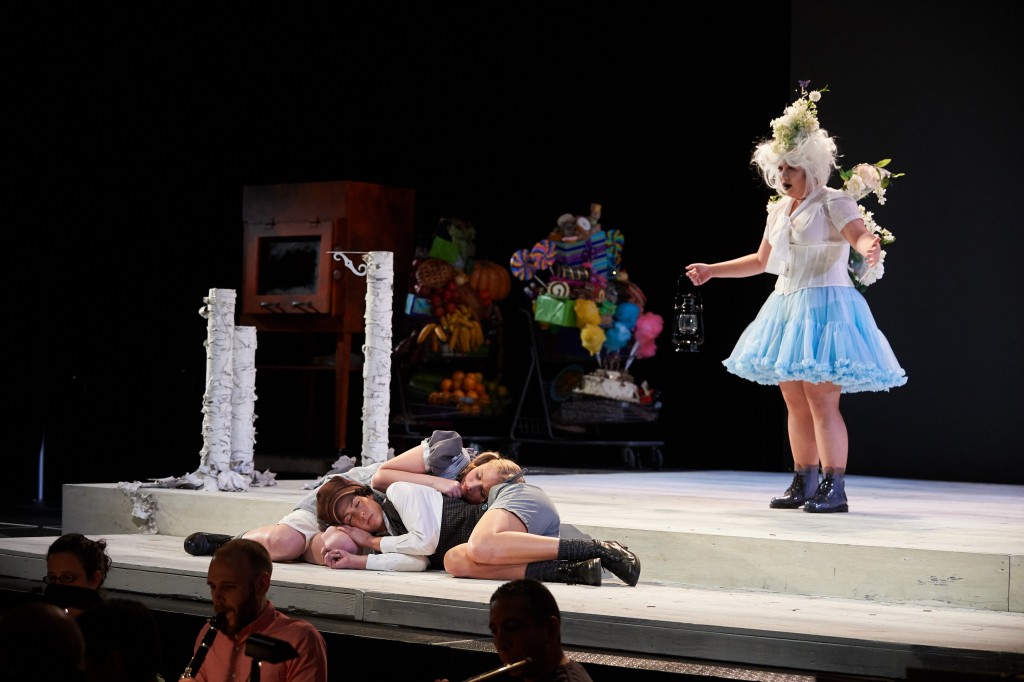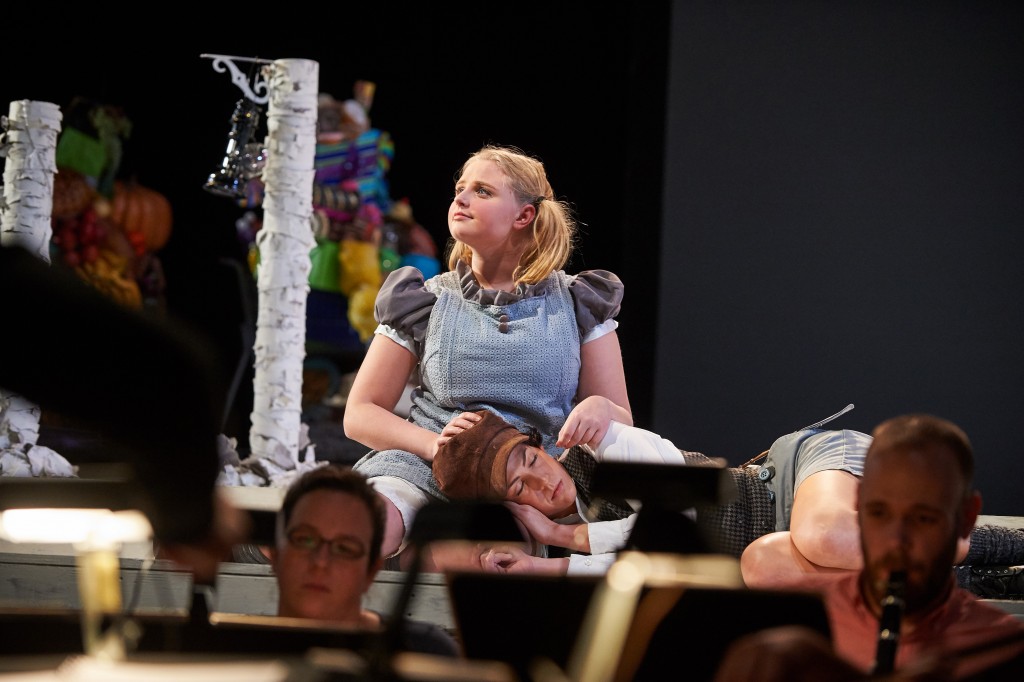 The choices for this "Hansel & Gretel" tale include costuming with the father and mother dressed in business clothing, a witch attired in a pencil skirt and heels, and role reversals that have graduate student tenor Spencer Hamlin '13 (SFA) as the Witch and doctoral student mezzo soprano Caroline O'Dwyer '11 (SFA) as Hansel. Soprano Katelyn Lewis '15 (SFA) performs as Gretel. The production will also feature angels in the form of puppets created by the UConn Puppet Arts Program.
Auditions for the production took place last spring, giving the vocalists time to learn their parts for the three-act opera. The accomplished undergraduate and graduate performers began rehearsals earlier in the 2015-2016 academic year, and include doctoral student baritone Ryan Burns '12 MM, who recently was a soloist with the Jessica Lang Dance company, as Father; doctoral student soprano Tiffany Jackson as Mother, a Yale graduate who holds a Professional Studies Degree from Manhattan School of Music; mezzo-soprano Jordan Swett '16 (SFA), who won the Rhode Island Civic Chorale and Orchestra competition, as Sandman; and soprano Candice Chung, a graduate of the Eastman School of Music who is pursuing a Performer's Certificate in Voice in Storrs, as Dew Fairy.
The pointy-hat, broom-riding, cackling crone is a Halloween costume and not the witch of this story. We wanted to make choices that were true to our place and time. — Michelle Hendrick
During a technical rehearsal in the School of Fine Arts Complex last week, O'Dwyer and Lewis danced around two shopping carts filled with food in a rehearsal room during a scene early in Act 3. Hendrick suggested they begin to pantomime as if they are looking into a window. The discussion turned to how they can express surprise as they smell the bread, stick a finger in a pie, or eat a grape. "It could be you've never seen a banana," she said.
Tape marks on the floor provide a guide to the limits of the stage they will perform on at Jorgensen. Hendrick reminds them of a step at the front and a section that includes trees, which they later saw during a visit to the set under construction in the Nafe Katter Theatre.
"It's very common to go into tech and something you thought was a certain size or something you thought could be there, can't be there," says Hendrick, whose background is in theater production. "I'm always expecting surprises. I even welcome them. There's a point where you're adding a new layer to the story, which wants to be told in a certain way. If you're not open to those surprises and changes, you can miss really great opportunities. We kind of expect it and embrace it."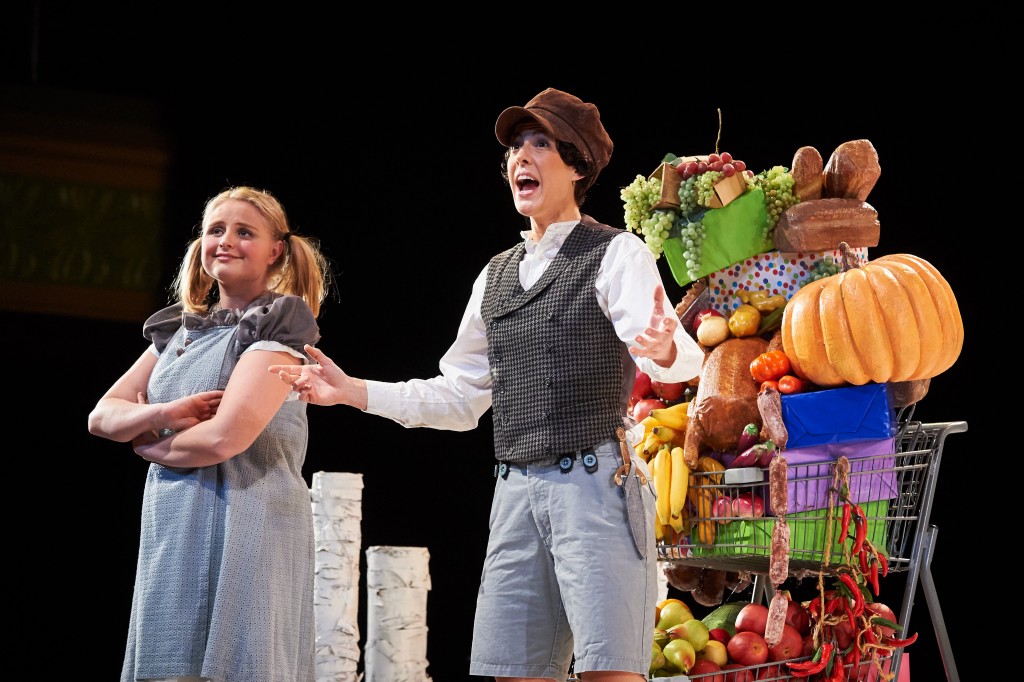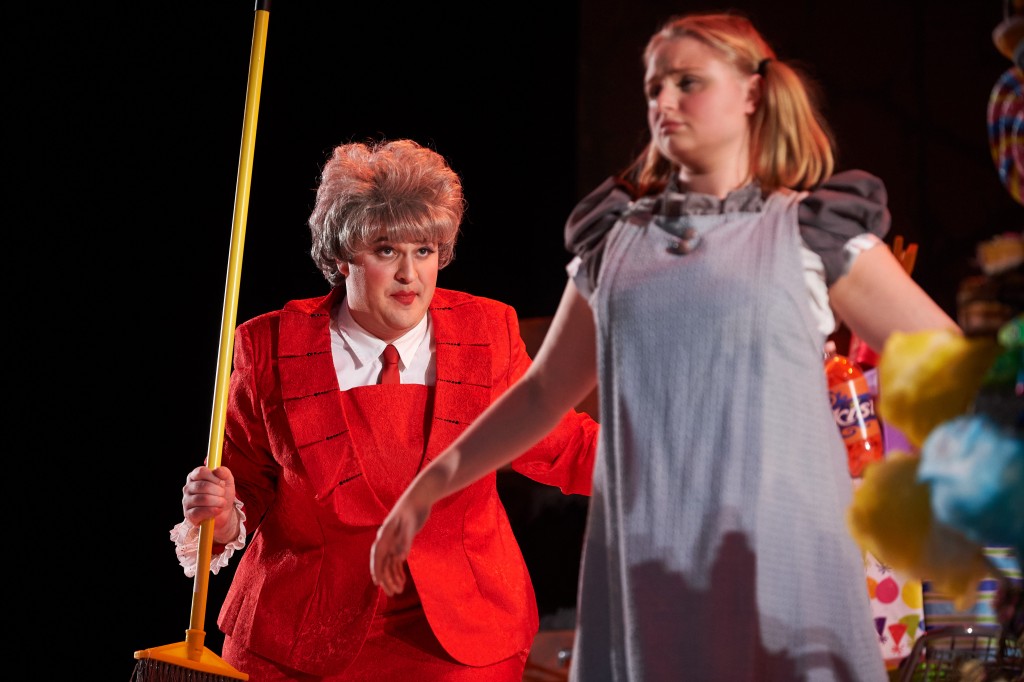 Hamlin, who first became interested in opera while taking voice lessons as an undergraduate, says his role as Witch is in line with roles he has performed working with Connecticut-based opera companies and with his participation last summer in the Martina Arroyo Foundation's Prelude to Performance Program.
"I have been fortunate enough to perform a number of principal as well as supporting roles," he says. "The Witch was easier in some ways than other roles. It has mostly been a matter of working out the physical logistics of the role, in regards to both the staging as well as the vocal demands. I have experimented with how much of the staging I would be capable of, given my complete lack of personal experience wearing a skirt and heels. Walking in heels has certainly been a bit of an adjustment."
O'Dwyer arrived in Storrs with the goal of becoming a high school choral director, until she participated in the Metropolitan Opera program at UConn, which provides music students with the opportunity to attend rehearsals and performances in New York City.
"The first time I went on one of these trips, we saw a rehearsal of Puccini's 'Il trittico,' " says O'Dwyer, who earned a master's degree at Eastman School of Music. "I will never forget how I felt watching that dress rehearsal. I was completely enraptured. I had never heard such beautiful, or emotional singing in my life. I just remember the tears, which were streaming down my face. From that moment on, I knew that I wanted to learn how to sing in a way that could move an audience to tears like that. There is an emotional power behind operatic singing that I don't believe exists in other forms."
Lewis, who is currently pursuing a Performer's Certificate in Voice, started taking voice lessons while in high school, and became interested in learning more about opera, studying various aspects of performance.
"I decided to study music at UConn because of the emphasis on classical vocal performance and because of the high caliber of the voice department as a whole," she says. "UConn provides an amazing program for singers who are driven and motivated to become the best performers that they can be. Opera is so thrilling and fulfilling, and UConn singers experience that starting in their freshman year."
The production team for the opera includes Brett Hodgdon, music director; Maureen Freedman '15 MFA, set and costume design; Andrew Berardi, lighting design; Jan Zimmerman, production manager; and producer Constance Rock, associate professor of music and coordinator of applied vocal studies.
The production of "Hansel & Gretel" is sponsored by the Jeffrey P. Ossen Family Foundation. Free tickets to the performance will be provided to children in the Windham Public Schools.
For more information go to the Jorgensen Center website.