When the award-winning vocal ensemble Roomful of Teeth performs in J. Louis von der Mehden Recital Hall on Feb. 10 at 8 p.m., it will be as unique an experience for the group as for the audience.
Roomful of Teeth is both a Grammy and Pulitzer Prize-winning group of classically-trained musicians who perform unconventional music. They will perform with UConn students in the Concert Choir, Wind Ensemble, and Symphony, completing a Sackler Artists-in-Residency that began last fall when the group met with music and art students on the Storrs campus.
"This is probably more involved than we've ever been at a single institution," says Brad Wells, founder and artistic director of Roomful of Teeth, who is also director of the choral program at Williams College in Massachusetts. "Usually we work with composers or singers [on a campus]. To have this kind of rich, multifaceted, and multipart residency is very rare and exciting."
In addition to meeting with students in Department of Music classes taught by Jamie Spillane '87 MM, director of choral studies; Kenneth Fuchs, professor of music composition; and Jeffrey Renshaw, coordinator for conducting and ensembles; and with Harvey Felder, director of the Symphony Orchestra, the vocalists also met last fall with a painting class taught by Kathryn Myers, professor of painting, whose Aqua Media class this semester is creating paintings inspired by the music of Roomful of Teeth.
The student art will be on display in the Arena Gallery in the Art and Art History Department building behind von der Mehden on Feb. 10. The performance will also include a work written by a student in Fuchs's music composition class.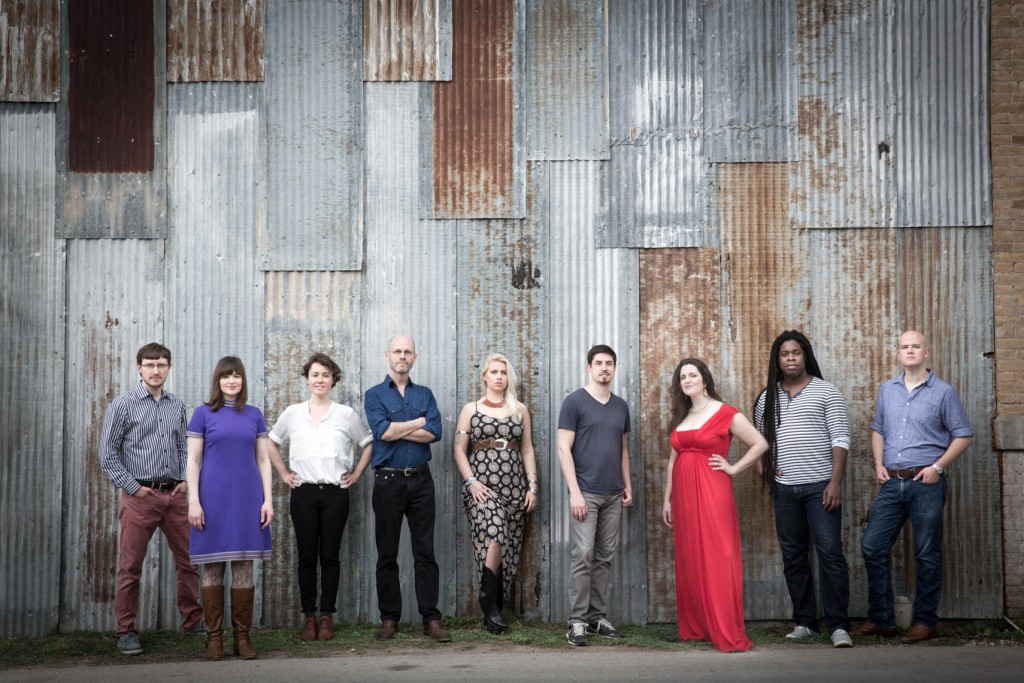 Founded in 2009, the nine-member group includes eight classically trained vocalists – four women and four men – who perform music created for the ensemble in a variety of singing styles, ranging from Inuit throat singing and Korean P'ansori to yodeling and belting. Their stated mission is to "mine the expressive potential of the human voice." They have commissioned new works from a range of contemporary composers, including Rinde Eckert, Wally Gunn, and the jazz pianist Fred Hersch. They also have collaborated with performers such as multiple Grammy winner Kanye West, and Glenn Kotche, drummer for the alt rock band Wilco.
Providing the opportunity for a wide range of students to hear directly from such an innovative and creative ensemble was a primary goal for inviting the group to be Sackler Artists-in-Residence at UConn, according to Eric Rice, head of the music department. He says the success of Roomful of Teeth helps reinforce the value of the skills that are a fundamental part of music education, providing young musicians with many options for a successful career.
"These performers demonstrate that not only are those skills desirable, but vital for the kind of rich musical fabric the ensemble creates, one deserving of a Grammy Award and the Pulitzer Prize in composition," Rice says.
When pop singer Cyndi Lauper announced the vocal group Roomful of Teeth as the winner of 2012 Best Chamber Music/Small Ensemble Performance during the pre-broadcast ceremony of the 2012 Grammy Awards, she added an enthusiastic endorsement of the ensemble: "More like Teethful of Awesome!"
Several months later, the 2013 Pulitzer Prize for composition was awarded to Roomful of Teeth member Caroline Shaw, a violinist, singer, and composer who wrote "Partita for 8 Voices" for the group's 2012 eponymous debut recording. The composition was praised by the Pulitzer music committee for its "highly polished and inventive a cappella work, uniquely embracing speech, whispers, sighs, murmurs, wordless melodies, and novel vocal effects."
"They're sort of like the Kronos Quartet of the vocal world," says Spillane. "They're treading new ground. They can do anything they want, because of their ability to use their voices and their high level of musicianship. It makes us think, challenges us to listen, and it's powerfully beautiful at the same time. It's kind of art music."
While translating the music into art last week, students in Myers's class were trying to tap into the sensation of chromesthesia, the neurological experience of translating sound into color known to influence abstract artists such as the influential Russian painter Wassily Kandinsky.
"I was very excited to do this," says Allison Cousens '16 (SFA), a senior illustration and animation major. "I do see colors in things, more numbers and letters than music. It was interesting to try and get myself to apply what I usually see to music, figure out what kind of brush strokes would go along with it, and make it work in an aesthetic way that I would want to show to everyone."
Roomful of Teeth will perform with the UConn Concert Choir, Wind Ensemble, and Symphony on Wednesday, Feb. 10, at 8 p.m. at J. Louis von der Mehden Recital Hall, 875 Coventry Road, Storrs.