The Connecticut Repertory Theatre's production of "Sense and Sensibility" is full of movement, with short scenes and shifting locations that make it feel cinematic, according to director Kristin Wold.
The constantly changing nature of the Joseph Hanreddy and J.R. Sullivan stage adaptation of Jane Austen's novel is a natural fit for Wold, assistant professor-in-residence for performance, who teaches acting and stage movement in UConn's Department of Dramatic Arts.
"The way that it's written is very cinematic. The scenes tend to be pretty short. We're changing location constantly," she says. "How to tell a story in that way on stage has been part of the fun and challenge of working on it. We wanted to make sure to get the depth of the characters when we're moving so quickly. It's a pretty epic story. I think that happens all the time when you adapt. How do you tell a novel in a two-hour event and do it justice? I think we get the depth of who they are."
Based on Austen's popular novel, a staple of English literature classes that is centered on romance, emotion, and reason in a family, the CRT production opened Feb. 25 and will be performed at the Harriet S. Jorgensen Theatre through March 6.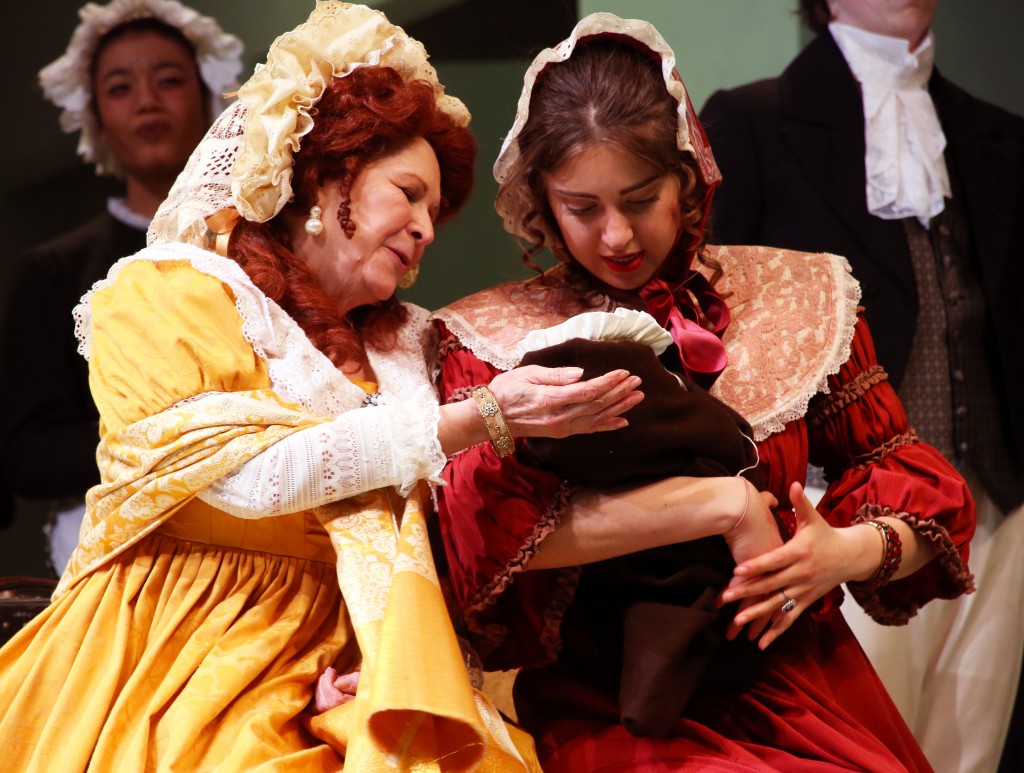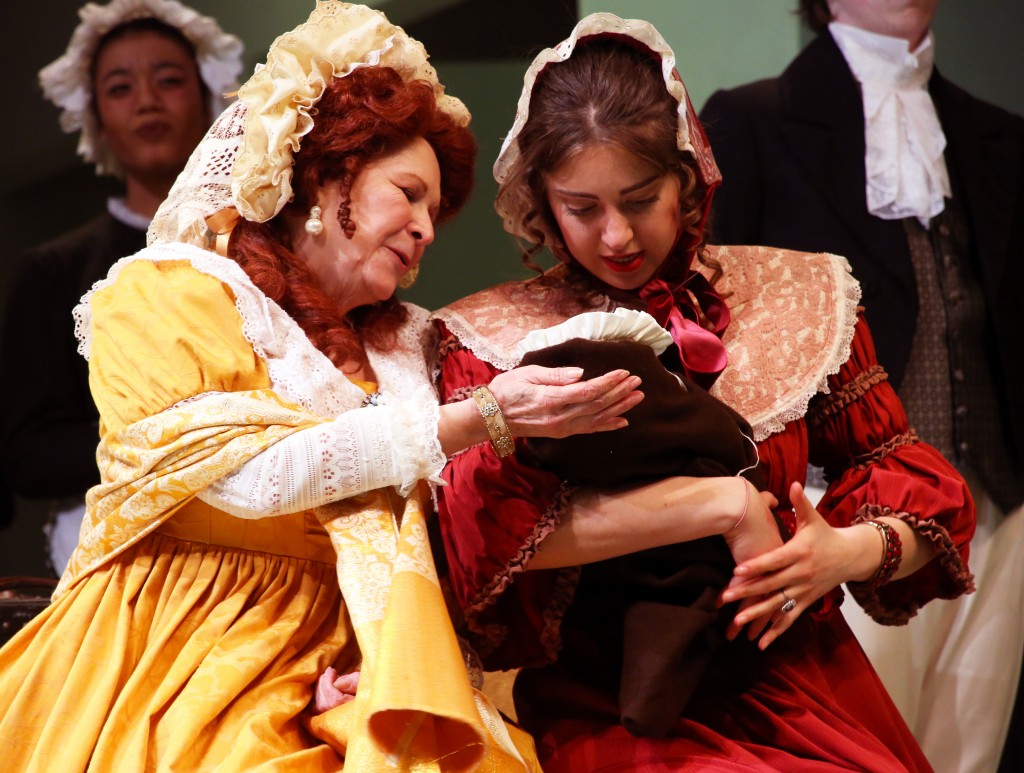 The central roles of the Dashwood sisters are played by second-year MFA acting candidate Arlene Bozich as Elinor and senior acting student Susannah Resnikoff '16 (SFA) as Marianne. The cast features special guest artists Cynthia Darlow as Mrs. Jennings and Don Noble as Sir John Middleton/Henry Dashwood. Darlow is a founding member of American Repertory Theatre with Broadway roles in "Billy Elliot," "Accent on Youth," "Rabbit Hole," and "Prelude to a Kiss," among others. Noble is a Broadway veteran whose credits include "Once" and "The End of the Rainbow" and the National Tour of "Mamma Mia!".
Wold says one of the challenges of this stage version of "Sense and Sensibility" is the large number of characters in the story as written by Hanreddy and Sullivan, who were also the writing team behind CRT's well received production of "Pride & Prejudice." The playwrights developed a script for professional theaters that allows dual roles for 13 actors, but in order to provide additional acting experiences for students, in the CRT production there are 21 actors.
The director notes that one of the challenges for some of the student actors is that they are portraying much older characters in the story, requiring them to expand their nonverbal acting skills.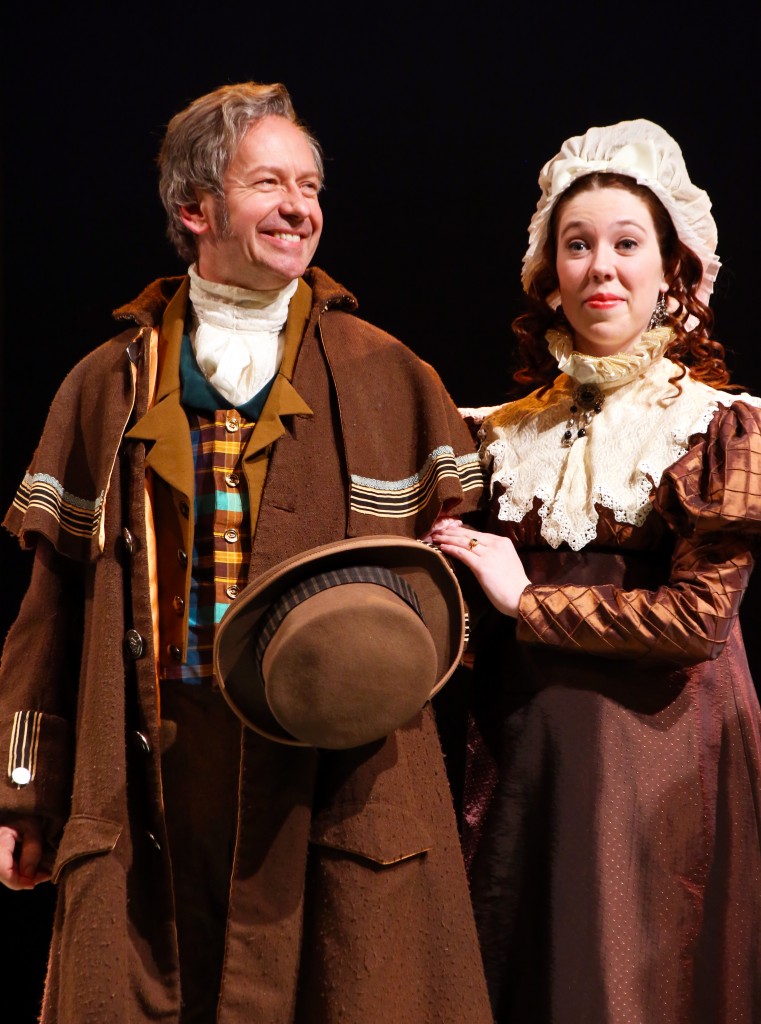 "A lot of the students are in roles that they are growing into," Wold says. "I'm trying to help them take that on and find themselves, giving them the physical framework to play in. Hopefully, they will find what they need relative to the other [actor] physically."
Scenic designer Tim Brown, assistant professor-in-residence of scenic design, and lighting designer Margaret Peebles, second-year MFA candidate in lighting, have created a set that is simple and flexible, allowing the audience to recognize where the action occurs, with period costumes from 18th-century London.
"The play is asking the audience to engage their imagination in helping to create the truth of where we are," Wold says. "It's deliberately theatrical. I think that's part of the fun of the play."
She notes that the set and costuming help focus the audience on the intimacy of the relationships that are primary to Austen's tale of how the Dashwood sisters try to follow their own path through life and love, following their father's unexpected death, despite the size of the stage at the Jorgensen Theatre.
"Intimacy played in a large space is always a challenge. In a play that is pretty intimate, it's harder to do that probably than to do Shakespeare in a big space, in my opinion," says Wold, who is a member of Shakespeare & Company in Lenox, Mass.
"Sense and Sensibility" will be performed at the Harriet Jorgensen Theatre in the Jorgensen Center for the Performing Arts, 2132 Hillside Road, Storrs, on Feb. 26, Feb. 27, March 4, and March 5 at 8 p.m.; and on March 2 and 3 at 7:30 p.m.; with matinees on March 5 and March 6 at 2 p.m. For more information, go to the Connecticut Repertory Theatre website.