The University is leading an effort approved last year by the General Assembly to study the efficacy of using open textbooks for courses as a way of reducing student costs.
State Rep. Gregg Haddad (D-Mansfield) championed legislation creating a task force of faculty, administrators, and students representing UConn, the Connecticut State University System, and the Connecticut Distance Learning Consortium, along with representation from the state Office of Higher Education.
At UConn, a committee of faculty, students, and administrative staff has secured a grant of nearly $100,000 from the Davis Educational Foundation to introduce open textbooks on campus. The University Libraries will lead the effort to survey faculty about the use of open textbooks, create online workshops for faculty development, and adapt an existing general chemistry textbook.
Open textbooks are comprehensive course-linked educational materials, either in the public domain or written under Creative Commons licenses, which allow for the use and reformatting of the content without obtaining permissions from their authors. Open textbooks are commonly accessed free of charge through a variety of digital formats that can be used on a wide range of devices or inexpensively purchased in print form.
Similar initiatives supported by state legislators are in process in California, Ohio, Texas, and Washington, and in Canada the first jurisdiction to establish an open textbook program was British Columbia, according to news reports.
The grant will help the UConn open textbook committee to raise awareness of the benefits of open textbooks, which were first used last year. The pilot resulted in the Student Welfare Committee of the University Senate approving a resolution supporting the OT initiative and encouraging faculty to explore the use of open textbooks at UConn. In its approval, the Senate committee noted that the effort to promote open textbooks was initiated by students in the Undergraduate Student Government (USG) and UConn Public Interest Research Group (UConnPIRG).
It is estimated that UConn students could potentially save more than $1 million annually by using open textbooks. The College Board estimates that students spend an average of $1,200 per year on textbooks and materials, and that prices for textbooks have increased 82 percent between 2002 and 2012, three times the rate of inflation.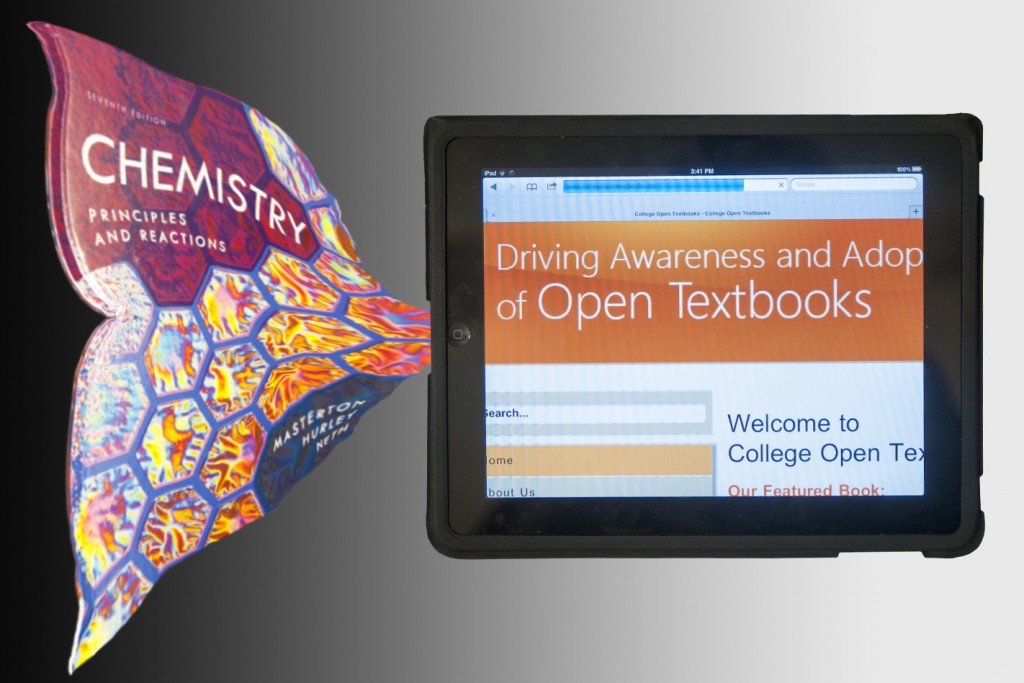 The initial course that will utilize an open textbook will be all sections of "Fundamentals of General Chemistry," which will include a UConn-adapted open textbook for the 500 to 550 students who enroll in the class, developed by Edward Neth '88 MS, '94 Ph.D. Neth is a lecturer in chemistry who also serves as webmaster and IT administrator for the Department of Chemistry. He is a co-author of Chemistry: Principles and Reactions, 7th edition, with Cecile Hurley, emeritus professor of chemistry, and the late William Masterton, emeritus professor of chemistry. The open textbook will use the "Atoms First" approach to teaching chemistry that is used at UConn and other research-extensive institutions.
"The growing collaboration between students, faculty, and staff across UConn has created a wonderful opportunity for us to explore and educate our community on the important role open textbooks play in higher education," says Martha Bedard, vice provost for University Libraries. "We are excited to continue this forward momentum to engage in real change for students at UConn and beyond." Bedard leads the UConn OT committee with Toyin Akinnusotu '16 (CLAS), student textbook coordinator for UConnPIRG.
Members of the task force include Daniel Byrd '17 (CLAS), USG senator and chair of the External Affairs Committee, and representative to the state task force on open textbooks; Jc Beall, Board of Trustees Distinguished Professor, Department of Philosophy; Joseph Sweet, procurement analyst in Procurement Services at UConn and treasurer of the UConn Co-op; Kathleen Labadorf, undergraduate services librarian and chair of UConn Libraries' Open Educational Resources Committee; Katrina Higgins, assistant dean in the College of Liberal Arts and Sciences; Venkatram Gopal '17 (CLAS), USG academic affairs chair; and Aynsley Diamond, director of faculty development programs for the Center for Excellence in Teaching and Learning.