Sculptor Amanda Bulger and painter Kamar Thomas arrived in Storrs as MFA students in art through different paths.
Bulger grew up on her family's farm in Wisconsin making art inspired by the rural landscape, and studied art at the University of Wisconsin-Eau Claire. Thomas first arrived in Connecticut as an undergraduate at Wesleyan University in Middletown, and returned to his home in Jamaica to teach art before heading north again to eastern Connecticut to create large, colorful paintings that draw viewers to the canvas.
Their creations are part of the cohort of works that is "The 2016 Master of Fine Arts Exhibition: Are We All Here?" at the William Benton Museum of Art, continuing through May 8.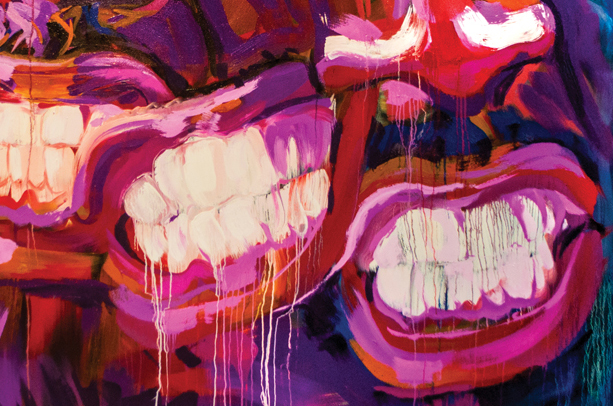 Thomas calls his series of large, colorful self-portraits "Schizophrenic Masculinity." The series  explores his journey of self-discovery during his time as a student in the United States at Wesleyan and at UConn.
"It was really about coming the U.S. and discovering I was black," Thomas says about the inspiration for his paintings. "Outside of the U.S., [being black] doesn't mean the same thing. There isn't the culture and expectations that are here, having to reconcile those expectations and struggling with that, finding it in many ways. I would say it shows the more activist side of my life, struggling with those questions and just growing up, to be many things at once."
His creative process involves painting his face with different colors and taking photos that he can use as the foundation of painting on large square canvases, each with a different dominant hue. He says working with a large image both helps him to better see his work through the thick eyeglasses he wears while also allowing him to stay engaged more fully with the painting because he must use his entire body while painting.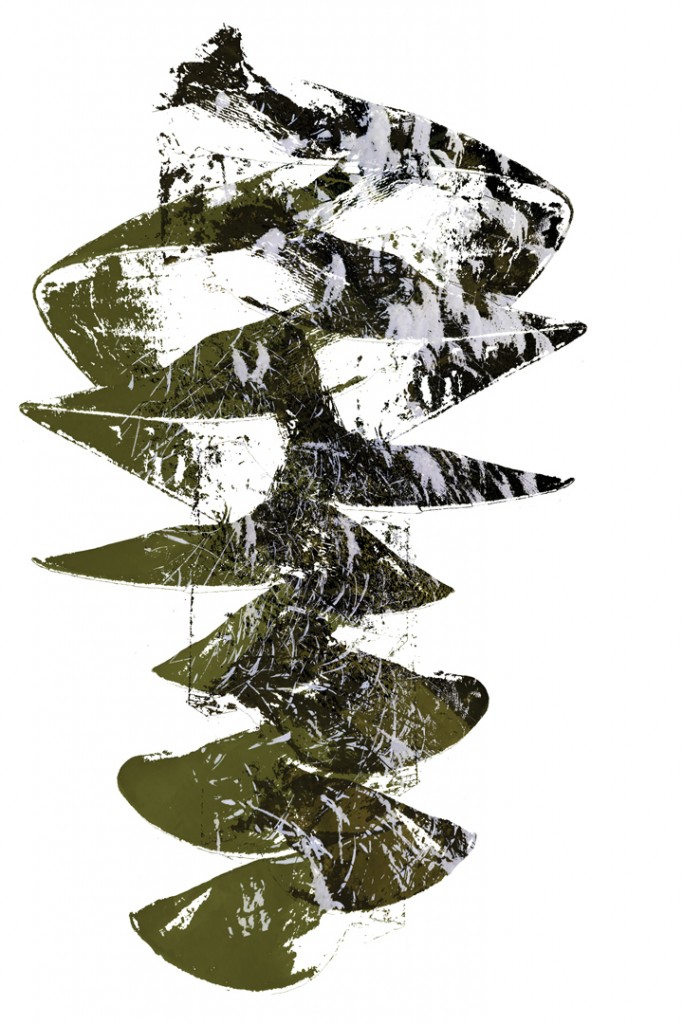 "And for the subject matter I'm dealing with, faces and masks, it's the best format for the size," Thomas adds. "I call it overwhelming intimacy. If you're ever that close to someone's face, you're either making love or a fight is about to happen."
Bulger says she was attracted to UConn because it would allow her to live in a familiar rural environment that also provides the found objects from farm life that she uses to create her sculptures. By sheer coincidence, she asked her sculpture professor at the University of Wisconsin-Eau Claire to write a recommendation, not realizing that Jason Lanka, now an assistant professor of art at Sheridan College in Gillette, Wyo., was a 2005 MFA graduate from UConn.
"[Coming to Storrs,] I wouldn't be suffering from a shift from being on the farm to moving to the city," Bulger says. "Judith [Thorpe, MFA director,] told me in my interview that there are cows on campus. That kind of sold me."
Bulger uses wood, plaster, and twine in her works to suggest parts of farm tools with her sculpture and digital drawings based on photographs of her sculptures. Her work "Disc One," for example, was inspired by a plow disc, the circular blade that turns the ground for planting crops. "Tandem" is a pair of wood pieces with plastered gauze pieces attached in the shape of the plow blades, looking more look like boat sails.
"I started to work with the idea of making multiples so the sculptures could depend on each other in the very similar way I depend on my siblings," says Bulger, who grew up in a family with nine children. "My work is inspired by the cultivated landscape. I find that the landscape itself in the form of rolling hills, plowed furrows – that shape constantly comes in."
"Are We All Here?" also includes videos by Don Burton, who incorporates humor and drama into his films to explore the anxiety of loss, decay, and irreversible change; works by Neil Daigle Orians, who combines printmaking, installation, sculpture, photography, and performance; and drawings by Kacie Davis, who reflects her intuitive sense of the relationship between making a physical mark with charcoal or graphite and a virtual mark with an Xbox controller.
"The 2016 Master of Fine Arts Exhibition: Are We All Here?" continues at the William Benton Museum of Art, 245 Glenbrook Road, Storrs, through May 8. For more information, go to the Benton website.