For patients with tooth restorations such as crowns, bridges, veneers, and implants, UConn Health dentist Dr. Avinash Bidra recommends regular six-month dental examinations and a daily regimen of individual at-home care to help these restorations last longer.
Bidra is the lead author of the first national clinical practice guidelines for caring for such patients, published in the January 2016 issue of the Journal of Prosthodontics.
The American College of Prosthodontists' (ACP) newly published guidelines are intended for professionals to follow themselves and to tell patients what to do at home.
"At least bi-annual clinical examinations to clean, adjust, repair, and/or replace restorations supported by teeth or implants is novel information for patients and the community about the lifelong need for dental maintenance," said Bidra, a prosthodontist in UConn Health's Department of Reconstructive Sciences and director of postgraduate prosthodontics at the School of Dental Medicine.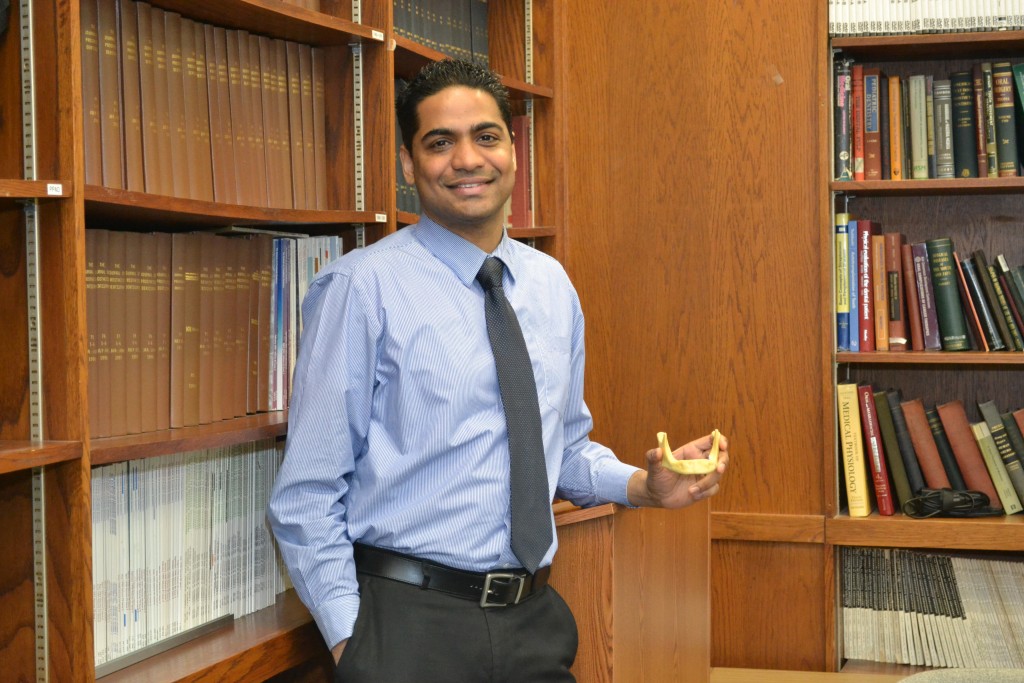 Prosthodontists are dentists with advanced training in the restoration or replacement of damaged or missing teeth to improve their look and function.
"Prosthodontists often take great pride in meticulously restoring smiles so that they look as natural as possible," said Bidra. "Patients with multiple restorations that are supported by natural teeth or implants need to know that professional and at home maintenance is a lifelong regimen."
To maintain teeth restorations or implant restorations, Bidra recommends that patients:
Obtain a dental examination and cleaning at least every 6 months.
Follow your dentist's tailored at-home maintenance recommendations.
Brush your teeth with a fluoride-containing toothpaste at least twice a day.
Floss your teeth at least once a day.
Use a mouthwash recommended by your dentist.
Wear a night guard regularly if recommended by your dentist to protect your restorations.
Do not smoke or chew tobacco.
Watch your diet closely and avoid a high-sugar diet.
"This is news oral health providers can comfortably share to maintain patients' implants, crowns, and veneers, and natural teeth," says Bidra.
Clinical practice guidelines have not been used as much in dentistry as in medicine. This is why the ACP led a scientific panel of experts appointed by the American Dental Association (ADA), the Academy of General Dentistry (AGD), the American Dental Hygienists Association (ADHA), and the ACP, who critically evaluated and debated findings from two comprehensive systematic reviews covering 10 years of the scientific literature to assess risk for failure of tooth and implant restorations.
The week of April 3-9 is National Prosthodontics Awareness Week. In honor of the observance, the scientific articles and clinical practice guidelines are available online free of charge, notes Bidra, who is the national chair for the awareness week.
Download the articles without charge at Wiley's online library.