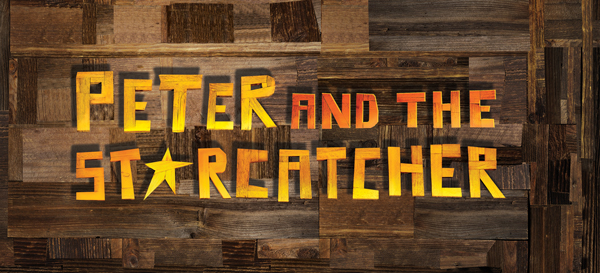 Before they were cast for their roles in "Peter and the Starcatcher," the second Nutmeg Summer Series production of the Connecticut Repertory Theatre which opened June 23, Forrest McClendon '89 SFA and Colby Lewis '14 MFA had come to know each other through their mutual social media community.
McClendon, who earned a 2010 Tony nomination for his Broadway debut as Mr. Tambo in "The Scottsboro Boys," and Lewis, who will debut in a new Jerry Mitchell ("Kinky Boots," "On Your Feet") musical coming to Broadway next season, say when they arrived in Storrs in early June to begin rehearsals their bond was more than just having UConn in common.
"When you have so many mutual friends, all you're hearing is 'how much you're going to love him.' I feel there is an implied relationship before you ever arrive," says McClendon, who grew up in Norwalk, Conn. "Then when you add to the fact we both have such respect for our craft, we bond on a completely different level."
Adds Lewis: "As we like to call it back in North Carolina, I knew he was going to be my 'kinfolk.' A big brother is how I would describe Forrest. Obviously there is tremendous respect for his work, who he is and what he's done, and then you meet the real person behind the lore. I know that when you have a Tony nominee who is willing to share and be as open and wonderful in discovery, he sets a great temperature in the room."
"Peter and the Starcatcher," the theatrical adaptation of the novel by Pulitzer Prize-winner Dave Barry and Ridley Pearson, is described as a grownup's prequel to "Peter Pan," flipping the classic story of how an orphan boy became Peter Pan. The musical is considered an ensemble work, which is what attracted the two School of Fine Arts graduates.
In addition to his Broadway credits, McClendon has extensive experience in regional theater, including roles as Canewell in August Wilson's "Seven Guitars" at the Actors Theatre of Louisville; Gil in Colman Domingo's "Wild with Happy" at the Baltimore Center Stage; and the title roles in "Othello" at the Philadelphia Shakespeare Theatre and "Julius Caesar" at Lantern Theater Company. He is a Lunt-Fontanne Fellow; teaches at the Eugene O'Neill Theater Center in Waterford, Conn.; and has conducted master classes at the Royal Central School of Speech and Drama in London, University of California, Theatre Academy of London, and University of Louisville MFA Acting Program, among others.
"One of the reasons I gravitate toward theater as opposed to film and television is I like the fact that we make something together," McClendon says of working in an ensemble production. "Regardless of the role, the joy is literally being in a room playing together."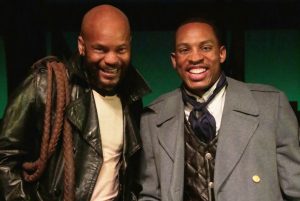 McClendon's path to theater was not direct. He acted and sang in high school and attended performances at the nearby Westport Country Playhouse, which has sent many productions to Broadway and in recent years has produced new and classic plays. He entered UConn as an engineering major, but changed to music as a voice major. He never thought of one day earning a major nomination for performing on Broadway, or being invited to perform on the stage in Westport that has hosted notable actors such as Paul Newman, James Earl Jones, Henry Fonda, Olivia de Havilland, and Jessica Tandy.
"[Being nominated for a Tony Award] was validation for everything you wonder about yourself as a craftsperson," he says. "That was a moment where I felt completely justified in every choice that I'd ever made. But probably one of the biggest arrivals for me, even more than Broadway, was to have seen shows in Westport and eventually have them invite me to do a show there. That was incredibly full circle."
[UConn] is where I learned ensemble at its best. — Colby Lewis '14 MFA
Lewis has appeared in the CW Network's "One Tree Hill;" as Tom Robinson in "To Kill a Mockingbird" at the Utah Shakespeare Festival; and as a young Muhammad Ali (Cassius Clay) in the Denver Center production of "One Night in Miami." At UConn, his many CRT credits include "Legally Blonde the Musical," "Much Ado About Nothing," "Hairspray," and "Winter's Tale."
He says returning for the first time to CRT as a guest performer reinforces for him the collaborative effort that is essential to creating theater.
"This is where I learned ensemble at its best," he says. While in the graduate program, he says, he spent nine hours a day for three years with nine other actors under the tutelage of faculty members Greg Webster, Dale AJ Rose, and Karen Ryker; this summer, Webster is his cast mate.
Lewis says portraying the late Ali as the brash Cassius Clay last year was both a challenge and a transformative experience. "One Night in Miami" is a fictional account of the hours after Clay defeated Sonny Liston in 1964: instead of going out on the town, the new heavyweight champion gathered with Nation of Islam leader Malcom X, singer Sam Cooke, and football star Jim Brown.
"What began as a great acting gig became so much more," he says. "I honestly believe that inhabiting Muhammad Ali for three months, playing with his words – real and imagined by playwright Kemp Powers – taught me so much, and those words became so applicable to my life, let alone my craft. There is a tremendous amount of work that actors must put into their craft, regardless of results or accolades. And that takes perseverance. That's staying against the ropes when you're getting pummeled, and having the ability to outlast [others].
"Peter and the Starcatcher," which runs through July  2, includes Barrymore Award-winner Michael Doherty in his CRT debut as the villainous Black Stache, Raegan Roberts as Molly, and Nate Whipple as the Boy/Peter.
The ensemble cast also includes Split Knuckle Theatre members Gregory Webster, assistant professor of dramatic arts, as Alf and Jason Bohon as Mrs. Bumbrake; MFA students Kalob Martinez as Grempkin/Macks/Sanchez and Mark Blashford as Lord Aster; undergraduate students Scott Redmond '17 (SFA) as Prentiss and Ryan Shea '17 (SFA) as Ted; and Jonathan Cobrda as Smee.
For more information, go to the CRT website.
Jorgensen Gallery Exhibition Opens: "The Eccentrics: The Evolution of the Eighties" is a look back at start of theatricality in clothing from the UConn Historical Costumes & Textiles Collection, a style that has been revived today. Curated by Laura Crow, professor of costume design whose designs have been seen in over 300 productions worldwide. The exhibit is open Monday through Friday from 10 a.m. to 4 p.m. through Sept. 16.